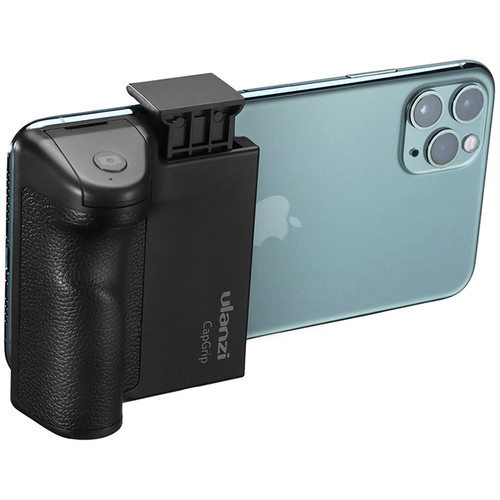 Our phones are now our cameras, and their ability to capture photos and videos is only getting better and better. But you may miss one ergonomic feature of your now-dusty big-girl camera, and that's the hand grip.
Holding onto a rectangular slab of glass to take photos can get tiring after a while, especially if you're shooting a lot of video. It takes more effort to balance, making it more tiring and increasing the likelihood that you could drop your phone. It's also a bit tricky sometimes to hold and balance a phone and then get one finger to the screen to tap the shutter icon.
At the same time, I don't personally miss having to lug around a giant DSLR camera, or even a diminutive micro-four-thirds camera just to get that more stable grip.
What if you could have the best of both worlds – a removable handgrip for your cell phone?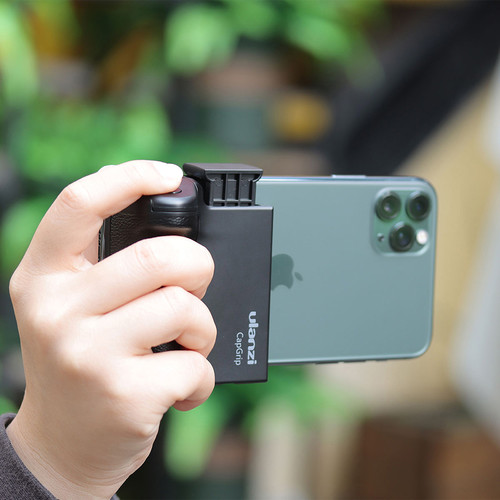 Turns out this is a crowded category, and my friend Pat Dengler bought the Ulanzi Select CapGrip from B&H Photo for the grand sum of $12.95. She lets me play with her toys, sometimes even before she has a chance to play with them.
The CapGrip connects to your phone by the same kind of spring mechanism you're used to seeing on a phone mount for your car. The grip holds phones from 2.44 to 3.27″ wide. The iPhone 12 Pro in a thin case is a smidge less than 3″ wide and it was very snug to get into the grip. No way was it falling out, but I think it was close to the limit in size unless you're way stronger than me.
The most important thing is that the CapGrip does what it's designed to do – it gives you a very comfortable handgrip while holding the phone. Now if this is all it did, it wouldn't really solve all of the problems I described.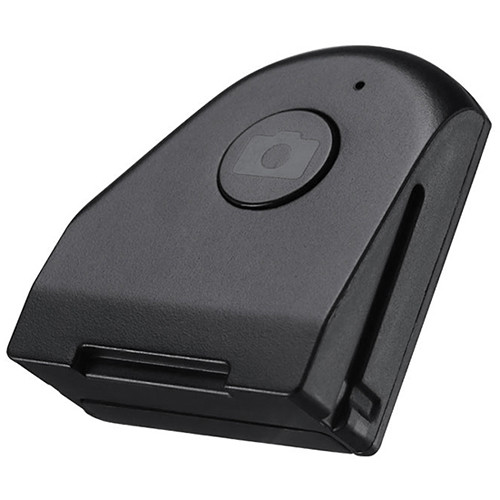 Built into the CapGrip is a physical Bluetooth shutter button right where your forefinger comfortably rests when the grip is on the phone. Connecting the shutter button via Bluetooth to the iPhone was about the easiest Bluetooth connection I've ever done. Hold the shutter button down till the light comes on, which will trigger the CapGrip to show up in Bluetooth settings. Tap connect and you're done. When you're finished, press and hold the shutter to disconnect from Bluetooth.
The shutter button actually slides out of the CapGrip so now you can remotely shoot photos from your cell phone. This can be especially handy if you use the 1/4″-20 thread on the bottom to mount your phone on a tripod. Sliding the shutter button out of the CapGrip was a little tough. You might need a strong fingernail to get it out at first, but hopefully, it would loosen up after a while.
The Ulanzi CapGrip isn't a product that's going to change the world, and I don't think it actually solves a problem I have. But if you find yourself holding a phone for long periods shooting video or photos, or if your hands tire easily, or if you have trouble holding a phone steady for photography, the Ulanzi CapGrip is only $13, is very light, and might be just what you need.
The Ulanzi CapGrip is out of stock at B&H as of the time of this writing, so you might want to go right to the source at ulanzi.com/… If you do, you'll find that they have lots of very inexpensive mounts and tripods and cages for phones and other types of cameras. You might find something else you need while you're there.