Quite a few years back, Steve and I were at CES and hanging out with our friend Joe LaGreca. I was bemoaning how I wasn't happy with the $100 D-Link Omna security camera I'd bought and he suggested we take a look at the Wyze Cam.
Fast forward to today and we now have 4 indoor Wyze Cams, 2 outdoor Wyze Cams, a Wyze sensor on the mailbox, 3 Wyze bulbs, 2 Wyze motion sensors, and 2 Wyze switches. The only reason I don't have the Wyze scale is that I already had a smart scale so I gave it to Lindsay after testing it. When they partnered with some companies to get no-touch digital thermometers and face masks out as things started to heat up, I bought both from Wyze.
Are They Losing Focus with Too Many Products?
But I have something to confess that I think the shine has gone off of Wyze for me. I've been wondering about the company as they've diversified into a crazy number of products. They now make a home monitoring security service, smart watch, smart band, outdoor plug, sprinkler controller, robot vacuum, thermostat, noise-cancelling headphones, smart lock, and a video doorbell. They even have Wyze socks, but those are actually cool.
I was also disenchanted with their service when I took my new Wyze Cam Outdoor camping. I spent hours and hours getting it into the right mode so that I could use it without an Internet connection and yet when we got out to Joshua Tree, it demanded that I log into the service to use the app. I had to climb up really high on top of the rocks to get a sliver of a bar to log in, and then it didn't end up recording a darn thing. Their service was completely worthless to figure out why it didn't work.
So this week, I cheated on Wyze.
Wyze Bulbs & Sensor Let Me Down
Over the years I've come to realize that what makes a smart home smart is when you don't have to tell it what to do. Maybe you program your devices ahead of time, or maybe they just figure it out on their own, but yelling, "Hey A-Lady, turn on the hallway light" is not my idea of a smart home.
When I leave my house on one of my long walks and my August lock locks behind me, that's a smart home. When my car unlocks when I walk up to it, that's smart.
In 2017, Denise did a guest post for the NosillaCast about the Hue Motion Sensor that she uses to trigger her Hue lights to go on when she enters a room and off when she leaves. Based on her recommendation, I bought one for our family room and it works great. I already had the (expensive) Hue bulbs and while I could turn them on and off with an app, having them simply know what to do without my daily intervention is what made them smart.
In mid-2019, Wyze came out with the Wyze Sense kit for only $20. This kit comes with two proximity sensors, one motion sensor, and a bridge to connect them to WiFi. The bridge is a small square that you plug into the back of any of your Wyze Cams via their USB port. You do some voodoo to get the sensor to talk to the bridge and now you have a motion sensor to trigger the $8 Wyze bulbs. Since I already had the camera, that meant I was out $36 for the sensor and 2 bulbs.
But here's the problem. While the Wyze sense does technically work to turn on the lights when I go into my studio, it loses connection to the bridge from time to time. I walk in, and the lights don't come on. I look at the Wyze app and there's a cloud with a line through it next to the sensor telling me it's offline.
There's a hole where I can poke it with a paperclip, which I do about 12 times over the following two days before I remember that I have to go mess with the bridge to fix it.
The bridge is in a Wyze cam above the front window of our house, about 8 feet off the ground so I have to perilously stand on the back of the couch to reach the bridge to reset it. If you've known me for any length of time, you know that walking on flat pavement is dangerous so balancing on the back of the couch is a really bad idea.
I've started noticing that this is happening more and more often over time. At one point maybe six months ago, Steve and I fought with it for hours and when we were done, not only was the motion sensor offline, the proximity sensor from Wyze we have on our mailbox was also offline.
It was so messed up that Wyze sent Steve a whole new set of sensors and a new bridge because we simply could not get it to work. In the past year, we've probably lost about 6 hours of our lives just trying to get the dumb motion sensor to work again.
Last week when the Wyze motion sensor went offline yet again, I poked it a few times with the paperclip and then walked into Steve's room and pronounced that I was done and I was buying another Hue Motion Sensor and Hue bulbs. He immediately said, "GOOD!"
Hue Bulbs and Motion Sensor
A 2-pack of plain white Hue bulbs is $30 and the sensor is $40, so that's $70 vs. the $36 for the equivalent from Wyze. That's a fair amount more, but I decided to spring for the color LED smart bulbs from Hue instead so that Steve can randomly change the lights behind me while I'm broadcasting. The color LED bulbs are $50 each but you should hear Steve giggle when he changes the color behind my back.
I got the new bulbs and motion sensor and since I already had the Hue Bridge for my original Hue bulbs, it was a matter of maybe 3 minutes to connect them all to my WiFi network and configure the motion sensor to turn my lights on and off when I walked in and out of my studio. In only 2 more minutes Steve had changed them to red and blue, so that was nice.
Not only do I expect the Hue Motion Sensor to continue to work without losing valuable hours of my life, but there are also other advantages. The Hue Sensor, as Denise told us four years ago, is very responsive. I didn't realize how long I was waiting for my lights to come on with the Wyze motion sensor until I got the Hue sensor and bulbs in my studio.
Hue is also HomeKit-compatible, while nothing from Wyze is, so I was able to add my studio bulbs to my "It's Showtime!" scene which kicks on at 4:45 pm right before the live show. When "It's Showtime!" fires, my LifeX light string on my mantle behind me goes on, my side light goes on via its Wemo plug, the ecobee thermostat tells the heater not to go off, and the iDevices switch in Steve's den turns off the landline. It's glorious to now have this all automated based on time of day, and available via Hey S-Lady when I want to enable it for Chit Chat Across the Pond.
It isn't a fair cost comparison since I went with color bulbs, but if I had to choose between the $70 Hue lights and motion sensor vs the $36 Wyze lights and motion sensor, I would definitely go with Hue again.
eufyCam vs. Wyze Cam
But I didn't stop there in my betrayal of Wyze.
As you probably know, the Wirecutter is a well-known source for finding the best of just about anything. I've made the mistake of intentionally getting on their "deals" mailing list and this week they had the 2-pack of the eufy 2K camera for $60 on Amazon. They had a review in November for the best indoor security camera and they chose the eufy Indoor Cam 2K for $40 with the Wyze Cam coming in second place.
At 2 for $60, that brings the price down pretty close to the $20 of the Wyze Cams. I went off to read why they felt the eufy was better than the Wyze.
The two primary things that caught my eye in the Wirecutter's explanation of their choice were that the resolution on the eufy video is 2K vs. 1080p on the Wyze Cam, and the eufy is HomeKit-compatible. I've been badgering Wyze since the early days to work on HomeKit and they always tell me they're fixing to make a plan to maybe start thinking about it.
I also had a $60 gift card burning a hole in my pocket on Amazon, so on a whim, I bought the two-pack of eufyCams, because 8 cameras including our Ring security cameras is not enough.
The Camera
The eufyCams are a little square box that rotates around the tip of a small post coming up from a square base. With no trouble at all, other than when I made a typo on my WiFi password, I got the eufy Indoor Cam on my WiFi network using their eufy Security app. That's not to be confused with their eufy Home app which I downloaded first. eufy Home is for their robot vacuum, smart bulbs, plugs and switches, and eufy Genie.
eufy Security supports Face ID and two-factor authentication via text message. When I tried to create a login I got a confusing message. It said I already had an account, even though this is my first eufy product. It turns out Anker owns eufy so that login is what I needed to use.
Picture Quality
I invested my hard-earned gift certificate in the eufys because of their 2K video resolution. I have to say it really is terrific. Steve set up the eufy right next to a Wyze Cam in our family room and we took screenshots at the exact same time so you can see the difference. These photos were taken around 11 in the morning and the eufy looks much clearer, the color is better, and the Wyze Cam is blown out on the left by the morning sun coming in from a window.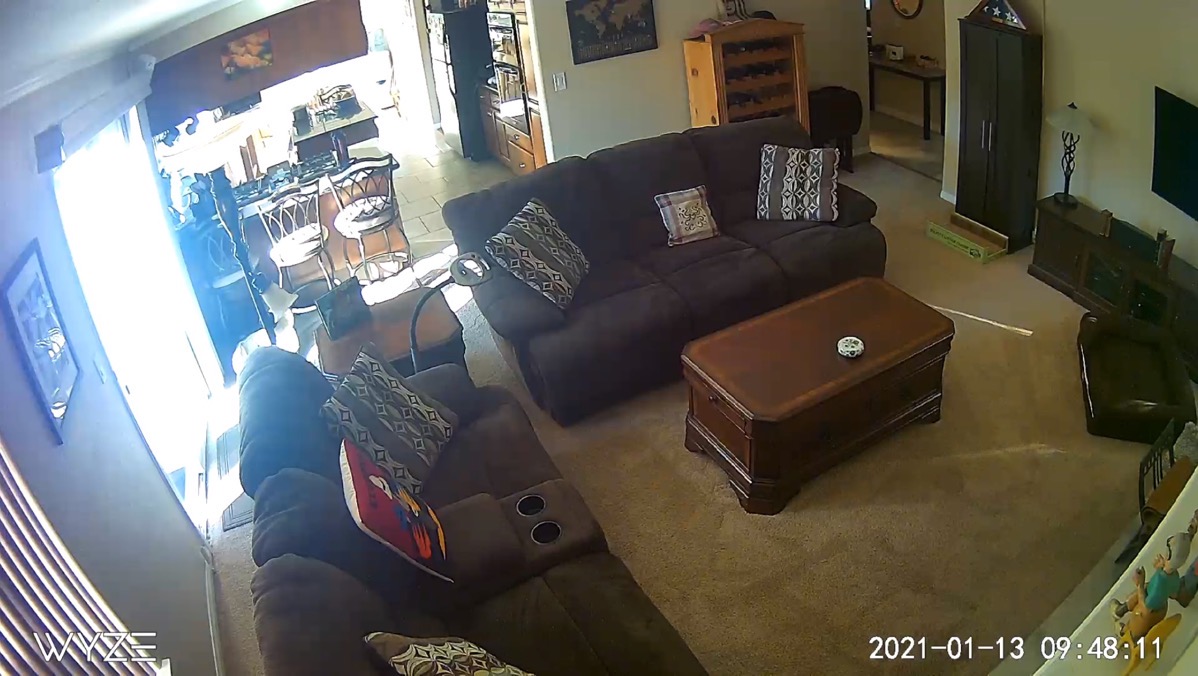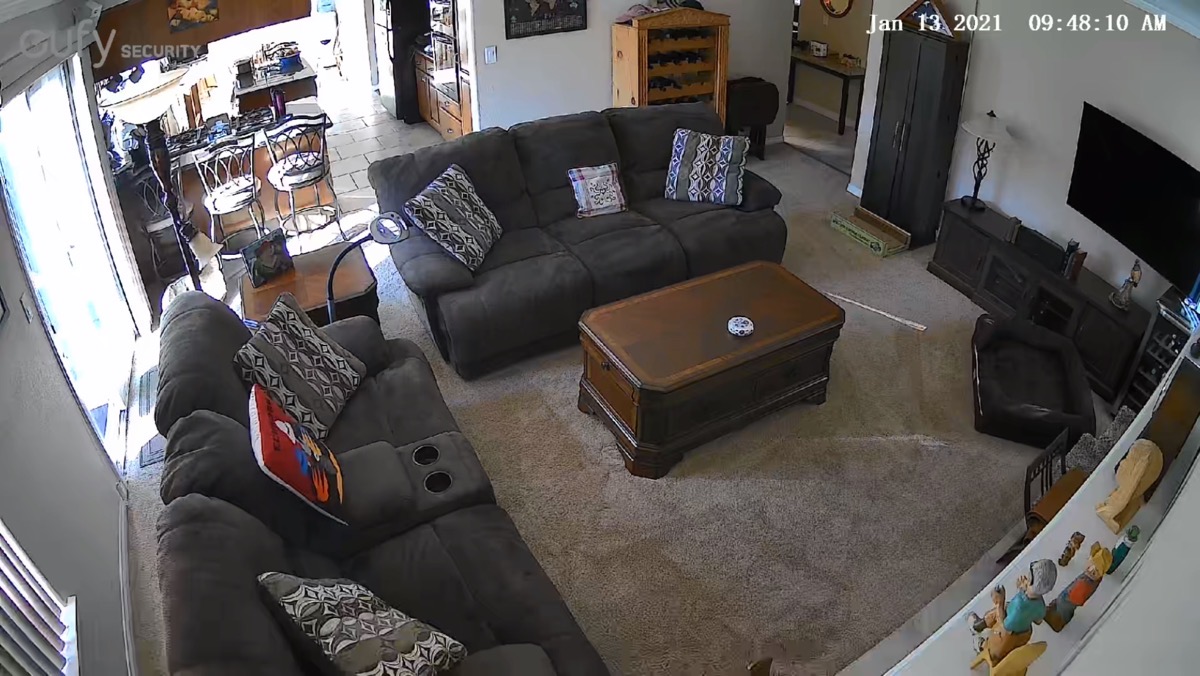 We also looked at the cameras in comparison in the evening and the difference was even more dramatic. The Wyze Cam actually looked smeary in comparison, prompting Steve to try to clean the lens in case that was the problem. In complete darkness, we compared the two camera's infrared modes, and I think I'd give a slight edge to the Wyze Cam, but the difference wasn't much.
Storage
Wyze Cams come with 14 days of online storage, or you can use a microSD card to store data locally. eufy has a free 30-day trial but after that, you have to choose between a basic or premier plan for cloud storage. The basic plan is $30/camera or $100/year for up to 10 cameras. That's pretty close to the costs of Ring cloud storage for videos, but I was interested in not paying more right away.
That's when I discovered that eufy supports storing your videos on your network attached storage using the Real Time Streaming Protocol, or RTSP. They have detailed instructions, using Synology as the example NAS, which was great for me. At their direction, I installed Synology's Surveillance Station software and with a bit of faffing about (because they skipped one step in the instructions), I now have my eufyCam storing all of the videos and photos I take with it stored on my Synology. I like new toys that help justify the purchase price of my Synology. I KNEW there was a reason I needed one!
The eufy Security software allows for a lot of customization of your camera.
Detection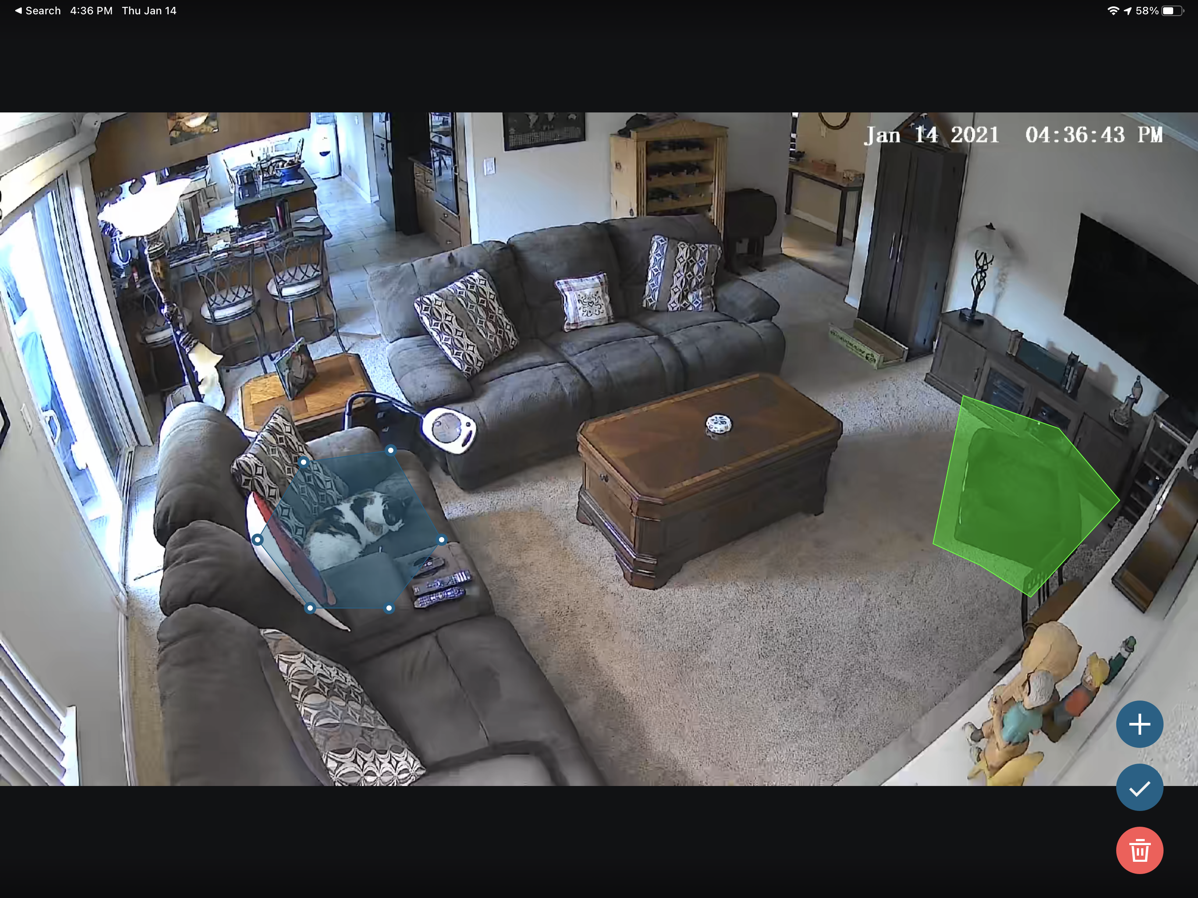 Motion detection, when enabled, gives you options to monitor the entire field of view, or you can define up to two activity zones. You can morph these activity zones to any kind of shape using the six point handles for each zone.
Within the zones (or the entire field of view) you can select what type of object you want to detect: people, pets, all other motion, or all three. You can set the sensitivity to 5 different levels from lowest to highest.
eufyCam's also have sound detection, and you can choose to detect all sound or just that of a baby crying. I don't have a baby here most of the time, but I could see using one of the cameras I didn't need to help monitor one or both of my granddaughters the next time they come over. Again with Sound Detection on eufy you can set the sensitivity level.
One of the most interesting features of eufy security is that you can set it to detect a pet when they go into a specific zone and then have it playback a recording of your voice. They show an example of a bed as a zone and a dog thinking about jumping on the bed, and the camera says "Stop!"
I wanted to test this feature so I set the eufy to detect people, and set the zone to be Steve's chair, and then recorded my voice saying, "Good boy, Steve!" Well, he started it by changing the color on my Hue lights when I wasn't looking.
You have control of the video quality based on your bandwidth, and there are some settings to enable the microphone and speaker on the camera. You do want the speaker on so you can talk to your pets. At least that's what I do with it!
Notifications
I haven't got a full handle on the notifications settings and not because they don't have enough options. I just haven't figured out when, how, and where I want to be notified. At first, we had all the switches on, so if I crossed my legs sitting on the couch we'd get alerts to our phones and watches. So that was probably not what we were looking for.
You can decide the interval in minutes between notifications of detection of people, pets, crying or all sound or motion, and you can choose whether you just get a text notification or a thumbnail with it.
The real power of notifications is in the Security section where you have six options from which to choose. First, there are three modes: Home, Away, and Disarmed. Disarmed has all device triggers disabled, so it won't record video no matter what goes on. Home and Away have default settings that you can change. You can set those modes to record video, send push notifications, and set off an alarm if the camera detects a person. Might be a bad idea to have the alarm go off if you're home, but that might be exactly what you want when you're away.
But remember my opening premise? If I have to open the app, tap on Security, and select Home or Away every time I leave or come home, that's not a smart home. Luckily eufy includes a Geofencing option, a Schedule-based option, or you can create your own customized option.
Steve and I really wanted to use the geofencing mode, but you know that never works when you've got multiple nerds. But eufy DOES let multiple nerds play. I was able to add each of our phones to the geofencing rules, even though I had Steve sign in using my account. I was able to adjust the radius around our home, enable two devices, and now it will switch to the Home mode if even one device is at home. Brilliant and the instructions were clear and obvious.
One thing I don't want to take for granted is that I can also use the eufy Security app on my iPad in landscape mode. Along with many others in the Wyze forums, I've begged them to make a landscape version for literally years and they keep saying they might someday.
HomeKit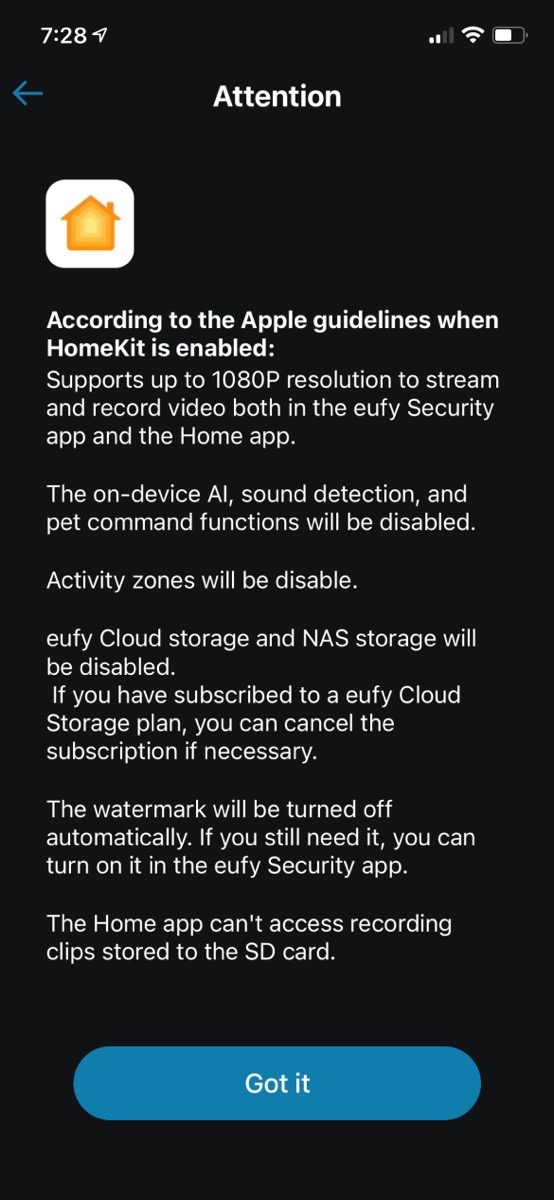 The final step was to put the eufy into HomeKit. But I was stopped in my tracks. eufy explains that according to the HomeKit guidelines, if I put the camera in HomeKit I would lose a LOT of the features that are so cool.
I bought the eufy for the 2K video, but HomeKit would force me down to 1080p. That was enough to stop me but they went on to explain that I would lose the camera's ability to use on-device AI to identify people vs. pets, pet command functions would be disabled, and even activity zones would be disabled.
But wait, there's more. eufy cloud storage could no longer be used, and even storing my own darn videos on my own darn NAS would be disabled.
About the only cool feature that wouldn't be lost would be geofencing to automatically set home and away on the camera.
If I'd just put the camera into HomeKit before learning about all of its cool features, maybe I would have been happy. Unfortunately, I learned the cool stuff first, so I'm going to choose 2K video and cool features over my beloved HomeKit.
Bottom Line
It's not common for me to change my allegiance to a product. I tend to be excessively loyal, so it feels very odd to stray from recommending Wyze products. But given the choice between Wyze bulbs/motion sensor vs. Hue, it's Hue all the way for me now. I'm not sure I'll only go with eufyCams over Wyze Cams but I'm sure having a lot of fun with the eufy.