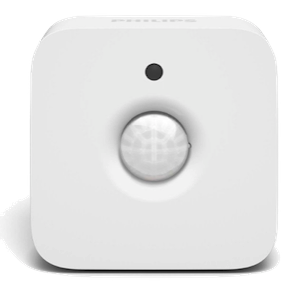 This is Denise Crown, and I have a confession. I'm obsessed with Hue Lights. I started with the Hue White and Color Ambiance Starter Kit and quickly fell in love. Before I knew what I was even doing, I had purchased flood lights for the kitchen, added bulbs to the bedroom, and purchased a Bloom and a Go Portable. I normally control them with either the Hue app on my iphone, or Amazon's Echo Dot. The Echo Dot works well to control them, and has become my home automation integration tool of choice. It just works, and it works with everything I have.
What problems do the Hue Lights solve? Well, they are fun and a lack of fun is a big problem.
I love changing the color of my lights for occasions or just dimming them to a soft gold at night.
I love setting my app up to turn them on as my car approaches the house after dark.
I love being able to turn all the lights on if I hear a noise.
I love turning them off and on if I'm away from home at night.
Hue Lights are wonderful, and one of the home automation investments I'm so happy I made.
Now, the problem to be solved is that when people come to visit who are not accustomed to barking orders to the lady in the Amazon cylinder, they tend to flip light switches on and off. Oh sure, I could buy connected light switches, fish around in my breaker box until I find the right circuit and the problem would be solved with an hour of electrical work.
Or, I could add the Hue Motion Sensor, which is available for $37 USD on Amazon, and that's what I did. The Hue Motion Sensor is a smallish white device roughly 2" square. It can sit on a counter, be wall-mounted, or affixed to something with its non-destructive magnet. As my mom was coming to town the next day and I knew she would not dig chatting with the Echo Dot, I slapped this little guy on the refrigerator and my problem was solved. This sensor also works with your Nest Thermostat, Apple HomeKit, and Google Assistant, and even with the Samsung SmartThings. Philips really thought Hue Lights through, and that's one of the reasons they give me so much joy.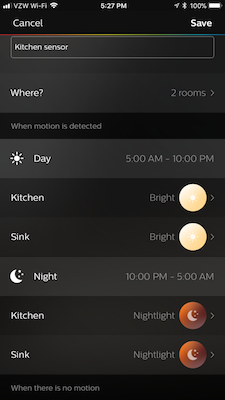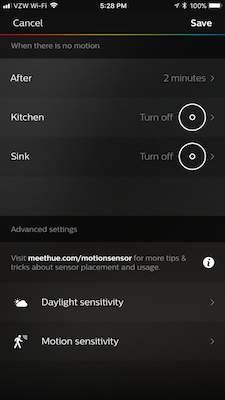 Once you've set up the sensor, open your Hue app, head over to settings, and look for accessory setup. If you don't see this, you might need to update your Hue app because the sensor is a recent addition to the lineup. Here's where the fun begins. You can really boss this sensor around. You tell it what lights to control, how bright or what color you want them, the times of day, when to shut off, how sensitive to be to daylight and motion.
I've included the Alimazon link (which is what I call Alison's affiliate Amazon link) so you can help the show if you like. I'm already planning on buying a couple more. One by the back door, when we come in from the garage, would be great.