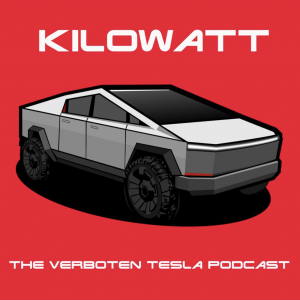 This week we have a very different episode of Chit Chat Across the Pond Lite. On the awesome Kilowatt podcast (a show all about electric vehicles), host Bodie Grimm asked me and my husband Steve to be his guests on the show. You really shouldn't be listening to it here, you should go subscribe to the Kilowatt podcast instead and listen to it there, but he insisted that we should share the love and he let me broadcast it for you here as well.
The Kilowatt Podcast is not just about Teslas, it's about electric vehicles in general. You'll learn about all kinds of EVs from all different manufacturers. You'll get the latest news and breakthroughs in technologies in the EV space. I highly recommend subscribing to the Kilowatt Podcast if you're at all interested in electric vehicles.
Bodie asked us to come on the Kilowatt Podcast to talk about what we don't like about our Teslas, the fiddly bits if you will. You know we love our Model 3 and Model Y but there are definitely things we wish were different. I know a lot of you out there are big fans of Steve so this is a rare opportunity to hear him in front of a microphone.
Steve and I had a blast recording with Bodie and we hope you'll enjoy it as well.