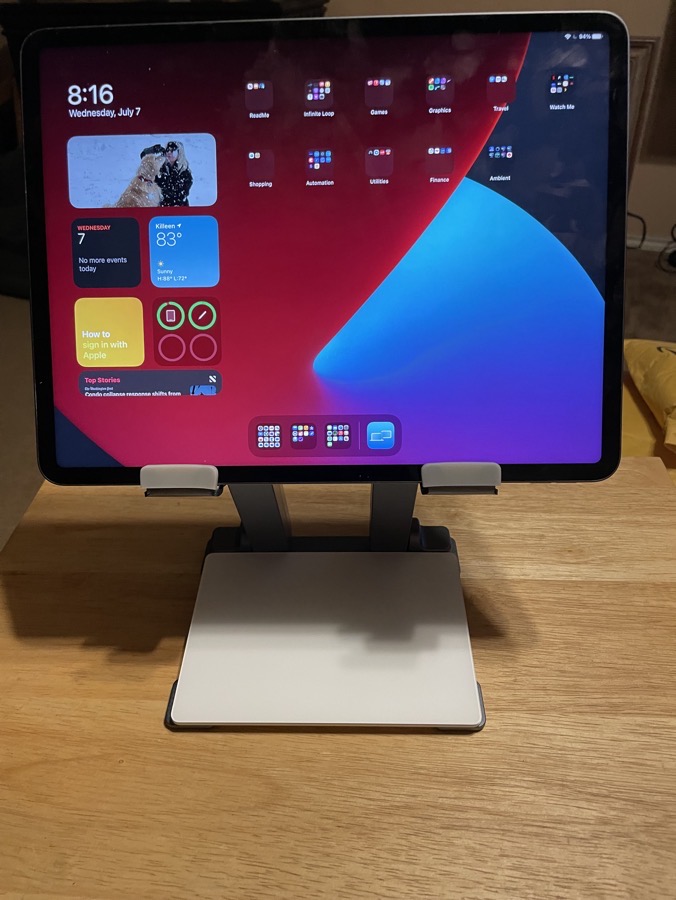 Hello fellow Castaways!
Professor Terry Austin here with a problem to be solved and a review for the solution!
As an online professor, and an education consultant, I spend a lot of time at my workstation.
At that workstation, I've got a 2020 16" MacBook Pro that sits on a stand to my left, a 34" curved HP Envy monitor that sits right in front of me. An Apple Magic Keyboard with Numeric Keypad (that sucker's wide!) and Apple Magic Trackpad drive all of this, and take up a lot of desk space in front of me. MAN that's a lot of Magic!
For several years my old 10.5" iPad Pro in an Apple Folio case would often find whatever space it could on the remaining on the desk.
My primary use for an iPad in this workspace, is as an additional external monitor for my Mac. Yes, I'm greedy for monitor space!
I just traded my old iPad in for a brand new M1 12.9" iPad. Pro I've got the Magic Keyboard, but I don't want that taking up a lot of room at my station, so I needed a stand.
I did what any responsible geek might do, and ordered three tablet stands from Amazon that looked like they might work for me. They all claimed to support the 12.9" iPad Pro.
Allison has some images and I'll let her decide which she would like to share with you all.
My criteria for selecting a winner were pretty straightforward.
The stand needed to…
Fit comfortably in my workspace, leaving room for my Magic Trackpad
Be STABLE when my 12.9" iPad was in landscape mode. (I didn't care all that much if it were stable in portrait mode, but that would be a bonus).
So, I placed an order from Amazon for all three of the stands I thought might work. They all claim to support tablets up to 13 inches. All were under $30, which was a nice surprise.
The tablets were… (and those are the names precisely as listed on Amazon)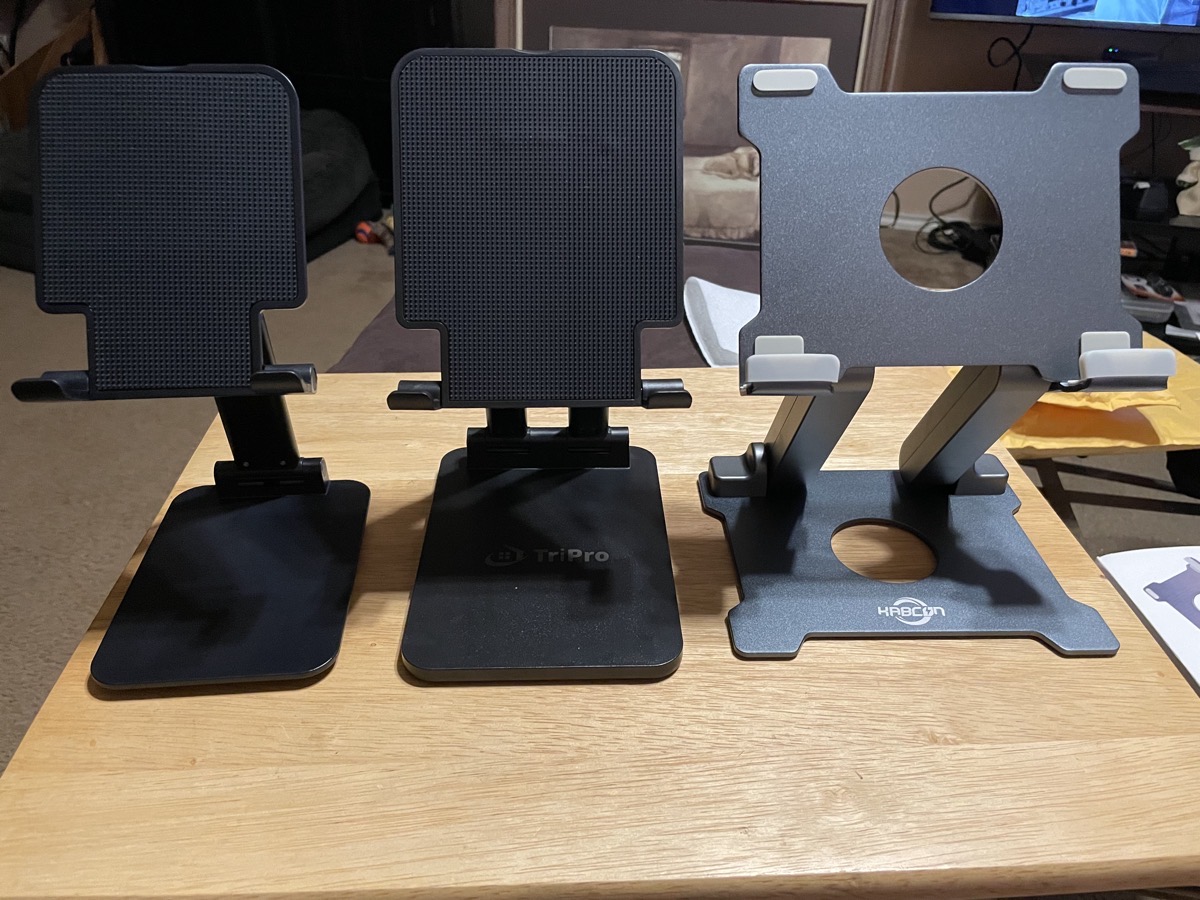 On first inspection, the Kabcon was the least impressive of all three, because it was far bulkier than the others when folded. Both the Yoozon and TriPro have nifty little arms which support the base of the tablet that actually collapse when folded… a very nice feature.
HOWEVER, both of these (the Yoozon and TriPro) proved to be far too unstable when supporting the weight of the 12.9" iPad Pro.

I carried the Kabcon over to my workstation and sat it down to see how it might fit. It not only fit nicely in my work area, but the base is almost the perfect size to hold my Magic Trackpad.
I slide the iPad in the Kabcon, in landscape mode and found it at an almost perfect height. (although height is adjustable). I tried the same test I had with the other two, pressing my forefinger into the top, middle of the screen (with the other hand behind) to test the stability). The other two stands failed this test pretty badly. The Kabcon was nice and steady.
So the winner for me was the Kabcon Adjustable Aluminum Tablet Holder. It works great for me, and it might just well work for you.
While there might be a better tablet stand available, I've not yet found one. Certainly I've not found a better stand for the price. Should you spot one, please let me know!
And with that, keep. listening, and stay subscribed.