When Steve and I ordered our 14″ M1 Max Macs this week, we had very little time to consider the options available. We were both really looking forward to the announcement, so our little fingers were poised over our keyboards at the end of the announcement, with a plan of trying to buy pretty much top of the line. In a way, having decided top of the line made it easier because we didn't actually consider all of the options and we didn't weigh whether we really needed each option.
After things calmed down, I wanted to really understand all of the options. I started making notes in a spreadsheet to get all of the information in one place, but it quickly became very difficult to show the differences because it is a really complex set of choices. It's almost three-dimensional.
For example, if you go with the bottom-of-the-line M1 Pro (which is, of course, a wicked fast and amazing machine), you have a choice of a 67W or 96W charger. But only that model has this choice, and that model only comes in the 14″ size. Two of the three M1 Pro options can only be 14″ MacBook Pros, while the third M1 Pro and both M1 Max options can be either 14 or 16″ models. You need to choose how many CPU cores you want, which will then change the size of the GPU cores you have as options and whether you choose Pro vs. Max will change how much RAM you can put in the machine.
If this makes your head spin like it did mine, then I think you'll like what I created. I used my favorite diagramming tool, diagrams.net (formerly known as draw.io) to document all of the options. It's color-coded and covers all 18 possible configurations!
And when I say 18 configurations, I'm not even counting the choices on SSD size. All 18 configurations come in 512GB, 1TB, 2TB, 4GB and 8TB. And yes, I verified that you can configure the bottom-of-the-line M1 Pro with an 8TB drive and you can configure the top-of-the-line M1 Max with only 512GB. That means there are actually 90 different ways you can configure the new Apple Silicon MacBook Pros. Unless you layer in the option of color with grey vs. another grey, which makes the grand total 180 different configurations!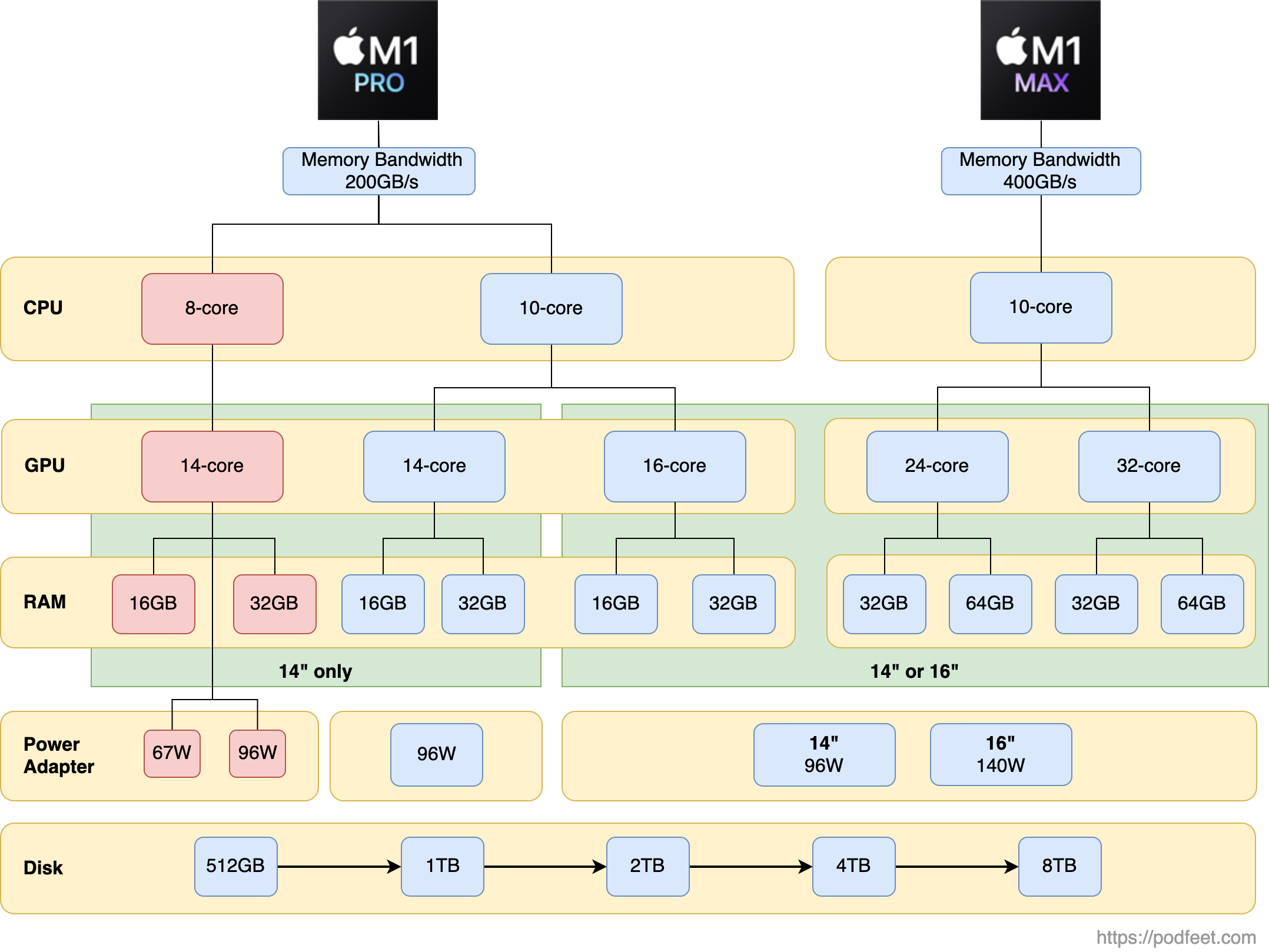 In the diagram, you'll see two trees, one for the M1 Pro, and one for the M1 Max. It's not a separate decision point but I note right beneath the logos that the M1 Pro has a memory bandwidth of 200GB/s and the M1 Max is 400GB/s. There are a few other differences but I didn't want to muddy the diagram any more than I had to.
As you travel down the trees, I've created bands going across to highlight the CPU, GPU, RAM, and Power Adapter options. The last piece to note is that there are two green boxes outlining which models only come in the 14″ form factor and which can be 14 or 16″.
I spent a lot of time fiddling with this diagram to not only get it right but also to have it convey the information you need without a lot of wordy explanation. If you find any errors, I'd definitely like to know.
After I had the diagram finalized, it occurred to me that this was a great tool for those of us who are currently sighted, but what about our visually impaired friends?
While the whole point of the diagram is supposed to allow you to understand the options at a glance, that's much harder to convey in text. I decided to create a spreadsheet with every possible configuration in a sensible order. I exported the spreadsheet from Numbers as a comma-separated value file, and then found an online tool to convert CSV to HTML.
In just a few seconds I had an HTML table that I was able to insert in the article which shows all 18 configurations. Definitely not as pretty as the diagram, but accessible and it was a good triple check of the configuration count of 18.
I hope this diagram and table will help you understand the new offerings for the 14″ and 16″ MacBook Pros, and maybe help you make a sensible decision rather than just pushing all the buttons to max it out like we did.
| Chip | Size | CPU | GPU | RAM | Power Adapter |
| --- | --- | --- | --- | --- | --- |
| M1 Pro | 14" | 8-core | 14-core | 16GB | 67W |
| M1 Pro | 14" | 8-core | 14-core | 32GB | 67W |
| M1 Pro | 14" | 8-core | 14-core | 16GB | 96W |
| M1 Pro | 14" | 8-core | 14-core | 32GB | 96W |
| M1 Pro | 14" | 10-core | 14-core | 16GB | 96W |
| M1 Pro | 14" | 10-core | 14-core | 32GB | 96W |
| M1 Pro | 14" | 10-core | 16-core | 16GB | 96W |
| M1 Pro | 14" | 10-core | 14-core | 32GB | 96W |
| M1 Pro | 16" | 10-core | 16-core | 16GB | 140W |
| M1 Pro | 16" | 10-core | 16-core | 32GB | 140W |
| M1 Max | 14" | 10-core | 24-core | 32GB | 96W |
| M1 Max | 14" | 10-core | 24-core | 64GB | 96W |
| M1 Max | 16" | 10-core | 24-core | 32GB | 140W |
| M1 Max | 16" | 10-core | 24-core | 64GB | 140W |
| M1 Max | 14" | 10-core | 32-core | 32GB | 96W |
| M1 Max | 14" | 10-core | 32-core | 64GB | 96W |
| M1 Max | 16" | 10-core | 32-core | 32GB | 140W |
| M1 Max | 16" | 10-core | 32-core | 64GB | 140W |