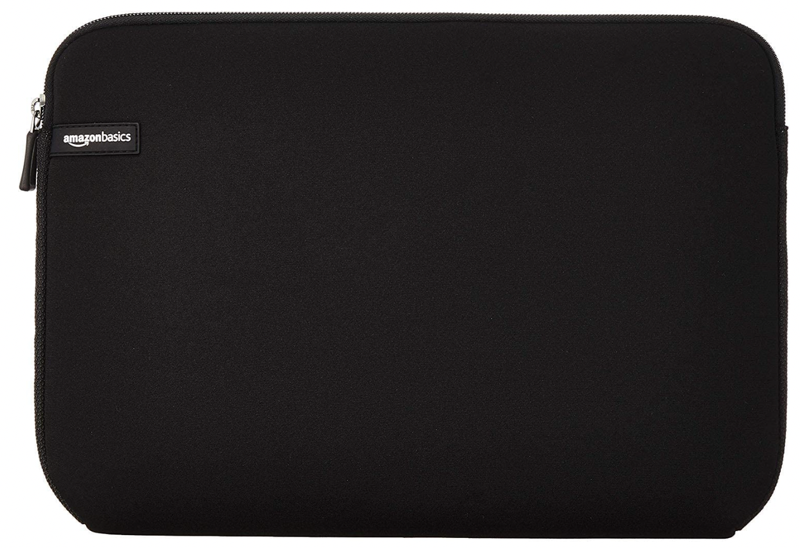 I mentioned during my review of the Lacdo Laptop Sleeve for 14″ MacBook Pro that Steve prefers the very simple design of the sleeve from incase that he had for his 13" MacBook Pro. He's been waiting for them to come out with the 14" version but I thought maybe I could find him one that's just as good but actually available now.
I bought him the Amazon Basics 14-Inch Laptop Sleeve in black, for the grand sum of $11. It is, as Bart would say, exactly what it says on the tin. It's a very simple neoprene black sleeve with a zipper around it.
You should absolutely not buy this sleeve for a 14" MacBook Pro. The main problem is that this sleeve is way too big. It's nearly a full inch too wide, and three-quarters of an inch too deep. The 14" MacBook Pro positively sloshes around in the case. I know that 14" does not define a laptop's length and width but the diagonal interior dimension of this sleeve is a full 16". I think you'd have to go back to the early 1990s to find a laptop with a bezel big enough to take 14" up to 16".
The good news is that when I told Amazon that I wanted to return it, the system offered me a "no return refund". Basically, it said it would give me my money back but I could keep the sleeve or discard it. I checked just in case to see if my 2016 15" MacBook Pro would fit in it but it's just barely a bit too snug for it. Guess it will be relegated to the giant pile of no-longer-needed tech all geeks keep in their closets.
Even though this sleeve didn't meet our needs, I really appreciate the hassle-free customer service from Amazon.
Why Steve Likes the incase ICON Sleeve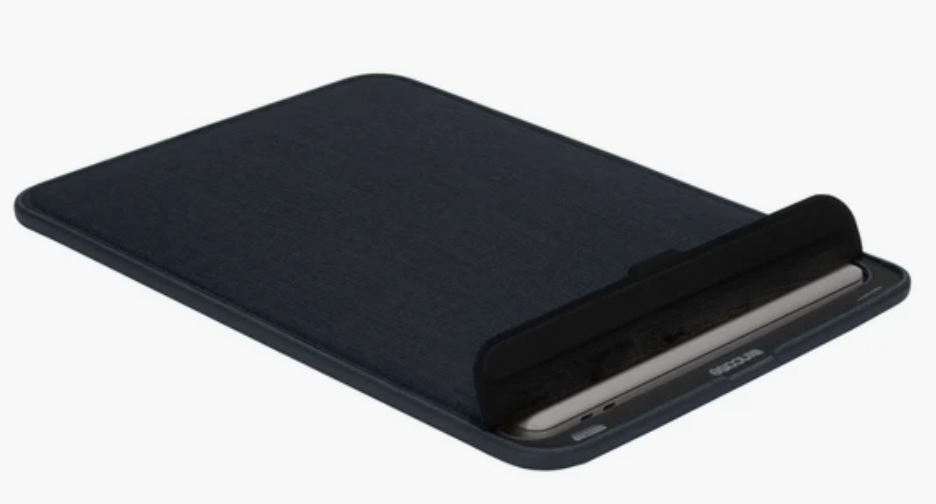 When I showed it to Steve, while he thought it was nice that I had tried, he showed me his ICON incase sleeve and explained why he's so fond of it. The sleeve doesn't have a zipper, but rather has a magnetic closure at one end. The interior of the sleeve has a rubber bumper that is exactly fit to the dimensions of his previous laptop. This means the sleeve is not only very sleek, it gives maximum protection to the corners and edges of his laptop.
They do allow you to search the incase site by 14″ and 16″ MacBook Pro but all of the hits are for universal sleeves with zippers, no internal bumper and no magnetic closure. These are sure to be a sloppy fit with less protection than the ICON sleeve Steve likes so much.
I've sent a press request to incase to find out if they're planning on making an ICON sleeve for the 2021 14 and 16-inch MacBook Pros, so hopefully, they'll get back to me on how long Steve will have to wait for the one he wants. For now, he's squishing his 14" into the 13" sleeve from incase, which is definitely not ideal.