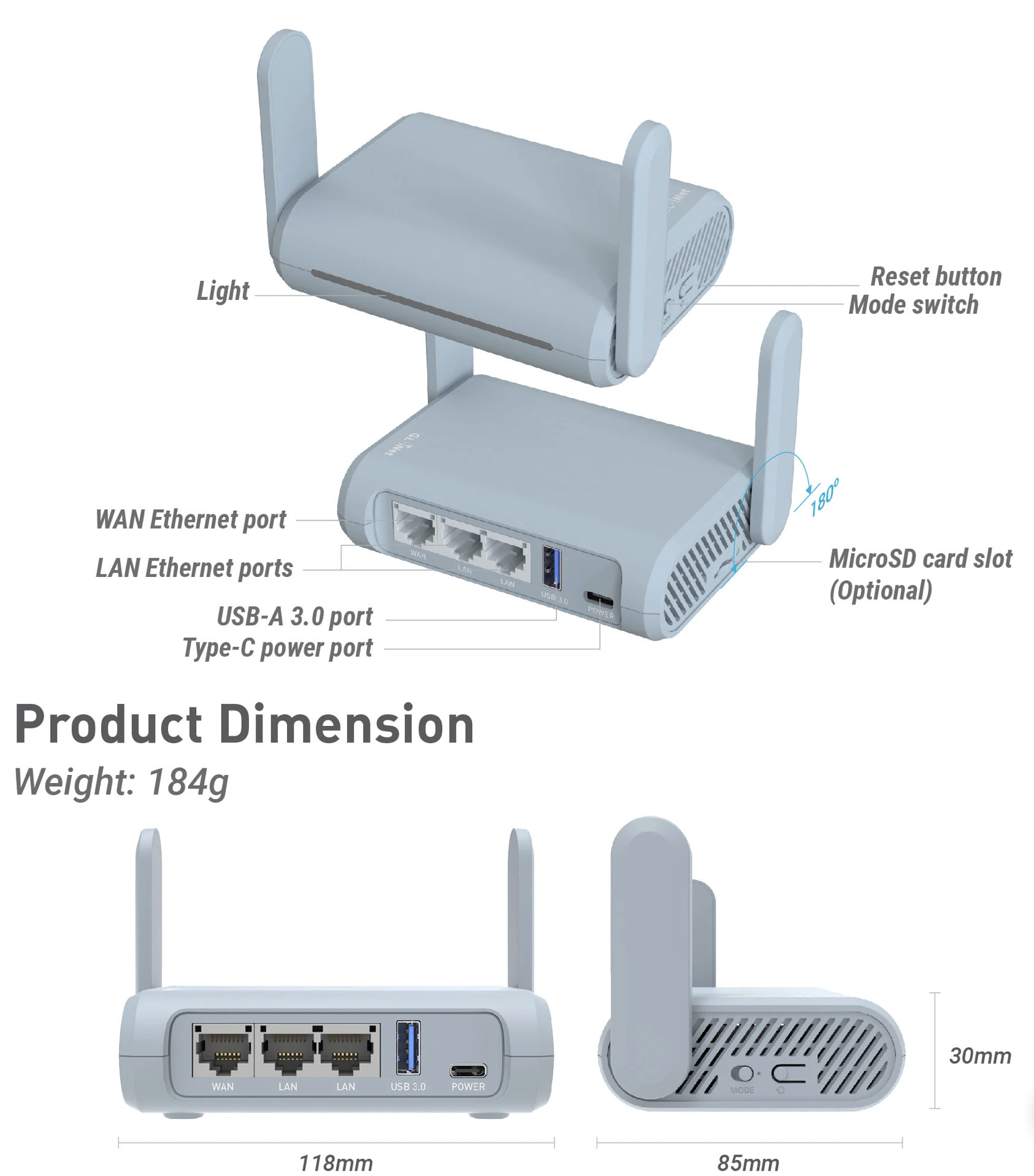 For the past decade or so, when I have traveled, I have always brought along a router for hotel stays. Initially, the rationale for bringing a router along was to avoid per-device charges for internet access.
While, over time, these fees and limitations were discontinued, I have also become more aware of the potential for security threats when connecting to a public/unencrypted WiFi. Thus, I have continued to bring the router along on my travels.
Over the past several years, I have been using the ASUS WL-330N Portable Wireless N Router as my travel router. However, in the past year or so, I have been having trouble with this travel router maintaining a reliable network with the multiple devices I bring along with me, specifically my AppleTV, and streaming a lot of content.
Additionally, the WL-330N is no longer receiving firmware updates from ASUS and we know what Bart thinks about internet-connected routers that are no longer receiving updates !!
So my problem to be solved is to find a replacement travel router and hence my review.
Enter my new little travel buddy – Beryl (GL-MT1300) from GL.iNet at gl-inet.com/….
According to the box, Beryl is a "pocket-sized" travel router with top-notch security features. While I think that "pocket-sized" may be a bit of a stretch, as it is the size of a deck of playing cards, it is packed with features, including security.
Beryl is a fairly modern-day "a/b/g/n/ac" router (not WiFi 6 though). It comes with OpenWRT firmware pre-installed and allows for custom firmware to be installed as well.
In addition to the typical travel router features of supporting multiple modes to access the internet: router (via ethernet connection), wifi repeater/rebroadcaster, USB modem, and cellular tethering via dongle, there are many other features such as:
Support for IPv6
2.4GHz and 5GHz WiFi networks
Support for guest networks on both 2.4 and 5 GHz.
Ability to view and control access for all client devices.
Regularly updated firmware.
Fully functional firewall for port forwards, open ports, and DMZ.
VPN Support
— OpenVPN Client & Server
— Wireguard Client & Server
— TOR
— VPN Policies including an Internet Kill Switch which requires the VPN connection all the time to access the internet.
Dynamic DNS (DDNS) support for those running a VPN server on the go.
Support for a host of OpenWRT packages (plug-ins)
Support for external USB storage and a MicroSD for file sharing.
DLNA support
On a recent trip over the Thanksgiving holiday that included 4 hotel stays at 3 hotel chains (Holiday Inn Express, Raddison, and Hampton Inn & Suites) I had my first
opportunity to put the Beryl to the test. I am happy to report that the Beryl lives up to all that was promised "on the box".
I had little problems connecting to the public wifi at each of the hotels (more on that in a bit) and once connected, all of my devices (2 iPhones, 2 Apple Watches, 1 iPad Air2, and 1 AppleTV 4th gen) were able to connect and operate without issue. I was able to use Apple Fitness+ and stream the season finale of Foundation as well as the new Marvel series Hawkeye without any buffering or stuttering.
Additionally, I was able to connect the Beryl to the VPN server that I run from my network at home, so all of the internet traffic was protected from the public WiFi offered by the hotel. I am very happy with this purchase and look forward to using it for years to come.
The Beryl can be purchased on Amazon for around $90 USD and the manufacturer
website is gl-inet.com/…
I'd like to mention a couple of other things about this router. Beryl has a previous version called the Slate. The Slate is still for sale, and it has very good recent reviews. It's a little less expensive, with a little lesser but still very adequate performance. There appears to be a new version of this router on the horizon, called Opal.
Opal looks to be a lower-cost option with many if not all of the features and performance of the Beryl. The tagline states: "it's a cost-effective pocket router". I'm not sure when that's going to be released, but if you're not quite in the market for a travel router, you might want to hold back and keep your eyes on that one before making a purchase.
As a bonus, here are a couple of related Tiny Tips when using a travel router:
One of the tricks I have employed with my use of travel routers is to set the WiFi SSID and security settings of the router to be identical to my home network. This way, all of my devices 'just connect' without needing to connect each one, etc. It is a very handy little trick. The only downside is that until the router is properly connected to the hotel WiFi, the other devices will be unable to connect to the internet which may annoy your travel partner. It also should go without saying that you shouldn't do this if your home WiFi is set to be an open WiFi without any security!

Connecting a travel router to a hotel WiFi can be challenging because of the captive portal that is used at most major hotel chains. For those who don't know, the captive portal is a technique hotels use to block Internet access until you have authenticated as a valid hotel guest. Typically you authenticate by entering the last name on the reservation and the room number. To accomplish this, I found another feature of the Beryl to be helpful. The Beryl offers the ability to clone the MAC address used by the router. So, to get past the captive portal, the following process worked at each of my recent hotel stays.
Connect a device (phone, tablet, computer, etc) directly to the hotel Public WiFi and get thru the captive portal, accepting terms and authenticating as needed (providing the Last Name and room number)
Disable auto-join to the hotel WiFi on that device.
Make note of the MAC address of the device used to make this connection
Turn the Beryl on and deactivate the VPN (as it may still be active from the prior use).
Reconnect to the Beryl and visit Settings (More Settings -> MAC Clone) page and enter the MAC address used when connecting to the hotel WiFi.
(Optional) I found that it seemed to help to reboot the router at this point.
(Optional) Once connected to the hotel WiFi, re-activate the VPN
Notes:
Depending on the hotel, you may be challenged with the captive portal again for longer stays, so you might have to do the captive portal dance again.
While these steps are specific to the Beryl, the general process of connecting to the hotel wifi with the same MAC address used by the router should allow for getting the travel router on the hotel wifi.
Using an iPhone/iPad with iOS 14 or higher as the device to make the initial WiFi connection is helpful not only because of our Slight Apple Bias but also because of the default for the Private Network settings and the ease of copying and pasting the MAC address used for making the connection.
Bottom Line
The Beryl from GL.inet is a great little travel router that I'm very happy with. It allows me to compute happily and "stay secure".