I really wish I could carry my iPhones without cases because they are so darned pretty and sleek, but every time I give it a try, I invariably drop them within a day or so of removing the case. I test every new iPhone without its case, but only inside my carpeted home. As soon as it slips out of my hand or slides off the arm of a couch, on the case goes.
I used to buy Apple's silicone cases but in 2019 I banned them from my life after the third one I paid $50 for fell apart in less than a year and Apple refused to honor their supposed one-year warranty.
CASEKOO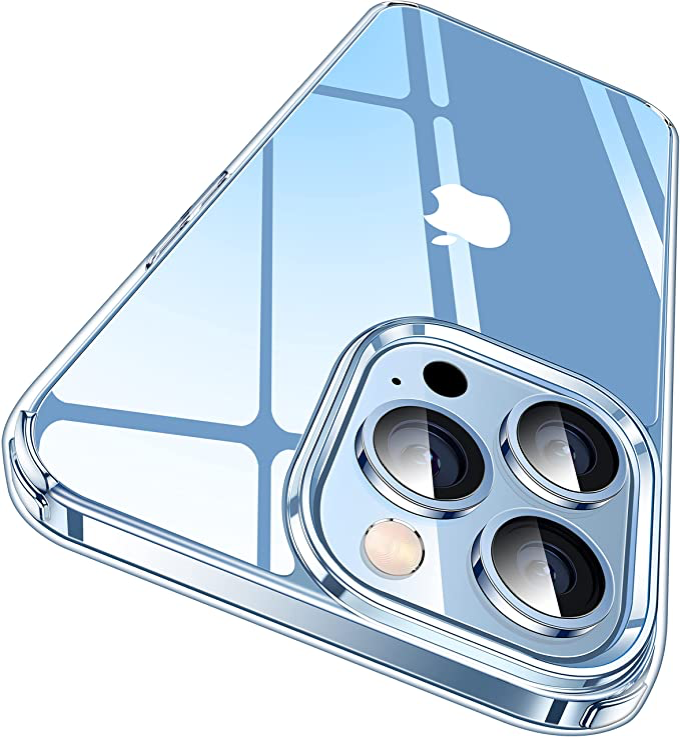 When I spoke of my discontent with Apple iPhone cases, Kaylee turned me onto the CASEKOO brand of inexpensive iPhone cases. When I got my iPhone 13 Pro this year, I bought their $18 clear case. I've been pretty happy with it because it shows off my pretty new device, while protecting the device.
Not only does it give the phone back protection, but it's got extra little cushions on the corners and of course a nice ridge around the camera plateau to protect the lenses. It's just sticky enough to ensure a firm grip at all times, and at $18 I could buy them in different colors to suit my mood. I don't, because I really like the clear case, but I could.
Mujjo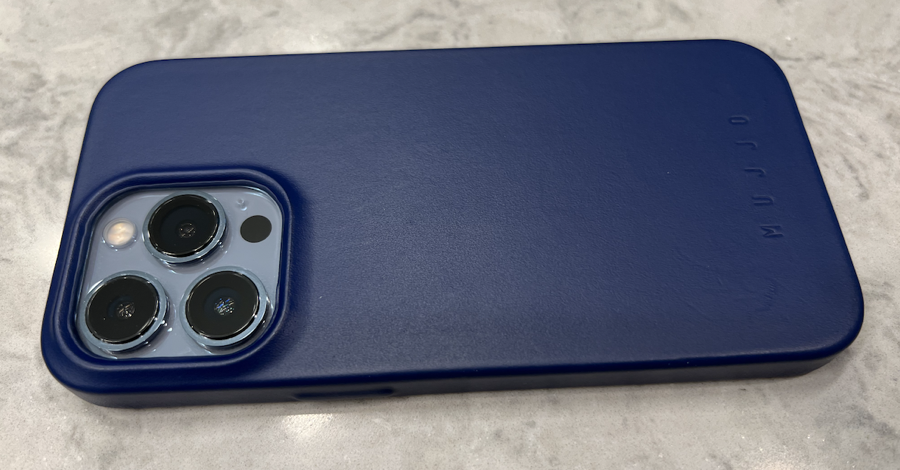 A representative from a company called Mujjo out of The Netherlands asked me if I'd like to give one of their fancy leather cases a try. I haven't actually ever used a leather case before so I thought it sounded like fun to try one. I took a look at the options Mujjo sells, and chose the Premium Leather Cover in Monaco Blue that will run you $45 USD.
The first thing I have to say is that it's gorgeous. Monaco Blue is a dark navy color and it looks very luxurious. It feels like you would hope a nice leather case would feel.
I wanted to figure out a way to describe how much protection you would get with the Mujjo leather case, so we set it beside Steve's iPhone 13 Pro in the Apple silicone case. We laid a ruler across the two devices and there was no wobble in it in any dimension, telling us that they were virtually identical.
That tells you that the Mujjo leather case is a minimalistic case. It's not bulky and thick which can give greater protection, rather it gives you the minimum thickness to provide some protection.
I can't testify that the Mujjo leather case will provide protection from any kind of drop test, but I can tell you that I flipped my phone out of my own hand and it landed on concrete and had zero damage. I think it hit a bit of a corner and then landed face down. My heart was in my throat until I flipped it over, but Mujjo saved the day.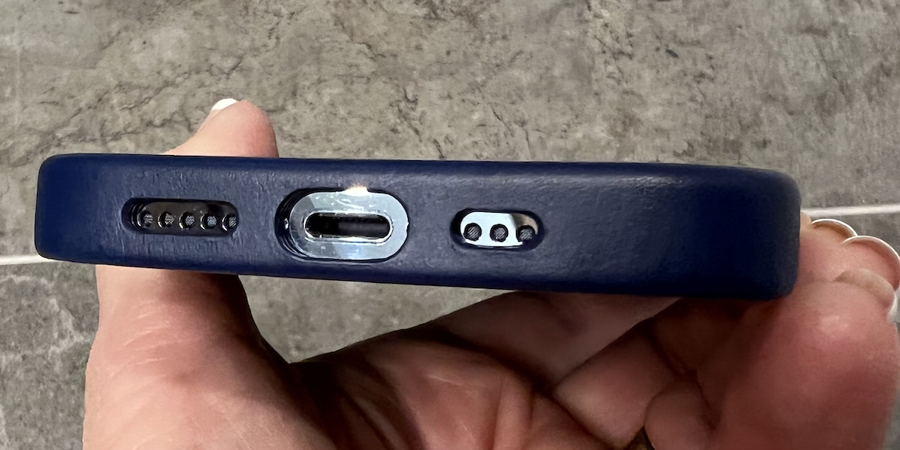 I am not the type of person who worries about whether the ports on a laptop are center-aligned vs top-aligned, or worse yet, random-aligned. But for the sake of those who are, I searched the Mujjo case for imperfections in design and I did find one thing that might bother those who look for tiny details.
On the bottom of the iPhone 13 Pro, there are two sets of holes. The four-hole set is the speaker, and the three-hole set is for the microphone. The rounded slots in the Mujjo case are slightly farther from the face of the phone than the corresponding holes in the phone. This is only noticeable because, on the three-hole slot, one of the holes is right next to the end of the slot. It is not occluded in any way, so the microphone isn't muffled or impeded in any way.
I measured it, because if you're "that person" you probably want me to. The entire slot is only 3 mm tall, and I would say it could move up about 0.5 mm to be aligned perfectly. It's that tiny of a difference, so normal humans would never notice but I do want to serve our broader audience, no matter how detailed they might be.
More in the usability category, I find no difficulty using the volume up/down buttons, and we tested flipping the mute switch with the Mujjo case and the official Apple silicone case, and there was no difference in the fingernail length required to execute the switch flipping.
Mujjo also sells a wallet case for $49.90 USD. Both styles of cases come in Monaco Blue, as well as tan for the true leather look, and black.
I want to mention one, final thing, which actually gives me pause about Mujjo. You know how just about every website in the universe now has an option to change your privacy preferences? You can either just click accept and get moving, or you can edit your preferences to turn off tracking cookies. Mujjo's website has that preference setting, but when you open it, every single option says "REQUIRED".
By agreeing, you're saying that you read the privacy policy (which isn't offered to you to actually read.) Necessary cookies to allow the website to function, and that makes sense. Then it says Tracking Cookies and those are also required:
These cookies allow us to count visits and traffic sources so we can measure and improve the performance of our site. They help us to know which pages are the most and least popular and see how visitors move around the site. All information these cookies collect is aggregated and therefore anonymous.
If I squint and tilt my head, I can kind of convince myself that this only means incoming cookies so someone else has tracked me and that they only count how they see you move around their own site which is completely fair. But it did give me pause. I'll let you do your own squinting and head tilting so you can decide how it strikes you.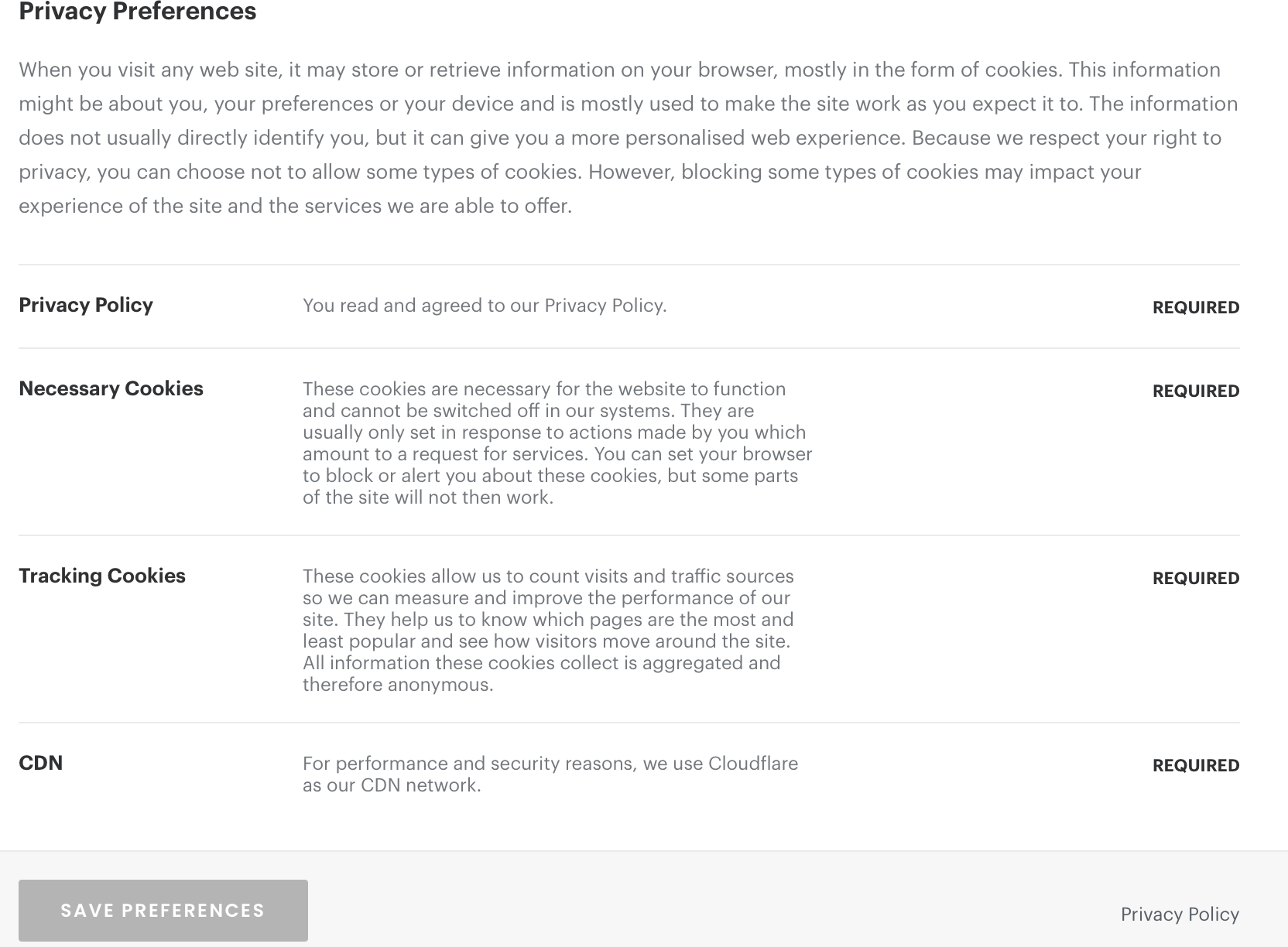 Overall I'm pleased with the Mujjo leather case, which I can measure by the fact that I haven't gone back to my clear plastic CASEKOO case yet. Not saying I won't but for now, I love the classy look and feel of the Mujjo leather case and since it saved my phone on one drop, I'm feeling rather fond of it.
You can find all of Mujjo's iPhone cases along with their laptop sleeves at mujjo.com/…