For as long as I can remember, I've used a giant backpack to carry my laptop when I leave my home. I buy them with built-in padded pockets to keep my precious safe from the hazards of travel. Since my very first Power Book G4, my laptops have also been 15 inches or larger.
Steve, on the other hand, has always carried his 13" MacBook Airs in a very simple, black neoprene sleeve from the company incase. He'll still put it in a backpack but he likes the protection of the sleeve.
Since my new 14" MacBook Pro is literally 25% smaller in volume (65.4 inches cubed in volume vs 87.29) than my previous 16" MacBook Pro, I'm finding more opportunities to carry it along when I don't really need the backpack at all. Since no short trip would ever require a charge of this amazing machine, it seems that the sleeve life might be for me.
Now here's the weird thing. incase has yet to come out with a sleeve for the 14" MacBook Pro. I know this size is the new hotness but I really thought by now they'd be available. I've also gone to the Apple store to peruse the offerings there, and there's not a single case for the 14" form factor.
I did a search on the Internets for 14" MacBook sleeves and I didn't really see a lot of options. That's when I realized my search term was too narrow, so I just searched for 14" laptop sleeves, rather than just Apple laptops.
I eventually found and purchased the Lacdo Laptop Sleeve for 14″ MacBook Pro on Amazon for a grand total of $15. Spoiler, I think it's just lovely.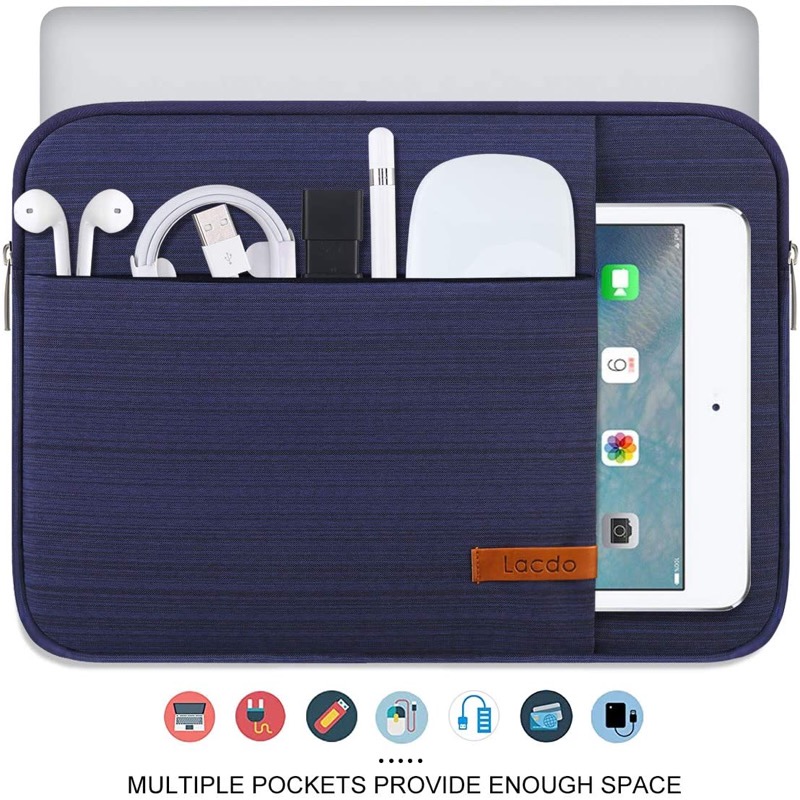 The Lacdo has the main compartment for the laptop, which is nicely lined in what they call a soft fluff interior. But it also has a thin pocket on the outside that easily fits an iPad mini. This pocket doesn't have much padding, so I'd probably keep the iPad facing in. This same pocket could easily hold a charger and cable. I use a GaN charger for my laptop when I'm away from home, and it being so much slimmer makes it a perfect fit for the front pocket.
Now, this is kind of hard to explain, but the same piece of material that forms the pocket I described, also has a hidden pocket perpendicular to it that could easily hold a 10 or 11" iPad. As if that weren't enough, on the flip side there's a slotted area that would be perfect to slip in a notepad or a folder; something that didn't require being zipped in for safety.
The Lacdo sleeve comes in six colors. I chose the grey which is a mottled woven look that's very classy. It also comes in black, navy blue, mint green, peach, and pink. As much as I love wild colors, the pink and mint green are a bit much for even me, but the peach and navy blue are both lovely as well.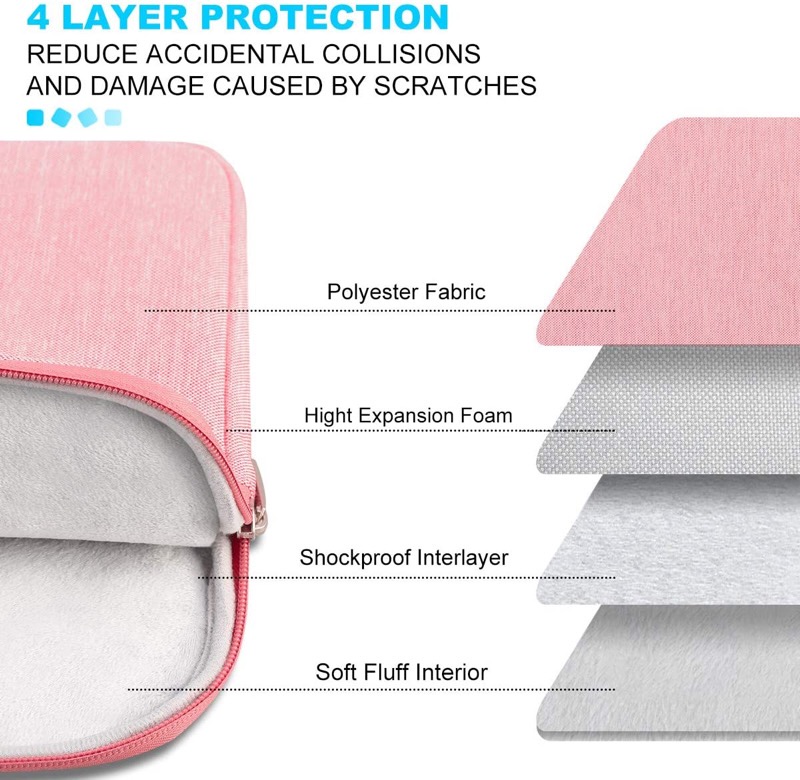 According to the information on the Amazon page, the sleeve is water repellant which is nice. The zippers feel sturdy and well made and are easy to open and close.
As far as protection is concerned, they show a breakdown of the polyester fabric outside, high expansion foam, a shockproof interlayer, and the soft fluff interior. Now I wouldn't do a drop test with my laptop in the Lacdo sleeve to test it, but it seems as protected as you can expect from a laptop sleeve.
The 14" MacBook Pro fits quite nicely in the Lacdo sleeve, but it could fit a laptop maybe a half-inch wider. It's not enough extra room that it feels like my laptop is sliding all over the place but I wouldn't call it a snug fit in that dimension.
Even though the Lacdo laptop sleeve has two pockets and a slot on the back, it's not at all bulky. It feels sleek and looks very classy and I'm really looking forward to taking my precious out to a dinner party in it. I can't believe the Lacdo is only $15 on Amazon, while the incase we're still waiting for is $50.