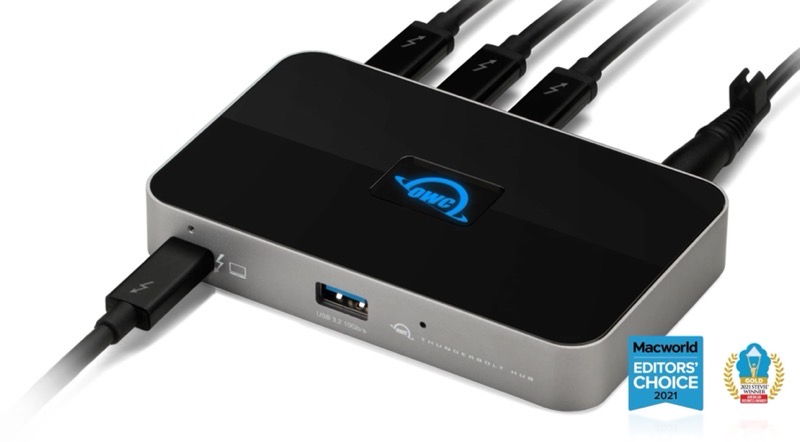 One of the great joys of the USB-C life has been the proliferation of USB-C docks that are cross platform for Mac and PC. Over the years I've tested a lot of them, settling on the CalDigit TS3+ dock as my favorite.
I did a full review of the CalDigit TS3+ three years ago and I still love it to pieces. This sweet little paperback-book-sized dock has 5 USB-A ports, 2 USB-C ports, 2 Thunderbolt ports, DisplayPort, Digital Optical, Gigabit Ethernet and audio in/out.
With 2 Thunderbolt ports on the CalDigit dock, you can plug in a Thunderbolt display like the 5K or the Pro Display XDR, and also plug in a Mac and get both power to the Mac and video out to the display. Add in other USB devices and some speakers and you've got everything with just a single Thunderbolt cable to the Mac.
At this point in my story, I've given you a scenario a relatively normal nerd might set up for themselves. I'm going to diverge into more complexity that has very little chance of relevance to anyone listening or reading. How's that for a hook to persuade you not to jump to the next chapter?
This setup worked pretty swell for me until I decided to upgrade from a USB mic interface to the Universal Audio Apollo Solo Thunderbolt 3 mic interface. A mic interface allows you to use a big-girl mic with an XLR connector on it, and yet plug it directly into your Mac or PC.
I switched to a Thunderbolt interface to solve a big problem I was having.
The big problem is that USB wasn't able to keep up with the load when I was recording video tutorials for ScreenCastsOnline. I'd get these little clicks and pops from time to time. It was super tedious to have to rerecord my voice.
Giving up USB and going to Thunderbolt has a beautiful side effect too. The only way to be truly sure you've got clean audio is to monitor your own voice. This drives some people bananas because USB introduces a slight delay. With a Thunderbolt interface, you can get very close to zero latency so you can monitor without losing your mind.

It turns out that there are a lot of USB interfaces, a limited choice of Thunderbolt 2 interfaces, and exactly one Thunderbolt 3 interface that fits my requirements. There are lots of huge ones with 8 mic inputs and such, but I really only needed one mic input since it's just little old me, and I didn't want to have to sell a kidney for it either.
The one option is the $600 Universal Audio Apollo Solo with two XLR mic inputs. I talked and wrote about it back when I got it in late August.
There are a few issues with the Apollo Solo, and one of them is that it absolutely positively has to be plugged directly into the Thunderbolt port on the Mac. I know, you're crying with me that I have to live with the agony of plugging in two cables. But hey, when you've lived the one cable life, having a two is a very sad thing.
With the advent of macOS Big Sur, Apple unlocked some capability in Thunderbolt 3 (now Thunderbolt/USB 4). The change allowed Thunderbolt devices to go through a hub, just like you can with USB devices. A Thunderbolt hub might be the solution to allowing me to go back to a one-cable life.
For Christmas, Santa brought me the OWC Thunderbolt Hub, which runs a rather modest $179 US. This hub connects to your computer via Thunderbolt 4 on the front and expands to three Thunderbolt 4 ports on the back. As an added bonus they threw a 10Gb/s USB-A 3.2 port on the front.
Adding the OWC Thunderbolt Hub to your Mac is essentially adding two extra Thunderbolt ports. I said this story wasn't relevant to most people, but if you've got an M1 Mac with only 2 Thunderbolt ports, the hub might actually be pretty helpful to you.
Now for me, the problem wasn't that I didn't have enough Thunderbolt ports, but rather I only wanted to use one port on my Mac when at my desk. I wasn't sure the OWC Thunderbolt Hub would solve my problem, and it took some diagramming to figure out whether it could do what I needed.
I opened up my trusty, free diagramming tool Diagrams.net and got to work. My requirements were to connect:
Pro Display XDR on Thunderbolt
An external USB-C display on occasion
A USB-C SSD for backups
Universal Audio mic interface on Thunderbolt
Hail PR-40 XLR mic into the Universal Audio interface
Headphones into Universal Audio interface
Ethernet through the CalDigit TS3+ dock
Power from the CalDigit TS3+ dock to the Mac and the mic interface
External speakers
Logitech Webcam
This doesn't sound like too much to ask, does it?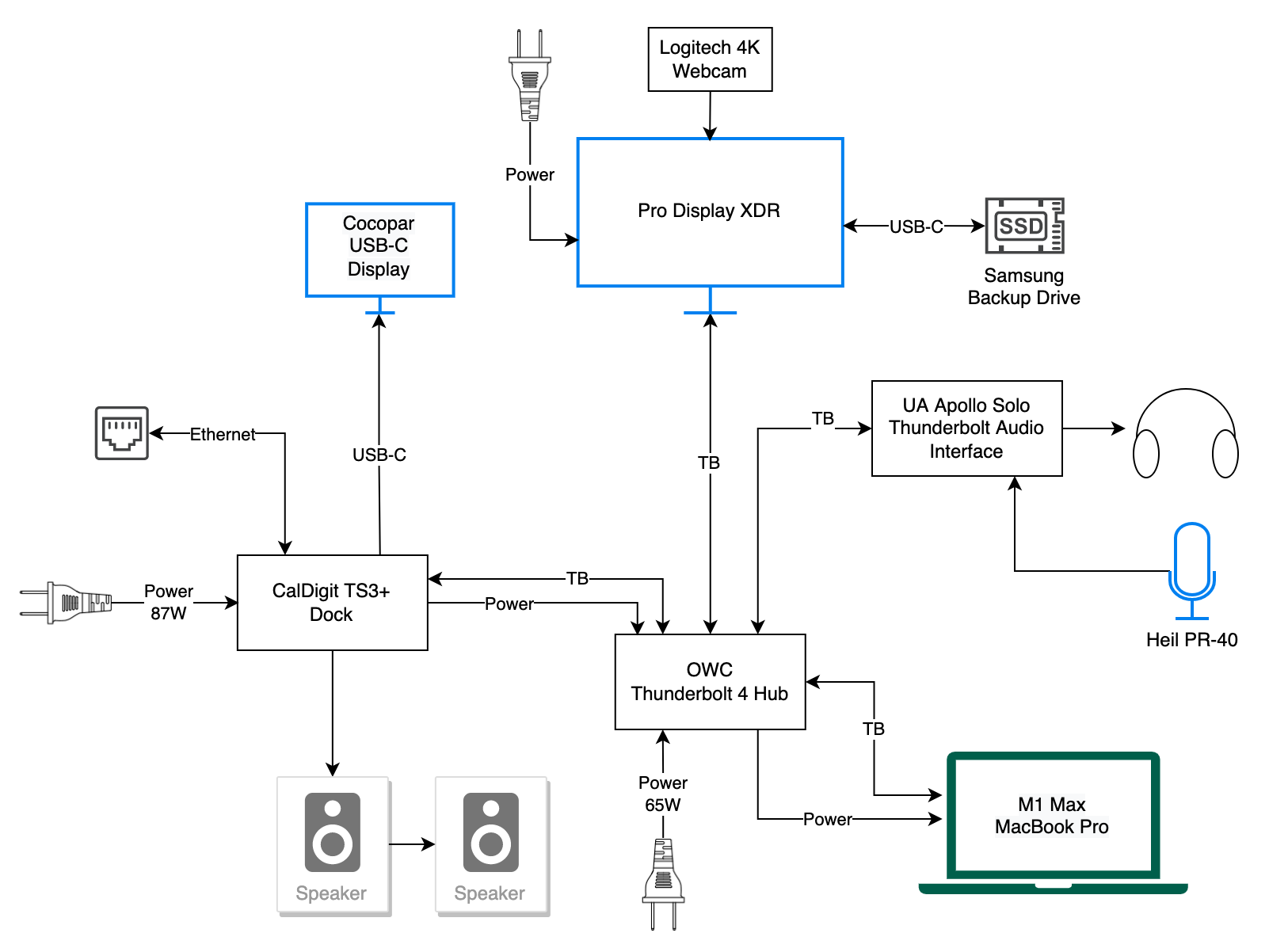 The CalDigit TS3+ starts the chain of happiness with power and Ethernet. Next, I can insert the OWC Thunderbolt Hub between the CalDigit dock and the Mac. The Pro Display XDR and the Universal Audio mic interface can then hang off of the Thunderbolt hub.
With the XDR and the Universal Audio interface going through the hub, this frees up a USB-C port on the CalDigit TS3+ dock, where I can plug in a portable USB-C display when I need it.
That left my SSD backup drive looking for a home. I could have plugged it into the open USB-C port on the front of the CalDigit dock, but it's messy to have it out in front on my desk. It turns out that the Pro Display XDR has three USB-C ports on the back, which is a perfect place to discretely plug in the SSD drive along with the Logitech 4K Webcam.
I can't get away from any mess coming out of the front of my devices, because the speakers I'm using have to plug into the front of the CalDigit dock, and the headphone jack on the Universal Audio mic interface is also on the front. Why do companies put audio jacks on the front of their devices? Does everyone but me need quick access to swap out audio devices?
It may be hard to picture in your head what I've described, but if you really want to follow along, the diagram makes it pretty clear I hope. It took a lot of iterations to get it right, especially with Quality Control Director Steve telling me when I had my arrows pointing the wrong way for the information flow. I think I've got it right but I wouldn't be surprised if you find one more that I have flipped the wrong way!
Universal Audio is absolutely adamant that you can't plug their mic interface into any kind of hub, but it's working swimmingly with this configuration. In my experience of many support emails with this company is that they have a very old-school view of the audio world, and probably aren't taking into account the glory of Thunderbolt hubbing.
Power Question
I have one question outstanding about this new setup. In the diagram, you can see that the CalDigit TS3+ provides 87W of delivery. Before I put in the OWC Thunderbolt Hub, it was this 87W of power that charged my MacBook Pro. In the new setup, the dock connects to the hub, and the hub has its own power supply which provides 65W of power delivery. Since my MacBook Pro is plugged into the hub, which of those two devices is charging my laptop? It might also be interesting to note that the power-hungry M1 MacBook Pros want 96W of power. The Apollo Solo mic interface is bus powered, which means it is drawing power from the hub as well. It took some digging, but I found the manual online for the Apollo Solo and it draws 10 Watts all by itself.
Perhaps when the hub sees 87W of power coming at it from the dock, the hub says, "Ok, it looks like you've got this", and just passes that 87W along to the Mac. It's also possible that the hub simply doesn't deal with the power coming from the dock and simply sends its own 65W along to the Mac (less the 10W stolen by the mic interface).
A reasonably knowledgeable tech support person at OWC told me that the more powerful power supply will always win. I've got evidence that maybe there's yet another option. Before I put in the hub between the dock and the Mac, if I ever used one of the USB ports on the dock to charge something, the Mac would complain that it wasn't getting enough power and to stop that nonsense right now or it would turn the car around.
But now with two devices offering power, I can charge my iPhone via the dock and the Mac makes no complaints at all. My suspicion is that the dock and the hub somehow form an alliance and add their power delivery together, giving the laptop whatever it needs.
I'm a mechanical engineer, and my resident electrical engineer didn't ever work on power supplies, so we don't know the answer to these questions. If you do know the answer, I'd be very curious to know how the power is handed off between these devices. I'm happy now bcause my setup is working really well, but I just have to know!
I know this one got a bit deep into my setup that may not apply to any of you, but I'm always glad later when I refer back to articles like this. Invariably something will change in my environment, andsI'll need to go back and ask myself, "Now how exactly did I have all that plugged in when it was working?"