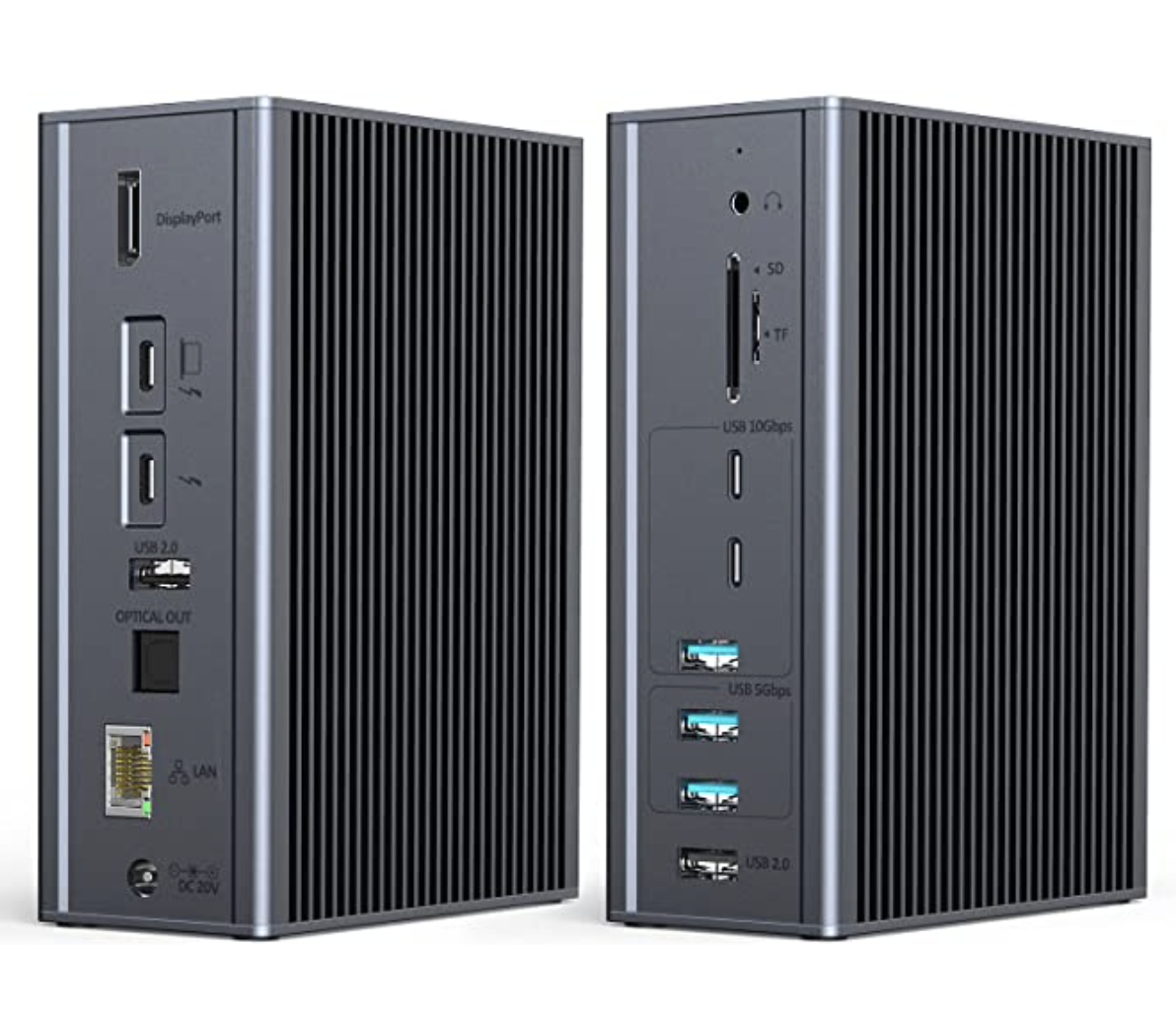 ## My requirements:
As the proud owner of a new 14" MacBook Pro M1 Max, I wanted to use the computer as both a desktop (in a clamshell mode) as well as a conventional laptop. Given the number of existing peripheral devices that I had connected to my previous desktop, a 2017 iMac, I wanted to simplify the connections for ease of setup and tear down. A docking station seemed ideal.
Given that the MacBook Pro has three Thunderbolt 4 USB-C ports I was looking for a docking station that minimized the required number of dongles and adapters. The devices that were currently connected included:
USB-A: Three external hard drives
RJ-45: Ethernet connection for Internet access
USB-A: High-speed scanner
HDMI: 32" Samsung external monitor
DC power to supply the MacBook during extended use
USB-A: Stream Deck input device
USB-A: External 1080p webcam
Other USB-A devices used occasionally (e.g., flash drives)
I already used a USB-A hub with the iMac and decided to continue to use it if it was compatible with the new docking station. In addition, I wanted at least one Thunderbolt 3 or 4 connector to extend the MacBook's Thunderbolt port. And while some of the ports could be at the rear of the docking station, I wanted at least one USB-C and USB-A port on the front in case I needed to access them easily. Other non-critical features would include a standard 3.5 mm audio jack and an SD Card reader.
My goal was to keep the price to around $200 based upon the offerings that I found online. But for that price I wanted something that was durable, too.
Enter the Tobenone
I quickly discovered a wide range of docking stations available from multiple retailers over a wide range of prices. Each had its own combination of features, making it a long process of winnowing down to the ones that most fit my needs. Traditional leading manufacturers include Belkin, Plugable, Dell, Kensington, and others.
Some of these are designed to physically support a laptop, while others simply have Thunderbolt and DC power connections. There tend to be two major classes: smaller, somewhat less capable docks, and larger docks with more features.
My research led me to the Tobenone Thunderbolt 3 docking station, available via Amazon for about $220. This is a "16-in-1" docking station that met most of my needs. Built solidly in a black/gray metal enclosure, this relatively compact device provides a wealth of connectivity. These features include:
Connects directly to the computer's Thunderbolt port using USB-C
Provides 65-W charging for the MacBook
Single Thunderbolt 3 port to extend the MacBook's Thunderbolt port (40 Gbps)
Two 10-Gbps USB-C ports
One 10-Gbps USB 3.1 port
Two 5-Gbps USB 3.0 ports
Two USB 2.0 ports
Gigabit Ethernet (RJ-45) port
SD/MicroSD port
One TF port
One DisplayPort for external monitor
One 3.5-mm audio/microphone port
S/PDIF (audio output) port
Once unboxed the setup was quick and easy, with no hiccups. I added connections one at a time to verify them incrementally as a went along. The computer is connected via a USB-C port in the back of the docking station.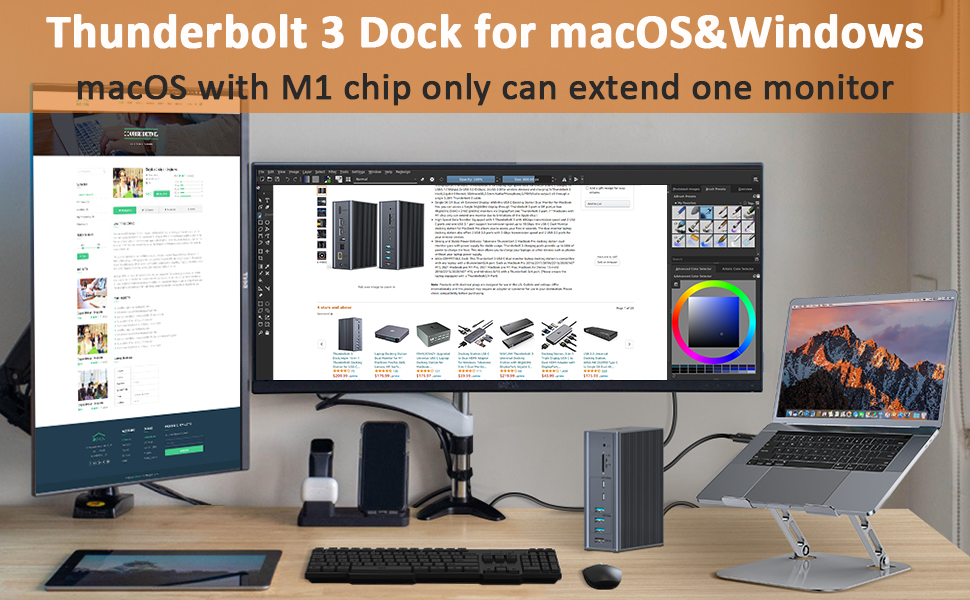 My Samsung monitor has an HDMI connector, but the Tobenone included several adapters, including an HDMI-to-DisplayPort, so no issue there. I plugged my standard USB-A (USB 3.0) hub into the dock and all of the devices connected to it were immediately available, including the webcam.
I also connected the hard drives directly into the docking station and they immediately mounted. Likewise, all of my other peripherals worked without incident. I also saw no degradation to my Internet connection due to the docking station.
Eventually, I was able to check out the audio (3.5-mm) and SD card connections which also performed perfectly. The docking station keeps my MacBook Pro charged and there have been no power-related glitches that I've seen so far.
The docking station is capable of driving two 4K (@60 Hz) monitors from a single Thunderbolt port on the MacBook, but only for Intel-based (non-M1) machines. That was one feature that I was not able to verify, although I'm inclined to take it on faith given everything else seems to work as advertised. The two other ports that I'm not using (and did not verify) are the TF card reader on the front and the optical output on the rear of the dock.
Tobenone claims that this docking station is compatible with a wide range of Windows and Mac computers, including MacBook Pros going back to 2016 and Windows PCs running Windows 8 or 10.
I give this product high marks for ease of use. It was really nice to set it up without having to download drivers or install unique software to initialize the hardware. The company seems to have engineers who have actually read and understood the many interface standards and as a result, have designed a very robust docking station that does what it's supposed to do.
I will add that the docking station is pretty low-profile and unobtrusive. It is very quiet. It has one single small LED indicator on the front to let you know that it's powered on but otherwise doesn't have any visual clutter than might get in the way of use. It is the rare product that really has no significant deficiencies.