e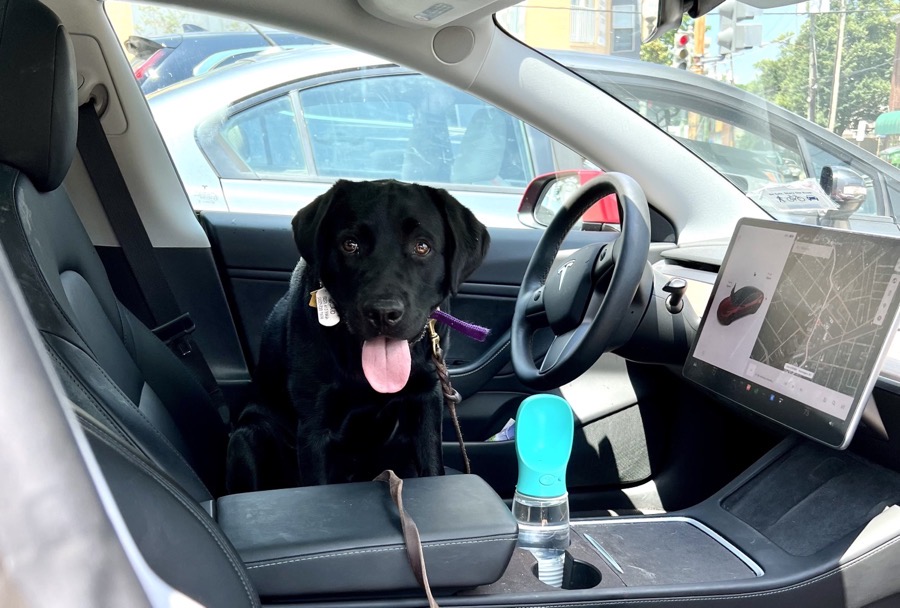 In this week's episode of Chit Chat Across the Pond, I'm joined by long-time NosillaCastaway Seamus Lavery. Seamus started posting photos of his black lab Quaid to the live chatroom, and then explained that he's a "puppy raiser" for Guiding Eyes for the Blind. He agreed to come on the show to tell us what it's like to be a puppy raiser, what his responsibilities are, what he's supposed to teach Quaid, and the uphill road it is for Quaid to qualify to be a Service Dog for the blind.
Bart is a Belgian living in the Republic of Ireland, while Seamus is a Northern Irishman who lived for 12 years in Belgium (now living in the Washington DC area). His accent is delightful and his story is fascinating.
Detailed notes on our conversation:
How did you get involved in this program & the name of the program

Guiding Eyes for The Blind is the name of the program and their website is www.guidingeyes.org/…
As a point of clarification, There are a number of Guide Dog training organizations. The term Seeing Eye Dog is a registered trademark of a Service Dog training school in New Jersey called The Seeing Eye Inc. I used to think that Seeing Eye Dog was what Americans called Guide Dogs and that in Ireland we referred to them as Guide Dogs for the Blind ( as they also do in the UK ) but that's not technically the case. It's a bit like Kleenex or Velcro in that it's a generalized trademark. The more usual general term is now Service Dog.
Guiding Eyes for the Blind was founded in 1954 and since then has graduated over 8000 guide dog teams. They have some employees but also a community of over 1400 volunteers, and they are funded 100% from donations.
My wife and I live in Washington D.C and we got involved because we moved to a new neighborhood, to a house with a large yard which allowed us to think about getting a dog. One of our new neighbors asked us if we'd ever thought about helping to raise a Guide Dog as she had raised several puppies for Guiding Eyes. We were interested, because it sounded like a great program and a way to give something back to society and help change lives. Also our jobs are demanding and normally ( pre-pandemic ) they involve regular travel so the support process with the program for dog sitting was attractive. I remember back home in Ireland growing up, there used to be collection boxes ( in the shape of a Guide Dog ) outside shops for Guide Dog training charities, but I'd never really thought much about the process that goes into raising and training one of these amazing dogs.

Can you describe the overall process – who has the dog when and what kind of training do they get along the way?

Sure: The Guiding Eyes organization is head-quartered in Patterson, New York. They have a facility there with breeding kennels and veterinary facilities, as well as a training school for the final advanced lessons. They operate in different regions, covering most of the East Coast from New York down to the Carolinas and across to Ohio. There are other guide dog training schools all over the country who run similar programs. Guiding Eyes has a large network of volunteer puppy raisers and sitters. The raisers get the pups at 9 weeks old and they raise them until they are about 18 months. The sitters follow the same rules as the raisers and offer support for the raisers to take vacations. At 18 months of age the puppies are evaluated to see if they are ready to go In For Training ( IFT )
The IFT process is at the Guiding Eyes facility in New York and is with professional trainers – This process lasts for about 4 months and if they pass that training they are paired with a suitable blind person. They work until they are 9 or 10 years old.

What kind of training did YOU have to have?

The program invites new raisers ( and sitters ) to sit in on some of the puppy training classes. There are also dedicated Pre-Puppy Classes for new raisers and sitters which are given by the local Regional Manager. These PPC sessions cover what is expected of a raiser / sitter. There are also training videos available on the Guiding Eyes website showing different obedience training techniques. There is a home visit prior to receiving the pup for new raisers to ensure that the home environment is suitable.

Does someone check up on you – do some kind of audit to make sure you're doing it right?

The program has employees in each region who run the classes and support the raisers. Initially the classes are once a week and this moves to once every two weeks after 6 months. Raisers are also expected to socialize the dogs and expose them to different environments and experiences, Quaid LOVES getting his little blue jacket on for trips to Home Depot and Target. There are also quarterly Walk And Talks which are like mini field trips ( to a mall or other outdoor space ) and evaluations are made as to how well the pup is progressing and how they handle things like elevators and walking over gratings. There are also fun field trips to help the puppies gain different experiences while being evaluated – Recently some of the pups from our region had a trip to Nationals Park to have exposure to a Major League Baseball stadium crowd, though the way that the Nats are playing this season means that the crowd was probably smaller than a couple of years ago, when they won the World Series 🙂 so not quite as intimidating – but we do try and expose them to all sorts of stimulating and challenging environments and occasions.

Are there particular breeds that are normally used for guide dogs?

Guiding Eyes use pure bred Labradors ( 90% ) and German Shepherds ( 10% ) They respond well to food based training and are very smart. The pups bred by the program exhibit traits that are particularly suitable for service dogs, Quaid for example, has absolutely zero fear of sudden loud noises such as thunder and fireworks. He also LOVES vacuum cleaners – which a lot of pets detest.

How long do you get Quaid?

We have him from 9 weeks to 18 months plus. COVID 19 has slowed the process down a bit recently so some pups are staying with their raisers a little longer than normal at present.

Is this the first dog you've raised for the program?

Quaid is our first dog. Some of the other raisers in our class are on their 15th or 16th dog.

Is it a lot of work?

It is certainly a commitment – The normal hard work of raising a boisterous puppy is there along with the additional obedience training that the charity expects you to complete. Labradors are high energy dogs and they require a lot of daily walking and exercise sessions. Quaid also loves Tug of War sessions with his toys – and he takes a long time to tire out.
All medicines and vet bills are covered by Guiding Eyes and they provide training crates and supplies as well, The raisers just have to provide the food for the puppy.
It's a lot of fun as well, of course. Quaid certainly keeps us on our toes ( like any puppy ) he will try and chew everything and he seems to have a particular love of plastic flower pots in our garden and also the solar lights on our driveway.
Guiding Eyes dogs have specific requirements and have to obey certain key commands that all of the raisers / sitters and hosts use. They also are trained to pee and poop on command.
Sometimes unexpected things come up that take up some extra time and effort. A few months ago Quaid had a broken tooth and the Guiding Eyes vet needed him to go up to New York to their facility. Normally there are regular volunteers running trips most weekends up and down the East Coast and in this case he got a ride in a Winebago 🙂 He went up on a Saturday and they were prepping him on Monday for the tooth extraction, only for it to fall out by itself so the whole trip was not really required – not that he minded – he probably thought it was hilarious and he loves the attention.
As he didn't have a quick ride home for a while I drove up from D.C to collect him and we had a fun road trip home – He loves car rides. When he first arrived there were about 8 puppies coming down from New York to D.C and the raisers received them in an Ikea parking lot, just outside the District. It must have looked odd to any passers by to see all of these puppies arrive at once.
The new puppies sometimes travel in even more VIP style as Guiding Eyes has a partnership with an organization called Pilots To The Rescue who fly puppies in from further afield.

Do you have a family who get involved too?

In my case it's myself and my wife, Meera. Some raisers have kids and other dogs in the house and this is not normally an issue as long as there is buy-in from all of the family members.

How do you give a dog up at the end?

That is the number one question that we get asked. The honest answer is that we haven't had to go through that yet, so time will tell. However you have to look at the bigger picture of what you are trying to achieve, and how much these dogs can change lives. A friend of mine says, It's hard to give them up, but it's much harder being blind.

Do you have any contact with the new owner after you give up the dog?

Raisers do keep in touch with the dogs when they go out to their new home and many meet up again. Geography can make that challenging.

Did you name him Quaid?

Guiding Eyes name all of the puppies in a litter with names beginning with the same letter. So Quaid has a brother call Quartz and a sister called Quest. The program has thousands of dogs, so they need a lot of names. They run competitions in schools to name the dogs and people will sponsor some dogs and get the right to name them, including some celebrities – Eli Manning recently sponsored a litter of Guiding Eyes Puppies, and he's also on the Board of Directors.
Some of my favourite Guiding Eyes puppy names are Loki and Galahad, though I did have to explain Loki to my wife as she is not big on pop culture 🙂 We also have some very normal names, such as Kevin and Gary.
I like his name but, in the US, my accent means that people struggle to understand it ( until I say Quaid, as in Dennis Quaid ) and then they get it. Depending on who I'm talking to, I might say Quaid ( as in Arnie's character in Total Recall ) 🙂

And what's up with batfink2001?

The batfink comes from one of my favourite cartoons as a kid, and the 2001 is from one of my favourite films: 2001 – A Space Odyssey. The handle confuses some people and some people love it – A few years ago on Reddit I did get someone say '2001? Hey: That's the year I was born as well and I had to inform them that I was born considerably earlier than 2001 🙂
There is a Disney Plus series called 'Trailer for Pick Of The Litter' which is worth a watch (this is another organization on the West Coast – but the process will be similar.
For a fascinating look at what service dogs are capable of, check out this episode of one of my favourite podcasts – Malcolm Gladwell's Revisionist History: The Dog Will See You Now
You can follow Seamus as @batfink2001 on Twitter