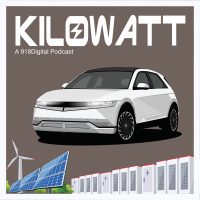 A few years ago, when the SMR podcast hosts took over the NosillaCast while I was on vacation, Tom Merritt of the Daily Tech News Show called it "The Crossover Event of the Summer." Since then, the SMR hosts Rod, Chris, and Robb have all been on DTNS. Then Tom had Bodie Grimm of the Kilowatt podcast on his show, so Bodie and I got to be friends, and the crossovers just keep on coming.
In this year's "Crossover Event of the Summer", Bodie Grimm interviews two gentlemen from a company called Orange Charger. Founder Nicholas Johnson and Product manager & Strategist Joseph Nagle talk to Bodie about their vision to bring affordable and convenient electric vehicle charging to multi-unit properties like apartments and condominiums. It's a fascinating discussion of what people think they need and want vs. what they actually need in a home charger.
You can learn more about Orange Charger at www.orangecharger.com
Thanks, Bodie for letting us have this interview for Chit Chat Across the Pond!