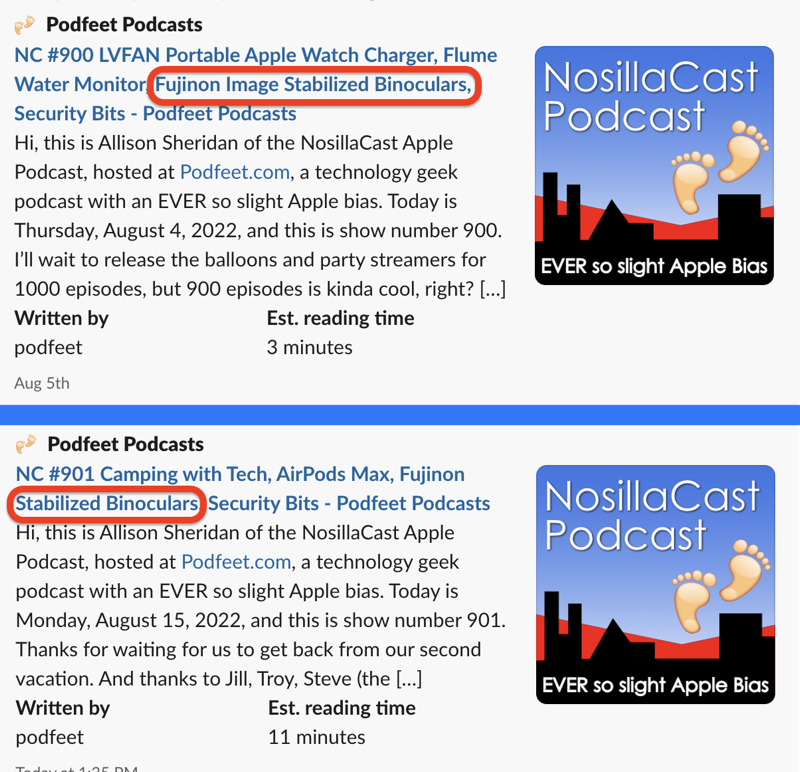 If you're an alert listener to the NosillaCast, you may have noticed that I played Steve and my conversation about the Fujinon image-stabilized binoculars twice in a row on shows 900 and 901. Luckily there was a lot of content for the show on Monday, August 15th so you probably just figured I'd had too many Mai Tais in Hawaii and skipped ahead to the next chapter. You do know the NosillaCast has chapter marks, right?
I was originally alerted by Allister Jenks to the problem within minutes of publishing. I started panicking because it's pretty much impossible to fix a podcast after it's been published. Your podcatchers are super quick to update the feed. I could delete the episode and republish the feed without the latest show, go back and edit and do the publishing again, but invariably it's a mess on your end with some people still having the old episode. It's also a lot of work on my end to do that.
I was exhausted from travel and jet lag and pushing the show out in one day and trying to get my Mac working from the wiping Apple did when they replaced my battery. As soon as I started to talk about trying to fix the problem, Steve told me to relax and live with it. It was good advice.
I did send out a tweet immediately telling people I was aware of the error, and I explained the problem in our Slack community (podfeet.com/slack). I went to Patreon and wrote an out-of-band letter to those who contribute financially to keep the show going. I did one more thing you might not know exists – I sent an out-of-band newsletter through the Podfeet Press. This is an email that is normally autogenerated by the feed itself so it gives you the show notes in a nice email form.
While it's not a fascinating newsletter, when things go belly up from time to time, I use this mechanism to alert listeners of the problem. If you'd like to be on distribution for the Podfeet Press, just go to podfeet.com and look in the upper right of the menu bar for the signup page.
How I Manage Contributor Shows
Once I realized that I'd messed up and alerted listeners through all of these mechanisms, I started trying to figure out exactly how I made this mistake. In order to explain I thought it might be fun if I pulled back the curtain on how I manage (or mismanage) complicated shows with a lot of contributors.
When I go on vacation, as you know I put out the call for listener contributions. Every single time I do this, people come out of the woodwork with fabulous content for us. The contributors fall into three piles.
Those who are pretty seasoned at this, and quickly whip out a recording for me, followed shortly afterwards by the written version for blog posts.
Those who really have the best of intentions and tell me they're going to try to do something but then life gets in the way. I love these people because they really do want to help, but recording for the show isn't an easy task. Eventually, they do come through with some content at a later date. Look at Steven Goetz – it took him about a year to do his headphone review but he did it in the end!
Then there are those who do recordings and give me a writeup, but they're later than the first pile of people so they give me the luxury of holding a few for a later date when life gets in my way. These people also have a special place in my heart because they save my sanity at unexpected times.
As the contributions and promises begin to flow in, I start a spreadsheet to track them and arrange them by episode date. My goal is to balance the shows so they are all long enough, and don't have two contributions by the same person.
This year added extra complications because there were the two Iceland shows by Allister and Bart, and then the shows to wrap around on either side of the Hawaii trip. My head was spinning so much that I actually forgot that I had planned to trick the SMR Podcast folks into doing a show during the Hawaii trip for me and instead I did it myself with the help of the contributors! That was my first mistake.
The Spreadsheet
Working around the Hawaii trip wasn't too complicated but it was definitely challenging. I was going to be gone for two Sundays in a row, and I committed to you that I would get a show out early before I left, and the second one would be a day late (but not a dollar short).
In my spreadsheet, I put three bold section titles. One for the show before my trip, one for the show after, and a third I called "holding". I put dates for the two shows and notes about why it was challenging.
For example, the show before couldn't come out just one day early, because my son Kyle and his wife, and my two grandchildren were coming to visit for the weekend before the trip. That meant I had to get the show out on Thursday, August 4th. I made a note that I would only have 4 days to write the show so I'd remember to get cracking on it early in the week.
For each listener contribution (or things I'd be creating) I added a column for how long I expected it to be and any notes associated with the contribution. In a cell next to the show date, I put the calculation to tell me how much time the sum of the contributions would be. That would help me balance out the shows pretty well and make sure one would come up short.
Bart had promised to give me a solo Security Bits show to fold into the before Hawaii episode, and Sandy had sent me the Apple Watch charger review she created. These two added together did not add up to a full show.
Bodie and I jumped on a Zoom call and recorded a segment about cheap Electric Vehicles and that gave me enough meat for the full show.
I went through the same process for the after-Hawaii show on August 15th as I received contributions from Troy and Jill. Steve and I recorded the binocular conversation and I needed to fit that in as well. I now had a preliminary plan for both shows.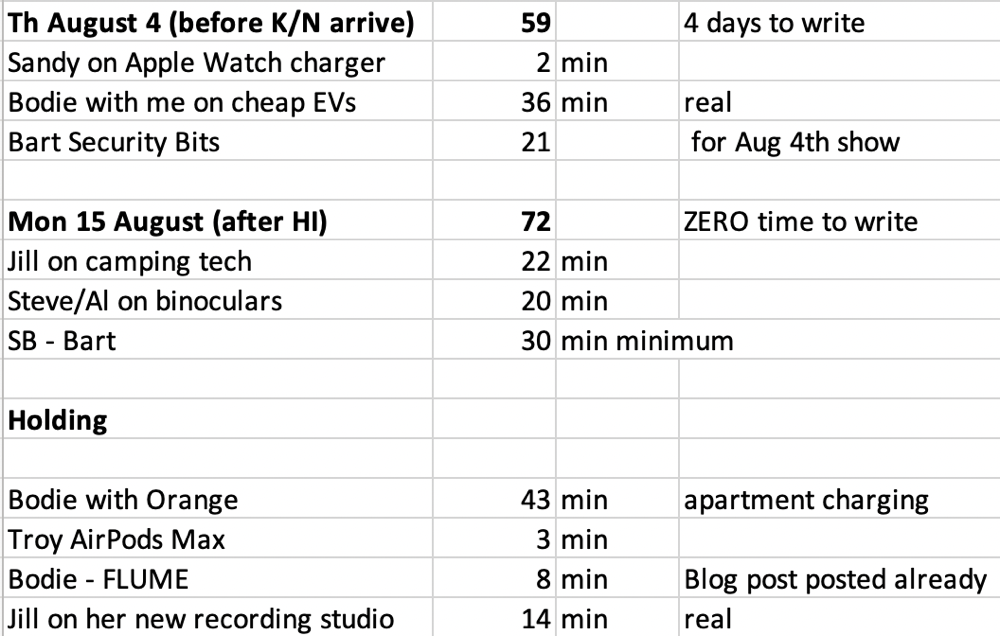 This plan gave me a healthy 59 minutes for the August 4th show, and 72 minutes for the August 15th show. The second show would be Jill talking about her camping tech, Steve and I talking about binoculars, and then another Security Bits from Bart.
I Changed My Mind
But then I started looking at the four articles waiting in the holding bin. I had Bodie's interview with Orange about apartment car charging, Troy had an AirPods Max review, Bodie had a review of Flume, and Jill and I had a recording about her new podcasting studio setup. It was time to reorder things.
I didn't want to lose my original layout so I duplicated the preliminary plan in a set of columns to the right and started messing with the order. I was able to balance things out better and it looked great.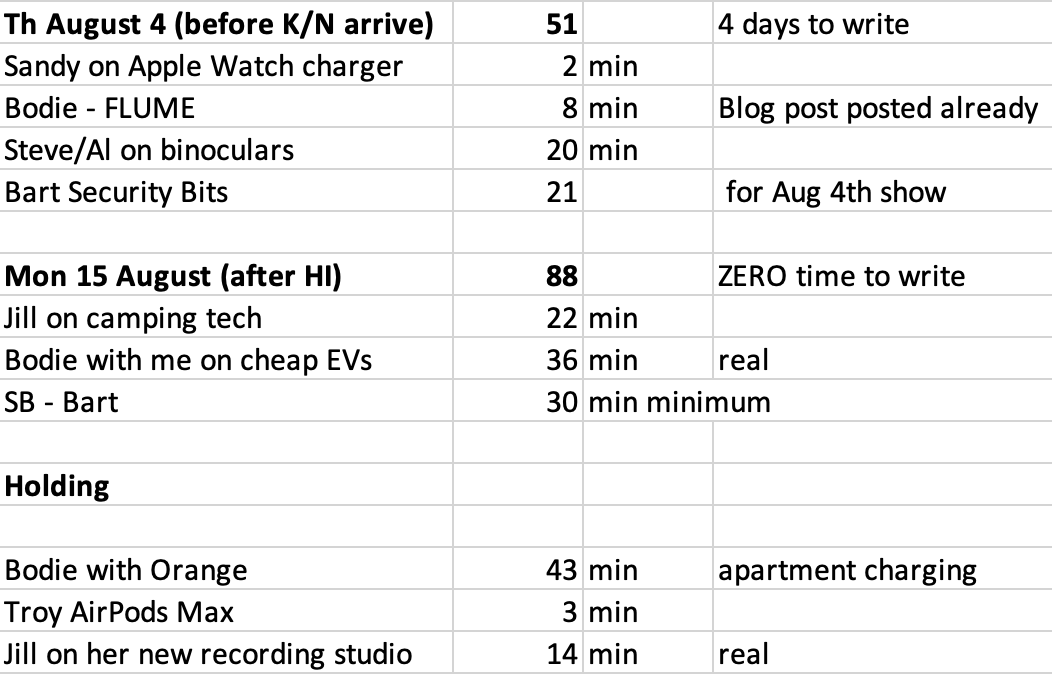 But What Went Wrong?
At this point, I toodled off to play with my grandkids in Hawaii without a care in the world because everything was already planned out. I knew that upon my return I only needed to write an intro to the show, assemble the audio recordings, write the blog post, create the feed and publish. There would be no decisions to make.
So how did things go wrong?
I started noodling the steps I followed upon my return trying to find where I went wrong. I remembered a fatal flaw in the process. It's something you may be familiar with – user error.
When I got home and had gotten a good start on getting my Mac back up to speed with the help of Migration Assistant after the great Apple disk wipe of 2022, I opened the spreadsheet. I glanced at the original and revised plans for the show and wondered why I'd put the same thing in twice. I did not look closely at the two plans. I did not check to see which plan I had followed.
Without even reviewing my own careful work, I deleted the revised version of the plan! Remember, that revised plan not only revised the show after Hawaii, the show before Hawaii had been changed as well. Looking at only the preliminary plan, I couldn't see that the binocular review had already played. It was sitting happily in the section for the after-Hawaii episode.
How to Recover
When I remembered what I'd done, I realized that I really had to find the older version of the spreadsheet because it was going to affect this week's show as well. Time to find it in a backup.
I use Carbon Copy Cloner to back up my Mac, and I do run Snapshots but I don't find it very easy to navigate back in time. I have successfully done it, but there was an easier solution. But I use Backblaze for my offsite backups and they retain older versions of changed files for a period of time.
Backblaze works as a System Preference pane, but file recovery is done through the web interface at backblaze.com. I logged into the interface and discovered that my backups hadn't run for 14 days because when Apple wiped my machine, Backblaze lost the connection. I hadn't gone back into the Preference Pane and reconnected it yet. Backblaze sends you a notice right at 14 days, so I would have discovered this organically and known to fix it, but I was glad I'd logged in and discovered it now.
Before reconnecting my "new" Mac to my "old" backup, I looked through my files online at Backblaze and found my spreadsheet nicely preserved from before we left for Hawaii.
In this case, it was easy to find the correct version because my new and incorrect version had never been uploaded to Backblaze. But at the top of the Backblaze restore section, you can set the date range for file uploads. I could have set that date to before I got back from Hawaii and the correct version would have been shown to me.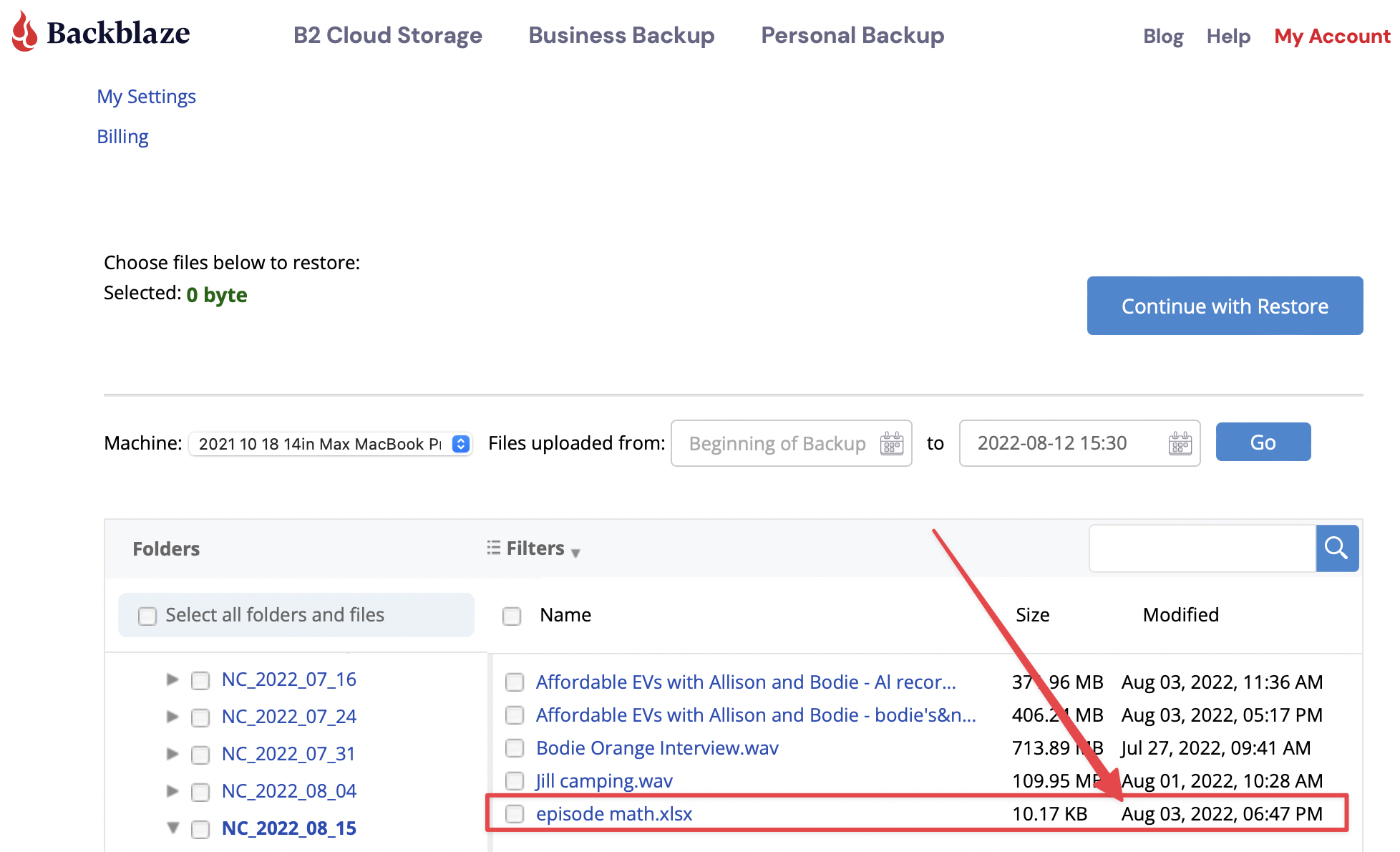 I'm a huge believer in backups as I'm sure all of you are, and I'm consistently delighted with Backblaze and how it saves my bacon on even silly mistakes of my own. This is not a paid advertisement but remember with Backblaze you always have access to all of the data on your computer wherever you are in the world.
Bottom Line
When I got the correct version of the episode math back in my hot little hands, I was delighted to realize I'd stopped myself from making even more of a hash of things. You see, before looking at the correct spreadsheet, I had planned to play the Bodie Flume review this week and you already heard it two weeks ago!
I'm not sure there's a bottom line here, other than I'm sorry if you were worried about my mental acuity when you heard the repeated segment. I don't promise never to mess up again, but I hope you enjoyed at least a little bit hearing how this mess came to be.