The Problem to be Solved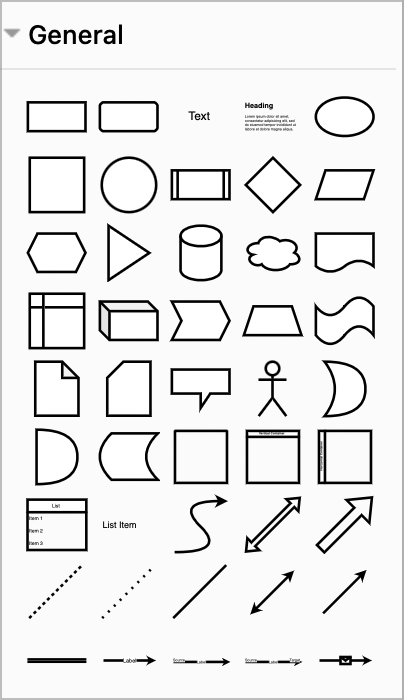 You know I love making diagrams. When I first started using the amazing and free Diagrams.net to create my masterpieces, I used the built-in shapes to represent the elements of my diagrams. I was a big fan of rounded rectangles, and I'd use a nice gradient shade to make the rectangles a bit more interesting.
If I was in a playful mood, I might try to use a thought bubble with text or even a rhombus. Diagrams.net has a vast library of more specific shapes that you can search for or scroll to, but I have to admit that it's very rare I find the shape that provides the perfect visual representation.
For example, I recently made an elaborate diagram of the solar, battery, and grid power flow for my home. I wanted to represent the grid power with one of those transmission towers for high-voltage lines. If I could get just the right icon, I knew it would help the viewer of my diagram to understand it better. Diagrams.net didn't have anything like that when I searched.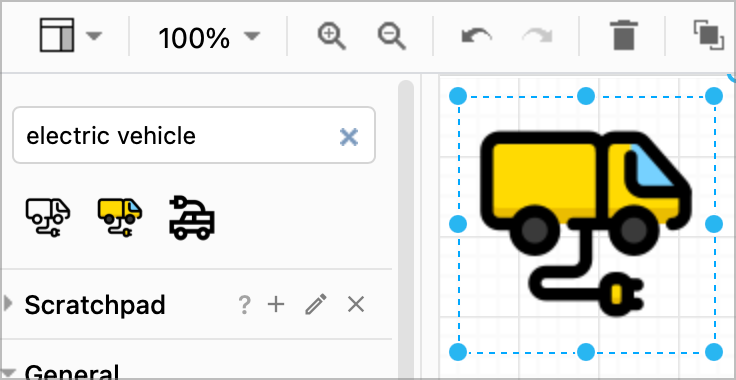 In some cases, Diagrams.net has icons that weren't bad. They did have a cute little yellow car with a plug coming out of it to represent an electric vehicle, and they had a little house that wasn't bad, but their solar panel icon wasn't terribly good at conveying what it represented.
Maybe you're not a diagram fiend like I am, but you'd like to add some visual elements in the form of icons to a slide deck or a text document.
If you have this need, you can go out to the Internet and search for line art, but anything you find that's remotely representative of what you're trying to convey has usage rights that are often cumbersome. Sometimes they only require attribution, but how do you do attribution on a diagram or in a slide deck? Do you put a text box in the corner listing everyone whose work contributed to the diagram? That would be messy for sure. If you're less lucky, you have to pay a fortune for the artwork.
You can also find paid-for services for images, but they're very expensive and I really don't want images, I want icons. And I don't want to pay an arm and a leg for it. I'll pay a reasonable fee, so maybe a pinky toe's worth, but no more.
Enter the Noun Project
I found the perfect service for my needs. It's called Noun Project at thenounproject.com/…. It's a hard name to remember as it doesn't say anything about icons but their mission statement explains it a little bit.
Noun Project is building a global visual language that unites us — a language that allows quick and easy communication no matter who you are or where you are.
If you can think of icons as being representations of nouns, the Noun Project sort of makes sense.
Let's Get Pricing Out of the Way
The Noun Project allows you to get royalty-free icons for which you do not have to provide attribution, and they do provide some value for no cost, but for a small fee they provide incredible value. You can view the pricing plans at the link in the shownotes. I'll go through the basics of the pricing.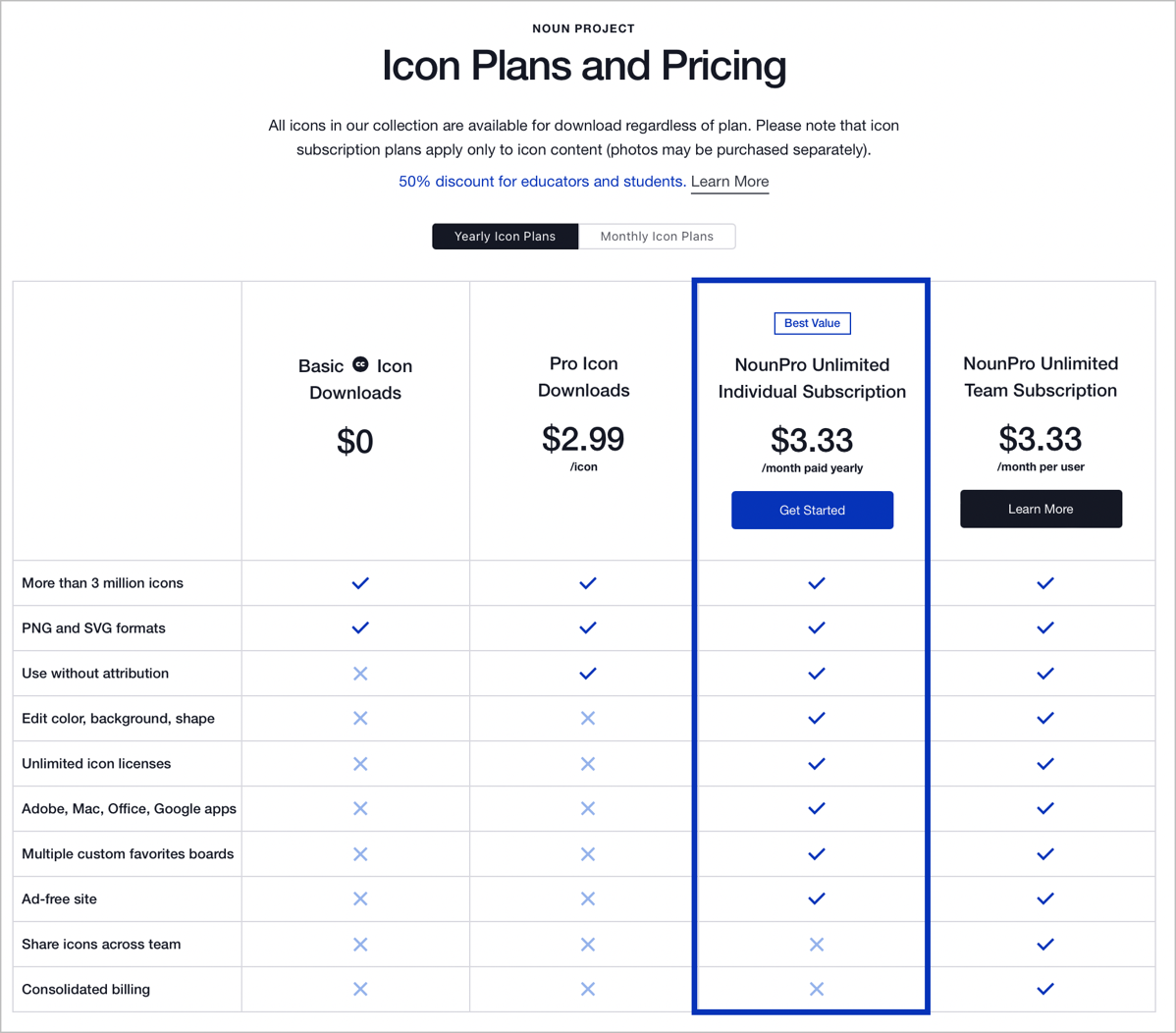 For free, you can get access to more than 3 million icons. You can download PNGs that are not scalable, or in SVG format so you can scale them as big or small as you want with no degradation. The downside to the free account is that you have to give attribution.
Let's say you have a short-term project and won't be needing icons indefinitely. You can buy a one-month plan for $2.99US and get access to the same 3m+ icons and you don't have to give attribution. Seriously, that's not even a pinky toe.
The downside to the free and month-to-month plans is that you will only get black and white icons, you can't download transparent versions of them so you'll get a white background wherever you put the icon, and you can't change the shape of the icon.
If you make diagrams and artwork often, you'll want the plan I selected, which is the grand sum of $40/year, which works out to $3.33/month. With this plan you can edit the color, background, and shape, you have unlimited icon licenses, you get access to their apps, you can create custom favorites, and the website doesn't have any ads. I would say that I got my $40 worth out of the Noun Project just from using it for my battery diagram alone.
If you're a business, you might be interested in their team subscription that allows sharing of icons across teams. This is great for things like company logos and such. As I walk through why I think the Noun Project is so cool, keep in mind I'll be talking about what I get for that $40/year.
With pricing out of the way, I can tell you how cool the Noun Project is.
The Noun Project is Really Cool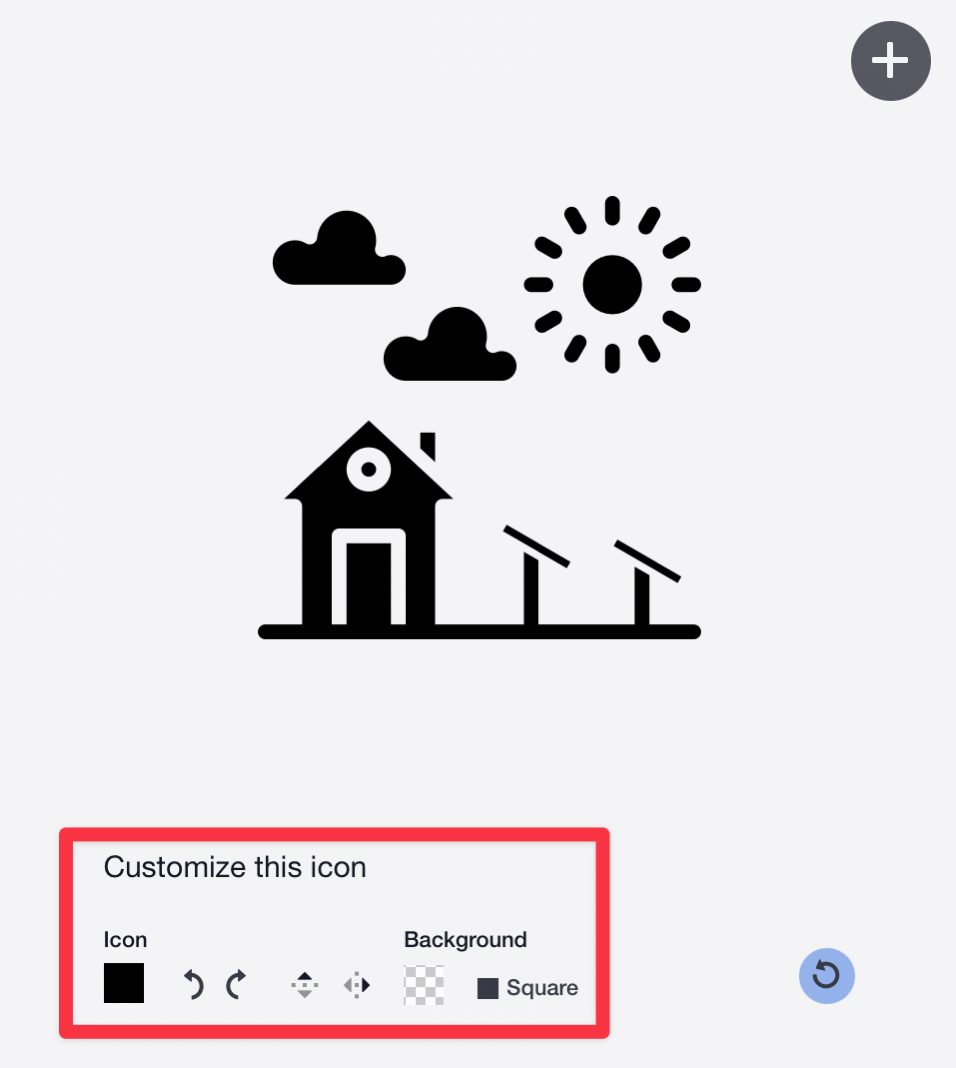 First of all, they aren't kidding about how many icons they have. If you type "solar panel" into search, you'll get 2325 results! I love this because I can scroll through until I see the perfect icon to represent the idea I'm trying to get across.
Once you select an icon you'll see options below it to customize the icon. You can change the color with a simple color picker or by entering the hex or the RGB values. You can rotate or flip the icon vertically or horizontally. I needed that option when I found the perfect solar panel icon but it was pointing in a direction that would have looked weird in my project.
You can set the background to different colors, but I usually keep it set to transparent. With a transparent background, I can drop icons into blog posts or diagrams and they aren't all blocky covering other things up. You can choose a frame around the icon that's square, circular, or even a ring shape.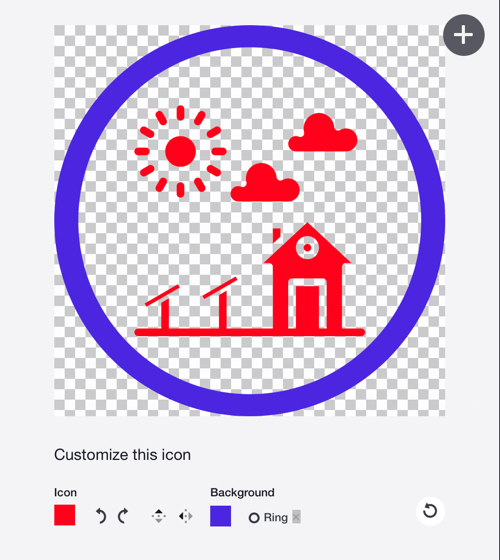 After you configure the icon the way you like it you can choose to either download an SVG or a PNG. Since PNGs are a static size, you can see the pixel dimensions under the download button with an invitation to change it before you download. If you're downloading an SVG, you can ignore the size option because vector graphics are infinitely scalable.
One of the things that I really like about the Noun Project is that the settings for things like the size and having a transparent background are saved so you don't have to faff about with the options every time you come to the website.
They Have Apps and Plugins!
I've been using the Noun Project for quite a while, and it was only as I prepared to write up this article that I discovered that in addition to the web interface, they actually have standalone apps and plug-ins for other apps and web services.
I wonder how long these apps have been available and I just never noticed they existed. I downloaded the Mac app, and after authenticating, I was able to simply drag and drop from the app into any document that accepts images in that way. I may have squealed like a little girl upon this discovery.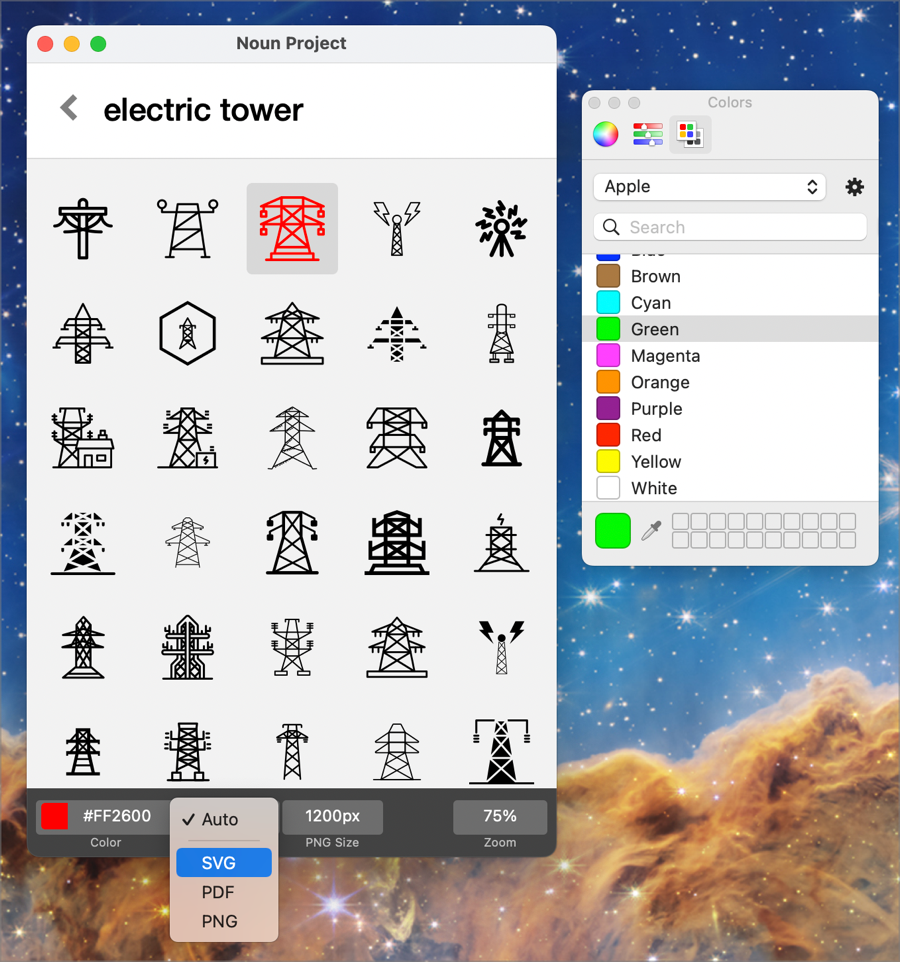 The Mac app has a basic search field, and then you are shown a grid of icons from which you can choose. You can change how many you see on the page by changing the zoom level in the bottom right.
Across the bottom, you have options to change the color, and choose the download format from PNG, SVG, PDF, or Auto. I'm not sure how it decides the format if you choose Auto, in my tests it always chose PNG.
I'd stick with SVG whenever possible if your application accepts scalable vector graphics. Not only do you have more freedom on the sizing of the icon, but the SVGs are also significantly smaller. A 1200×1200 pixel PNG was 119KB, while the SVG of the same icon was 2KB! I know 119KB isn't very big, but if you're using a lot of icons you're increasing the size of your document and the format isn't even as flexible.
Unlike the website for the Noun Project, the Mac app doesn't appear to allow you to change the background color; it's always transparent. If you need to have a background on an icon, you can always put a rectangle of a given color underneath your icon in your final project.
I like the way the color options work in the Mac App. The color button shows the most recently-chosen color and next to it the hex number for the color. If you click on the color itself, you're given the standard Apple color eyedropper. This is super cool because you could very quickly match a color you've already chosen for another element, or find a color on a website to match. If you want to use the standard Apple color picker, click on the hex number for the color. I know hex numbers are weird but you'll get the hang of it very quickly.
I am in love with the Mac app over using the website. Don't get me wrong, the website is really slick and easy to use, but it's so much more efficient to use the app.
Before discovering the app, I would go to my web browser, log into the Noun Project, find the icon I wanted, download it to my computer, move it to the folder for the project I was working on, give it a new name, and then drag it into my diagram. Now I merely open the app, find what I want, set the color and the format and drag it right into my document. There's no need to download, save, or name the icons. This will be a huge time saving.
I can hear Alan asking right now, what about Windows users? Evidently, they don't seem to have a Windows dedicated app. However, they have several options that will work for Windows users. If you use Adobe Illustrator, Photoshop, or InDesign, they have plug-ins for PC and Mac.
They also have add-ons for Microsoft Word and PowerPoint, if you are of that persuasion, and those plug-ins work on Windows, the Mac, or the web.
They even have plug-ins for Google Slides and Google Docs. I tested the plug-in for Google docs. After you install it, it is available in the Google Doc menus under Extensions. If you don't have an account for the Noun Project (or you haven't yet logged in via the plugin), you get access to what they call their starter pack. They say that this starter pack comes with 100 of their top-searched icons as one royalty-free set. That might be enough icons for you or you might want more, but in any case, it would give you a free way to see how the plugin works.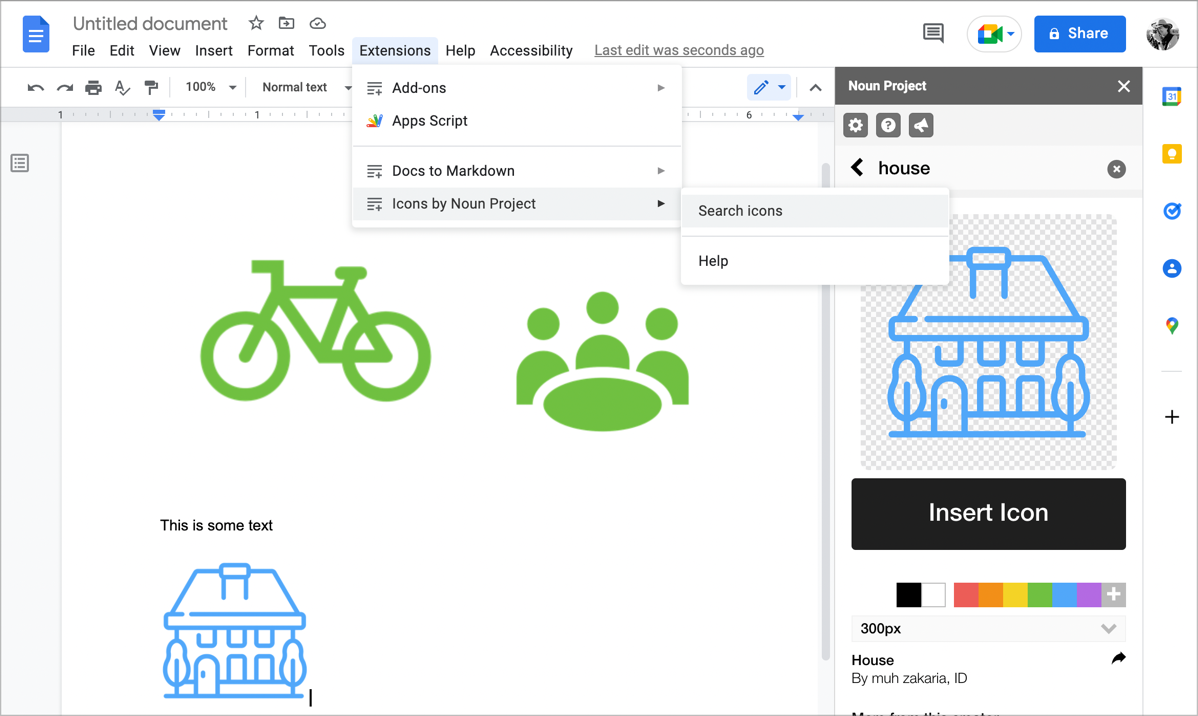 The process for putting icons into a Google doc from the plug-in is a little clumsier than I would've hoped. I had this vision that I would simply be able to drag and drop icons. Instead, you find an icon you like, choose a color, set the size that you want, and then there's an insert icon button to push. As soon as you move your cursor to push the insert button, it will change to a download icon instead. It seems to sort of download within the app, though, not to your downloads folder. A little progress bar goes by, then it will insert into your document. It appears that Google Docs only support PNGs.
If I really need to add icons to a Google Doc, this seems like a good enough solution. But for everything else I do, using the dedicated Mac app will be much more efficient. I tested dragging and dropping icons from the Mac app into the web interface for diagrams.net, into their dedicated app called draw.io, into my blogging software MarsEdit, and into Apple Pages and it worked in all of these. The one place it didn't work to drag and drop from the Mac app was in Google Docs.
I know they have plugins for Word and PowerPoint, but I tried dragging from the Noun Project's Mac app and it worked perfectly there too so I didn't bother to download the plugin.
The Noun Project has Photos Too
The Noun Project also has photos in addition to icons. These are licensed in a much different way than their icons. For example, you can get a 5MP download of an image for $8.50. It's a royalty-free download, but it's a non-commercial license. If you need a photo for a commercial project, you can download a 10MP image or even larger, but it will cost you $33. If you are willing to give attribution to the artist, you can use their free basic download, which is a .2-megapixel image. A 0.2 MP image is 3.6 x 2.5″ at 150 dpi.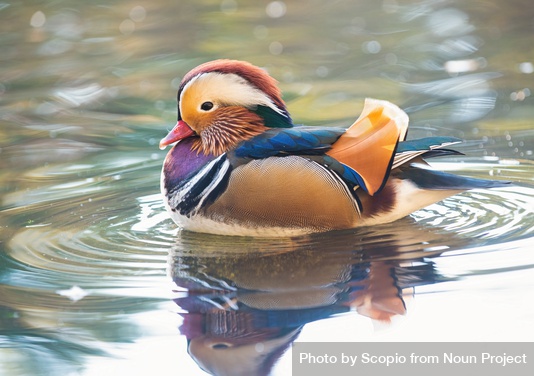 I'm not really the target market for photos from the noun project, but I tried out the free image option. They did a couple of things that I liked. They gave me a spot to easily copy the correct attribution, and they were very specific to say that the attribution must be in a visible location.
I was always wondering whether I could get away with putting the attribution into a hoverable title on the web and if that's not allowed, I'd rather know for sure. When I downloaded the free JPEG, I discovered that the image was subtly watermarked with the attribution, making it easy to comply with the licensing requirements. The image is small (it's embedded in the shownotes) but it's not bad for free.
Bottom Line
The bottom line is that if you have a need to insert icons into documents, presentations, fancy pants artwork, or to make diagrams, check out the Noun Project and see if it works for you. The convenience I get out of having access to so many icons without worrying about licensing, and the flexibility on color and formatting makes $40/year for the Noun Project a no-brainer for me.