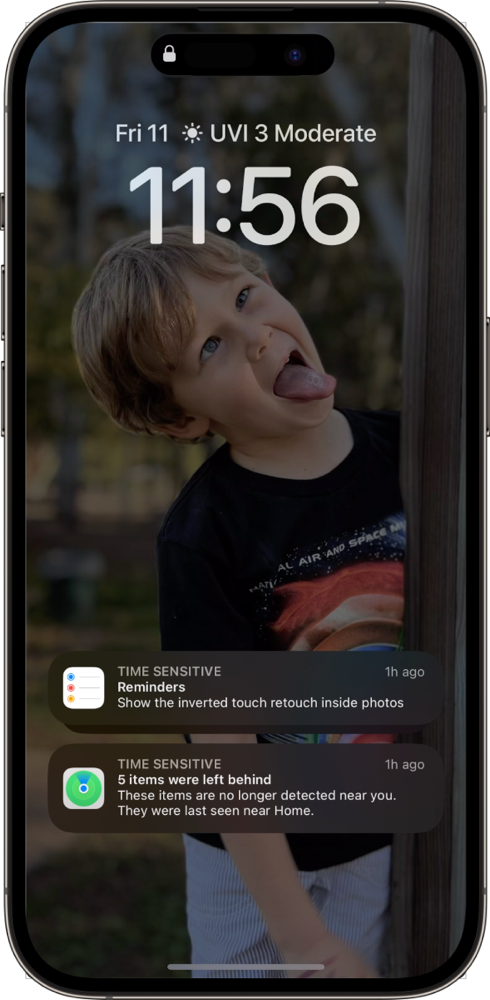 This really is more of a nano tip than a tiny tip, but I think it's a super useful one. The new iPhones 14 Pro and Pro Max have an Always On feature. With Always On enabled, when your phone is left unattended for a while or you lock it when you set it down, the screen goes very dim but not off. You can clearly still see the time at the top, and any widgets you've enabled.
I have the date and the UV index showing on mine. The UV index is something I watch regularly so I know whether I need sunscreen for my next long-distance walk.
You can also see your notifications on the Always On dimmed screen, if you've chosen to enable that feature.
Most people are not reporting that this Always On screen is causing battery depletion, but if you find it worrisome, you can turn it off by going into Settings, Display & Brightness, and toggling off the Always On Switch.
But my nano tip is that you can have your cake and eat it too. If you like Always On but you want to save battery under certain circumstances, simply flip your phone over and lay it face down instead of face up. The display will go completely dark. You have temporarily stopped Always On, but you can have it back simply by flipping the phone face up again.
According to Apple's support article explaining the Always On feature, they explain that the display also goes completely dark when:
Your iPhone is in your pocket or bag
Sleep Focus is on
Low Power Mode is on
Your iPhone is connected to CarPlay
You're using Continuity Camera
You haven't used your iPhone for a while (your iPhone learns your activity patterns and turns the display off and on accordingly, including if you set up an alarm or sleep schedule)
Your iPhone detects that you moved away from it with a paired Apple Watch (Always-On display will turn on when your Apple Watch is close to your iPhone again)
I hope this nano tip lets you enjoy the Always On Display now that you know you can save battery when you want to. I don't think it's the worst idea in the world to flip our phones face down when we're in social situations so maybe that's a win-win!