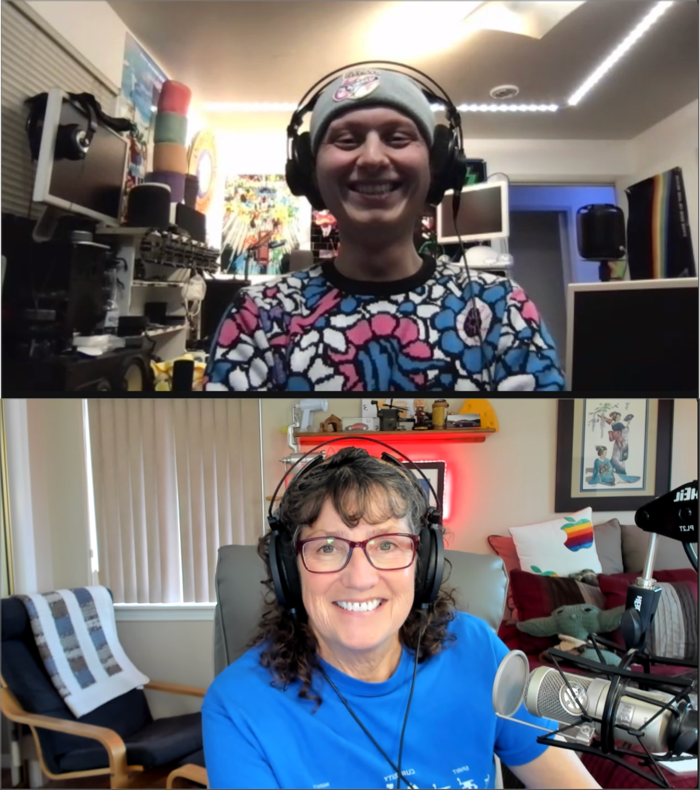 This week our guest on Chit Chat Across the Pond is Nic of Nic's HomePod Repair. You might remember the article about Steve's amazing experience with Nic repairing our big-girl HomePod a month or so ago.
It wasn't just that some guy repaired our HomePod, it was how he did it and how he broadcast live video of the repair as it was happening that made it even more interesting. I wanted to know more about how Nic got into doing this and how he creates his videos so I asked him to come on to talk about it. I expected to have a fun, nerdy conversation, and that definitely happened, but what I didn't expect was to find a very kind, thoughtful person who exudes good karma. Whether you care about HomePod repairs or not, I'm sure you'll find this a delightful conversation.
Transcript
View an unedited transcript of this podcast auto-generated by Auphonic Speech Recognition Engine using Whisper by OpenAI (Beta): CCATP_2022_12_04
Bullet points for our conversation:
Can we get a little background on you?
Are you a technician or engineer by trade?
Your website nicsfix.com is very well designed and laid out. It's very Apple-like with cool animations and graphics. Did you design it yourself? Do you have web design experience?

Used the Wayback Machine to find Apple's original HomePod website and reverse-engineered it

Apple never had a repair program for the HomePods, what got you to think you could figure out how to fix them?

Electronics Repair School on YouTube helped in explaining the cause of the most common "no power" issue. Great trouble-shooting skills but not elegant on getting inside

You provide guides on how others can do their own repairs – do many people take you up on that challenge?
Steve is an electrical engineer and knows his way around a soldering iron but he's not a technician. He said he watched you do a repair, looked at the guides…and said, "nope!" Soldering surface-mount parts was a bridge too far.
Did you need a unique set of tools to do these repairs?
Are there a lot of different types of failures or just a few?
Your pricing is incredibly fair – can you talk to that? Most are $60 flat rate. Some have broken subwoofers and may need to be replaced (extra $20). A steal to repair a $349 device
You also turned us onto a great way to find the best shipping fees – pirateship.com/
Are there some failures you can't fix?

Yes, software problems – Apple doesn't make the software available for the big HomePod
Frustrating because there are pins on the bottom that support UArc or USB and iTunes will recognize, and there's a restore button but the software to replace doesn't exist for download – no .ipsw file

Do you repair only original HomePods? How about the HomePod minis? Are there any other electronics devices that you repair as a business?

Yes HomePod minis too – turns out all of the ones I've repaired were simple software problems

Watching the videos – you're insanely fast at it. Also, the commentary you add about the condition and repair of each HomePod makes your videos interesting.
Steve particularly laughed when you first examined our HomePod prior to its repair, you sniffed it and made the comment, "Smells fresh!" Is there a story behind that?
The channel trailer video on your YouTube homepage entitled "Massacre Found Inside a HomePod" is hilariously edited. I love that you have so much fun with this. What the heck happened with that HomePod?
How many have you repaired so far?
Let's talk about how you set up for the broadcast
How many cameras do you use?

Orig droidcam for OBS using 2 phones
Started with iPhone & Android
Sony ZV-E10 for the real zoom from above

How do you set them up to get the different views?
What inspired you to let people watch their own HomePod be repaired? It's such a cool idea and I've never seen anyone do it.
Do you get much real-time feedback/discussion in the YouTube comments as you stream your repair?
If people want to get their HomePods fixed and get to watch you do it, where would they go?