We've all experienced the failure of a home electronics device at one time or another. Often it's not worth the repair cost or the device just cannot be repaired. But sometimes there's an option to fix your failed device.
When our original HomePod failed after only 3 or 4 years of use, we just assumed that Apple would be able to repair this $349 item. After all, Apple has an excellent repair program, even for many items not under warranty.
Problem to be Solved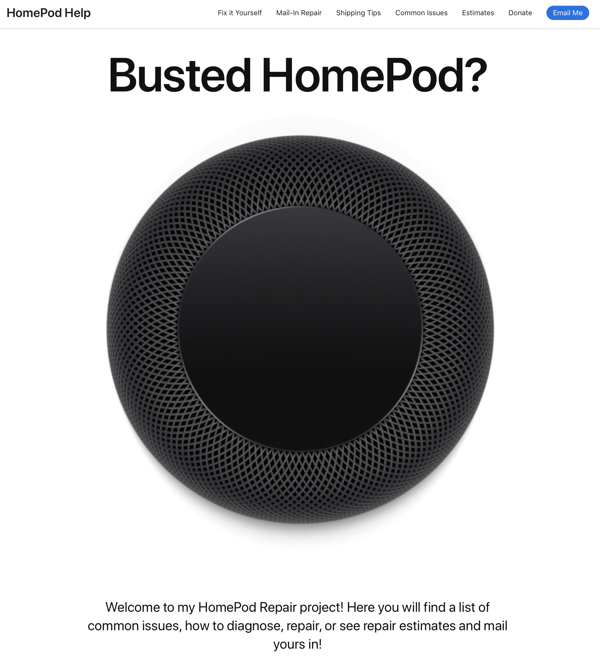 But alas, Apple abandoned the original HomePod for repairs, even though many many owners have experienced failures. This was quite disappointing since we really liked the HomePod's sound quality and its integration with Siri, HomeKit, and AirPlay. I kept our HomePod sitting on a shelf for a few years, hoping that someday I'd work up the gumption to repair it. That day never came.
Then while listening to an episode of the Accidental Tech Podcast, Allison heard Marco Arment talk about a guy named Nic who repairs original HomePods. After checking out Nic's well-designed repair website Nic's HomePod Repair Service, I decided to take the plunge and send our HomePod to him for repair.
I'm pleased to report that after a few short days, we now have our original HomePod back and functional. The repair process was so smooth and painless, I felt compelled to pass on my positive experience to others who may have had similar failures of their original HomePods.
There are a few features of Nic's repair service that set it above others. His repairs are very fast, inexpensive, and you get real-time feedback on your HomePod's repair status.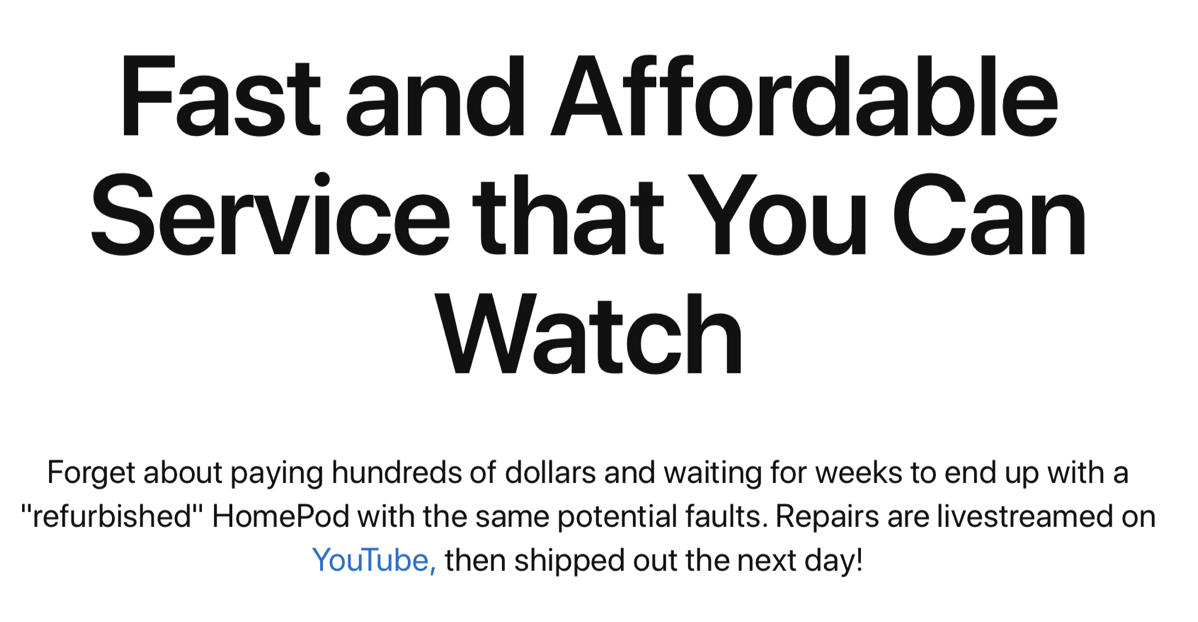 HomePod Failure Diagnosis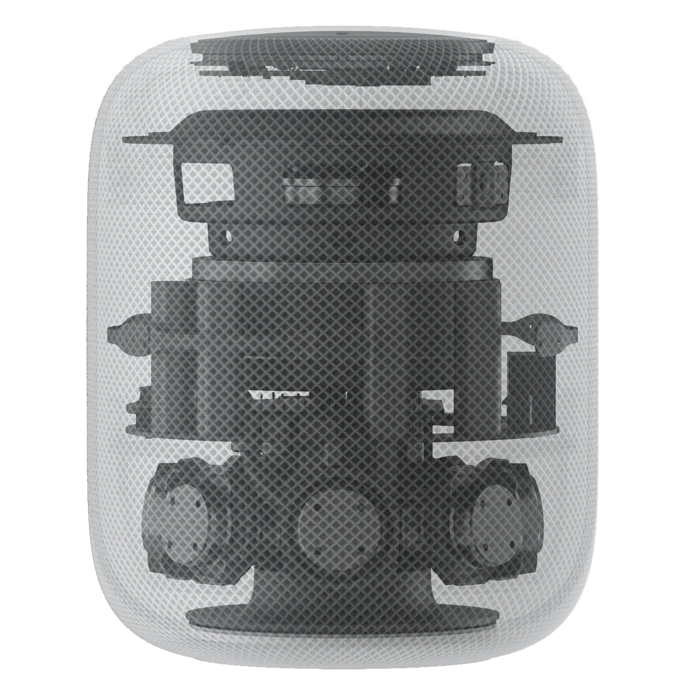 Nic's HomePod Repair website includes detailed descriptions of all of the common HomePod failure modes, and there are several. Nic can repair most HomePod failures, but not all. For each failure mode, Nic describes the symptoms the user would see, the diagnosis corresponding to that failure, the repair, and even the root cause for the failure if known. The symptoms are described plainly, in a way that someone without any electronics experience can understand.
In the event you have a failed HomePod and might be interested in whether it can be repaired, the following is a list of the common HomePod failure symptoms that Nic can almost always fix:
No Power – this is the failure our HomePod exhibited
Popping, Clicking, Death Farts, and Crackling
No Bass and/or Fast Clicking
No Bass
No Sound
Rattling Sound and/or Touch/Display Issues
The failure mode that Nic does not have a fix for is:
Flashing Volume Lights and BootLoops
If you send in your HomePod and, in the rare case Nic can't fix it, you don't pay anything except shipping.
On his website, Nic also provides:
Descriptions of how to diagnose the different failures
Photos of the failure location within the HomePod and the devices that need to be fixed/replaced
High-quality videos of the repair process. So, if you choose, you could try repairing your HomePod yourself.
Nic even provides links to order parts that may need to be replaced.
If you unsuccessfully tried repairing your HomePod yourself, Nic gives instructions on how to handle situations such as:
Help! I took my own HomePod apart and now there's No Sound or Power
I did my own repairs and lost ____ part! What is it?
Cost and Shipping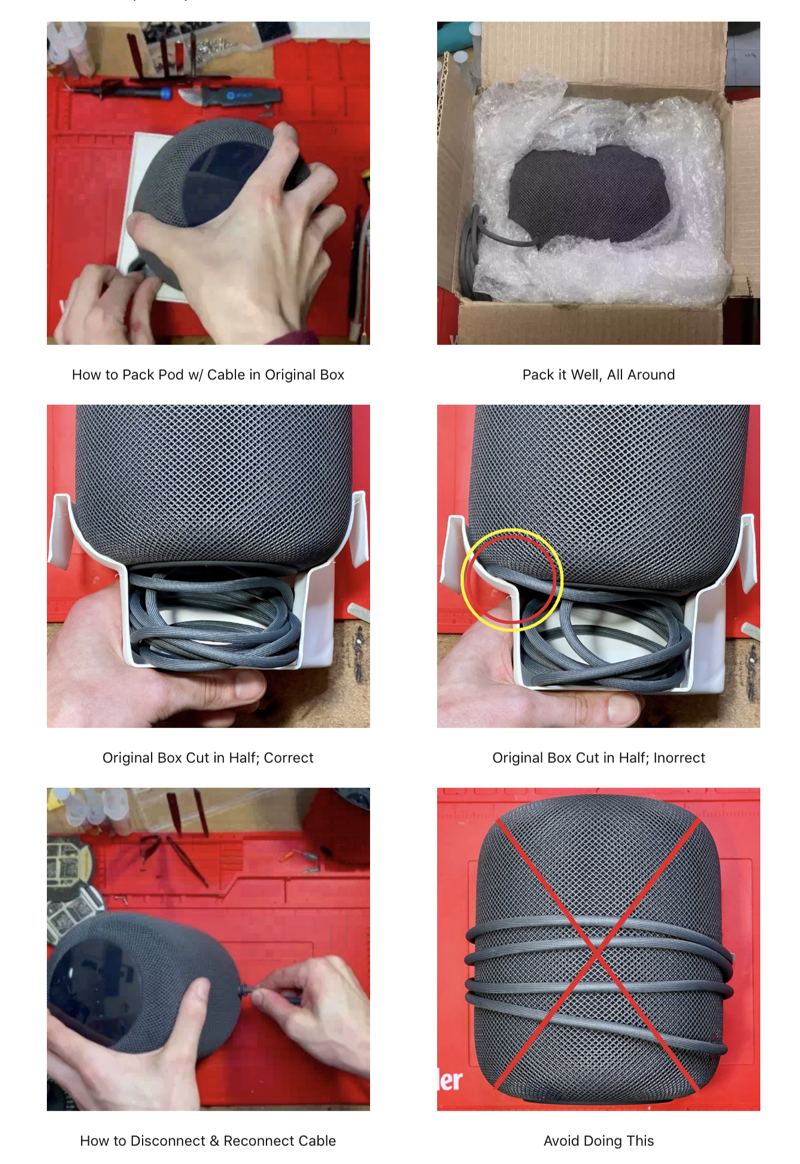 Most of the repairs Nic performs cost just $60 with a few of them going up to $80. Since our HomePod fell in the No Power category, I was encouraged Nic could repair it. For a mere $60, it was well worth sending in our HomePod to try out his service.
Nic provides detailed instructions on how to pack and ship your HomePod to him and gives some suggested inexpensive shipping services. Fortunately, we still had the original HomePod box so our packing was straightforward.
Nic suggested using a service called Pirate Ship at pirateship.com to find the least expensive way to ship the HomePod. Using this service, I found that UPS Ground cost only $10 to ship our HomePod to Nic. We live in Southern California and Nic is up in Washington so the shipping time was about 3 days. As soon as Nic received our HomePod, he sent me a confirmation email that he received it and let me know he would be repairing it the same day.
Repair Process
One of the coolest things about Nic's repair service is that he live streams the video of him repairing every HomePod he receives. Usually, he has a queue of HomePods lined up for repair (in my case it was five) and he gives you an approximate time at which your HomePod will be repaired. So you can see in real-time as he opens up your baby, finds the problem, and fixes it. By the time the video is done, you've seen your HomePod is up and running again. I have to say it was a joy seeing how efficiently Nic disassembled, diagnosed, repaired, and reassembled our HomePod.
Here's a link to the video showing Nic repairing our HomePod Video of Steve & Allison's HomePod Repair. If you watch the video, you'll see the failure of our HomePod happened to be the most common of all HomePod failures – a shorted Schottky Barrier diode that prevents the HomePod from receiving full power. As a result, our HomePod had no lights or response. According to Nic, it's possible this diode is just not suited for the task or Apple received a bad batch of diodes since this failure mode is so frequent.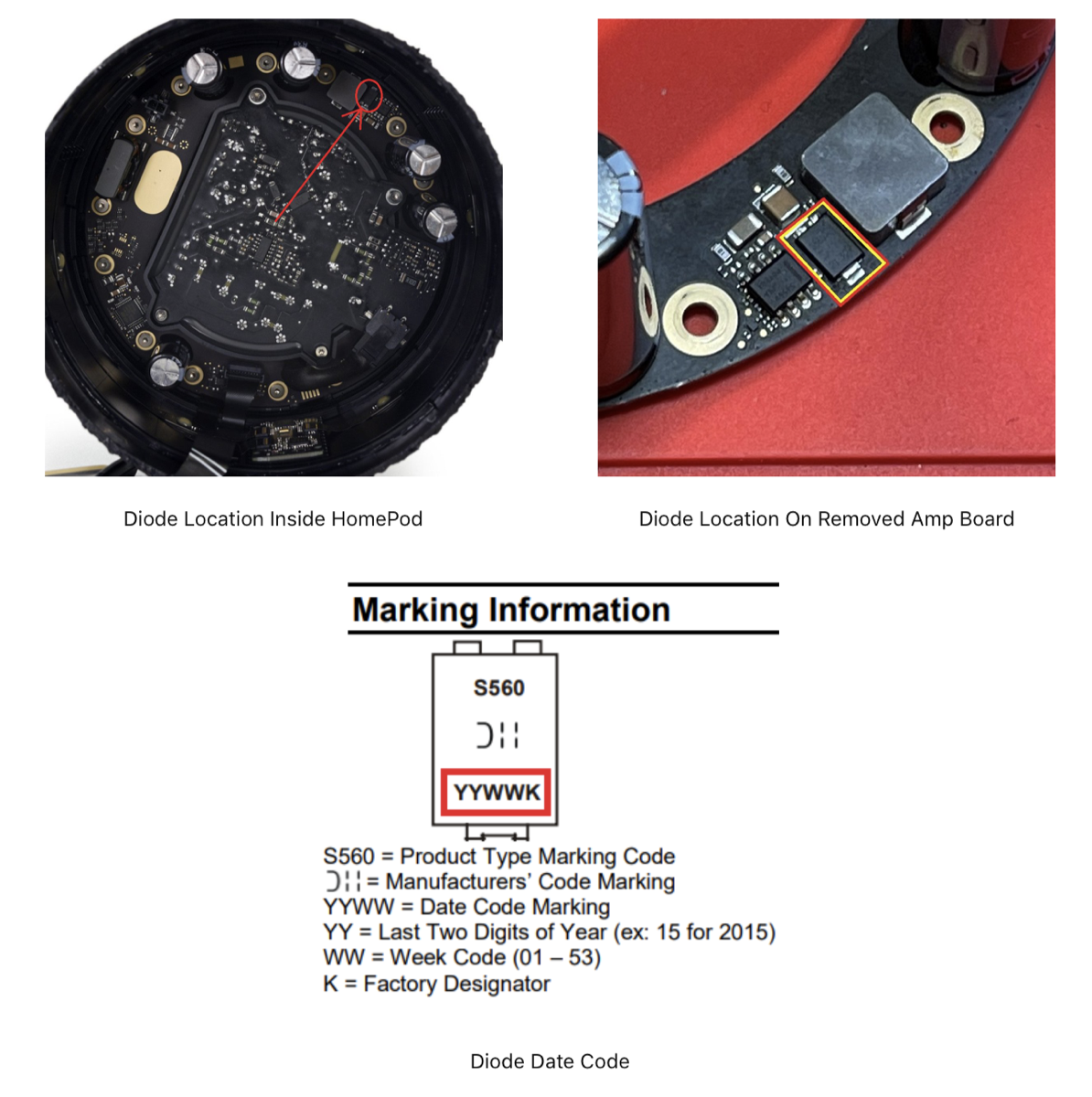 Although I'm not a technician, I'm an electrical engineer and I have some experience with soldering and electrical components. However, while watching Nic do his work, I was convinced I made the right decision not to do the job myself. He has the right tools and skills to do the repair very quickly and effectively. It would've taken me five or six times longer if I could've done the repair at all.
As an added bonus, Nic gives a running commentary about the shape of your HomePod and any unusual features he sees, in addition to a description of its failure diagnosis and repair. For example, Nic noticed the mesh surrounding our HomePod was slightly deformed by the power cord being pressed into it during shipping. He expertly rubbed the mesh around the depression and smoothed out the deformation.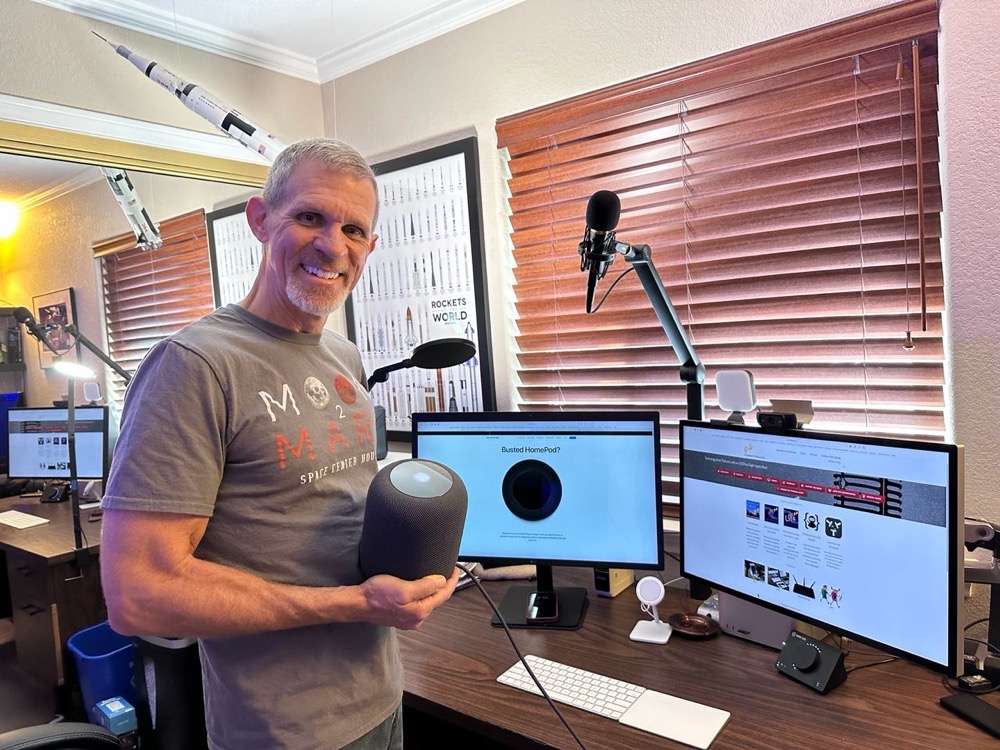 Return Process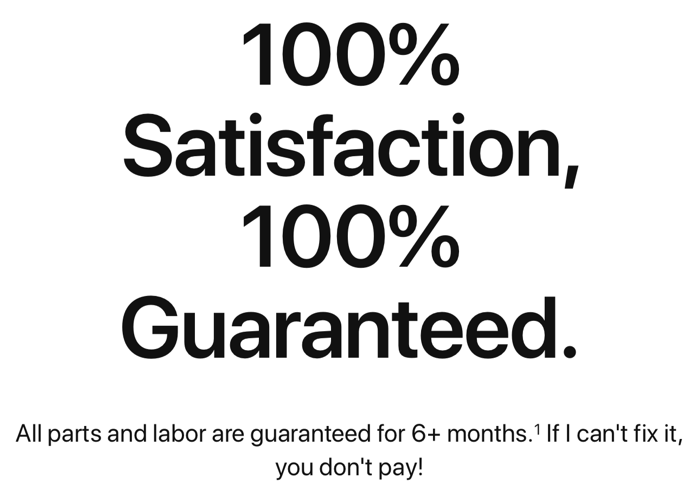 When Nic completed the repair, he sent me another email to confirm the repair was done, firm up the final price, and request which shipping method I wanted him to use for the return. I chose UPS Ground again for another $10. He sent me a final email with the UPS tracking number and in three days, I had my HomePod back in my hands. I plugged it in and immediately it came up and was working, just like I saw in the video. It pleases Allison and me so much that we can again enjoy the quality sound this thing puts out.
Nic's HomePod Repair service is offered to anyone in the world, but shipping can be expensive if you're outside the U.S. So Nic provides a list of people who also offer HomePod repairs in three countries outside the US: the UK, France, and Denmark.
Bottom Line
To top it all off, Nic guarantees the parts and labor for his repairs for 6 months. If you have an original HomePod that isn't working and you'd like it working again, I highly recommend Nic's HomePod repair service. He's fast, inexpensive, and transparent with his work. I wish more repair services handled their business as Nic does. Are you listening, Apple?