Hi, this is Allison Sheridan of the NosillaCast Apple Podcast, hosted at Podfeet.com, a technology geek podcast with an EVER so slight Apple bias. Today is Sunday, February 5, 2023, and this is show number 926.
Well, I can't start the show without first giving huge thanks for Bart and Allister for producing the shows while Steve and I were galavanting in foreign lands. I think both of their shows were terrific and made possible because of Bruce from Tennessee and Steven Goetz. I enjoyed listening to them on one of our many plane rides.
I'm so proud of our 17-year streak of never missing a single episode every week. And I say "we" because it clearly takes a village to keep this going.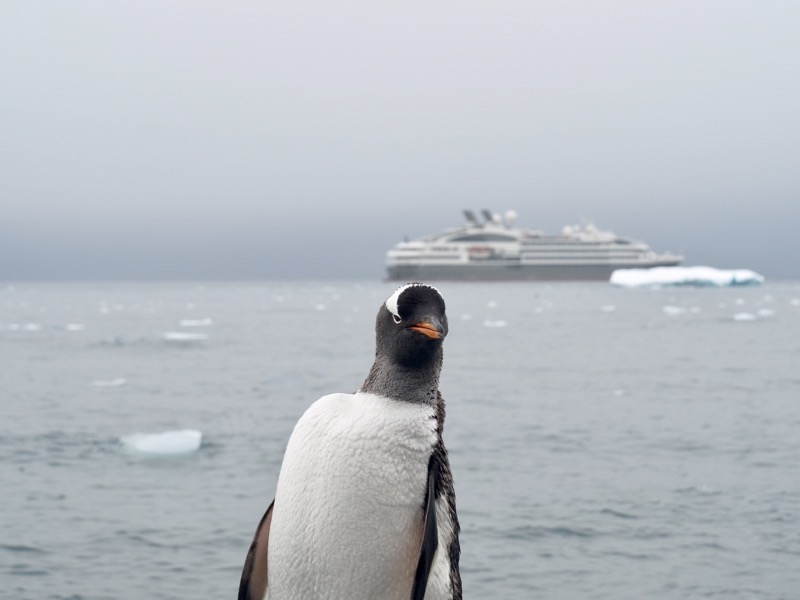 Next week I'll be doing a segment on Tech in Travel but I did want to tell you what an amazing time we had. We flew to Argentina – first to Buenos Aires and then down to a tiny town called Ushuaia which is referred to as the End of the Earth since it's the southernmost city in the world. From there we boarded a 150-person cruise ship where it took two full days to get to Antarctica.
In preparation for the trip, I created a very nice diagram (of course I had) of the places we were going to go and the things we were going to see in Antarctica. But when you're on an "expedition" cruise, you have to be ready to roll with the weather. We only saw one of the things we'd been scheduled to see. But that was ok because everything we saw was amazing. Imagine standing on a beach with 40,000 penguins. I'm not exaggerating, they went as far as the eye could see.
On the second half of the trip, we saw Iguazú Falls, which is the second-largest waterfall area in the world (right behind Victoria Falls). It's on the Iguazú river between Argentina and Brazil. It was astonishing at 1.75 miles long with 275 separate falls.
We never pictured ourselves as world travelers but we're absolutely in love with going to exotic places and learning new things. If you ever get a chance to go to a "weird" place, say yes.
As you can tell, my voice is not up to its usual dulcet tones, so I'm not going to be doing as much of the recording as usual. We do have a Security Bits with Bart, and luckily Jill from the Northwoods sent in a segment about Steam Deck (not to be confused with Stream Deck) and Bodie Grimm of the Kilowatt Podcast did some interviews at CES just for us. It killed us not to be there to see him for his first CES but we had to stay as safe as possible to make sure we could go to Antarctica.
Articles
Psyonic – CES Interview by Bodie Grimm (no blog post)
The Ability Hand is a bionic prosthetic hand. The founder, Dr. Ahktar was visting Pakistan when he was 7 and that's when he saw his first person with a limb difference. A girl, roughly his age was missing her right leg. That led him to bionic prosthetic research.
The Ability Hand allows users to move fingers independently, even pick up small/fragile items, the device has touch feedback, and can lift over 50 pounds. Users can even charge their phones from the Ability Hand.
To learn more, go to www.psyonic.io/…
I'm so grateful to all of you who help pay the bills that keep the Podfeet Podcasts shows running. Whether you're a patron by going to podfeet.com/patreon and pledging a weekly or monthly amount, or if you're like Kenneth and you send in an amount of your choosing using podfeet.com/paypal on a schedule of your choosing. Kenneth made me laugh this week when he sent his in – he said, "Sorry I'm late!" How fun is Kenneth? In any case, I thank all of the benefactors of the Podfeet Podcasts.
That's going to wind this up for this week. Did you know you can email me at [email protected] any time you like? If you have a question or a suggestion just send it on over. You can follow me on Twitter at @podfeet and you can find me on Mastodon at @[email protected]. If you want to join the conversation, you can join our Slack community at podfeet.com/slack where you can talk to me and all of the other lovely NosillaCastaways. Remember, everything good starts with podfeet.com. You can support the show at podfeet.com/patreon or with a one-time donation at podfeet.com/paypal.  And if you want to join in the fun of the live show, head on over to podfeet.com/live on Sunday nights at 5pm Pacific Time and join the friendly and enthusiastic NosillaCastaways.   Thanks for listening, and stay subscribed.