In October of 2021, I threw my money as fast as I could at Apple to get my hands on a 14" M1 MacBook Pro. When it arrived, it was as glorious as I'd hoped. It made me happy that my 16" MacBook Pro which was only 2 years old went into the hands of my daughter Lindsay and that she loves it. I kept my older 2016 15" MacBook Pro as a backup.
Battery Woes Part One
Sadly, after only a few months I started noticing that my battery was draining really quickly for an M1. Instead of getting the "11 hours on wireless web" that was touted on the sales page (and frankly reported by everyone else with a new M1 MacBook Pro), I was getting far less.
I battled the problem on my own for a while, because who really wants to make the trip to the Table of Sadness or even the Phone Call of Sadness? By March of 2022 I couldn't stand it and started working with Apple. We went through all of the usual hoops, up to and including doing an over-the-top install of macOS. I didn't do a clean install because I had done a clean install when I got the machine only 5 months earlier.
I battled this ever-worsening problem until finally in August 2022 when I convinced Apple to replace the battery. By that time it was losing 50% in 5 hours … when I wasn't even using it. The battery capacity had dropped from 100% to the low 90s. I was sure glad I had that spare 2016 MacBook Pro to use while my baby was away getting a new heart.
When I got the 14" back, they had wiped the drive. Not sure why they had to do it, but you always have to assume Apple will whenever doing any repair. So here I was not even a year later doing yet another clean install.
Battery Woes Part Two
My joy at a fresh battery waned quickly though. By the beginning of this year, the battery was yet again draining quickly. When using the Mac on battery while doodling around on the web in the morning, I was losing around 15% per hour. While that calculates out to 6.5 hours, which would have been amazing for an Intel-based Mac, it's merely 60% of what the specs say.
Again I tried desperately to figure out what was wrong on my own. I took metrics at every change I made, I combed through console logs till my eyes were weary. I'm not sure why I even bother to look at those logs — I've never in my life been able to find the root cause of a problem by looking at console logs, but a geeks gotta try.
Recently, things took a dramatic change for the worse. The battery started plummeting while asleep! And by plummeting, I mean it was losing 50% overnight.
Back to the Phone Call of Sadness
It was time to begin the horror that is calling for tech support. AppleCare really is pretty good but it's so emotionally draining to have to talk to people on the phone and convince them to care about your problems.
I started with Oshana and she escalated me to senior advisor Khameela. I explained to Khameela that my 5-month-old battery was down to 95% capacity and that it was draining while using it and while it was asleep. She tried to convince me that 95% battery capacity at 5 months was normal. However, she did run hardware diagnostics, but as usual, that revealed no problems. As a long shot, I even went to the Apple Store and spent time at the Table of Sadness and met with Carlos. He was sympathetic, but his hardware tests also couldn't find anything wrong either.
After I recovered from my visit to the Apple Store, I called Apple again and talked to Felicia who forwarded me to Senior Advisor Kareem. I spent more time on hold working with him than I enjoyed, but we worked on my problem for an hour and forty-two minutes.
I gave him piles of diagnostics from spin dumps to console logs and screenshots of the battery drain, and he bundled that all up with his hardware diagnostics and sent it off to engineering. He said he'd call me back in 5 days.
Kareem didn't call me back.
After a week of waiting for Kareem, I called AppleCare again and got Senior Advisor Michael when I called back on April 20th. Let the record show that I called Apple on my birthday for crying out loud. Michael told me something interesting. Engineering had studied all the logs and found that my Mac was waking every minute throughout the night! My Mac basically has sleep apnea.
Michael at this point was the first person I'd talked to who said I should be getting far better battery life than losing 15% per hour. I liked Michael. He asked me a few questions, one of which was very curious. Engineering wanted to know if the problem happened on other networks. I told him I was pretty sure it does. He took more data and said he'd call me back in a week when engineering should have gotten back to me.
Michael didn't call me back.
On May 1st, 2023, I called back to Apple and asked Brenell to get me to a Senior Advisor. I was rewarded with my favorite advisor so far, Margo. Why do I like Margo so much? Because she's the first person to say that my battery capacity dropping to 94% in 7 months is NOT normal.
Throughout all of these shenanigans, I have had the feeling that the root cause had to be something I'd done. Some piece of software, some automation, some combination of tools that only I could dream up had caused my problems. But Margo had new feedback from Engineering, and they are not asking any questions about software. Instead, they asked me to run a series of tests:
Does the issue continue with power nap disabled (Intel only)?

Doesn't apply to this Mac

Does the issue persist on multiple known good networks?

I think it does but I need to test to be sure. Margo said using my guest network not the same router didn't count, so I'll have to do it by tethering to my phone

Does the issue persists with iCloud disabled?

I told Margo she'd have to give me her first-born son to get me to turn off iCloud

Does the issue continue with all sharing services disabled in System Preferences>Sharing?
Does the issue persist with Time Machine disabled?
Does the issue persist with Wi-Fi disabled?
Does the issue persist with peripherals disconnected?

Absolutely – peripherals are always disconnected when I'm on battery

Does the issue continue with all internet accounts removed?

Really? Remove my email? Well…ok…
I'm going to be spending the better part of this week running tests for Apple Engineering but I'm super glad that they've got these ideas of things to test. I'm glad they're taking it seriously and I'm glad Margo is too.
Hopefully, in a few weeks, I can report back that we've cracked the code on what's wrong, but this has been going on so long that I don't feel too optimistic about it. But in the meantime, I came up with a workaround.
MacBook Air
I bought a refurbished M2 MacBook Air.
And guess what? The battery life is as glorious as they say! I'm going literally days without charging this little beauty. I bought it in fingerprint-magnet blue, or what Apple call "Midnight". It's just as gorgeous as they say, and it gathers fingerprints as quickly as they say. I actually have trouble getting it clean because a simple damp cloth leaves streaks on the surface. But it's pretty when it's cleaned up!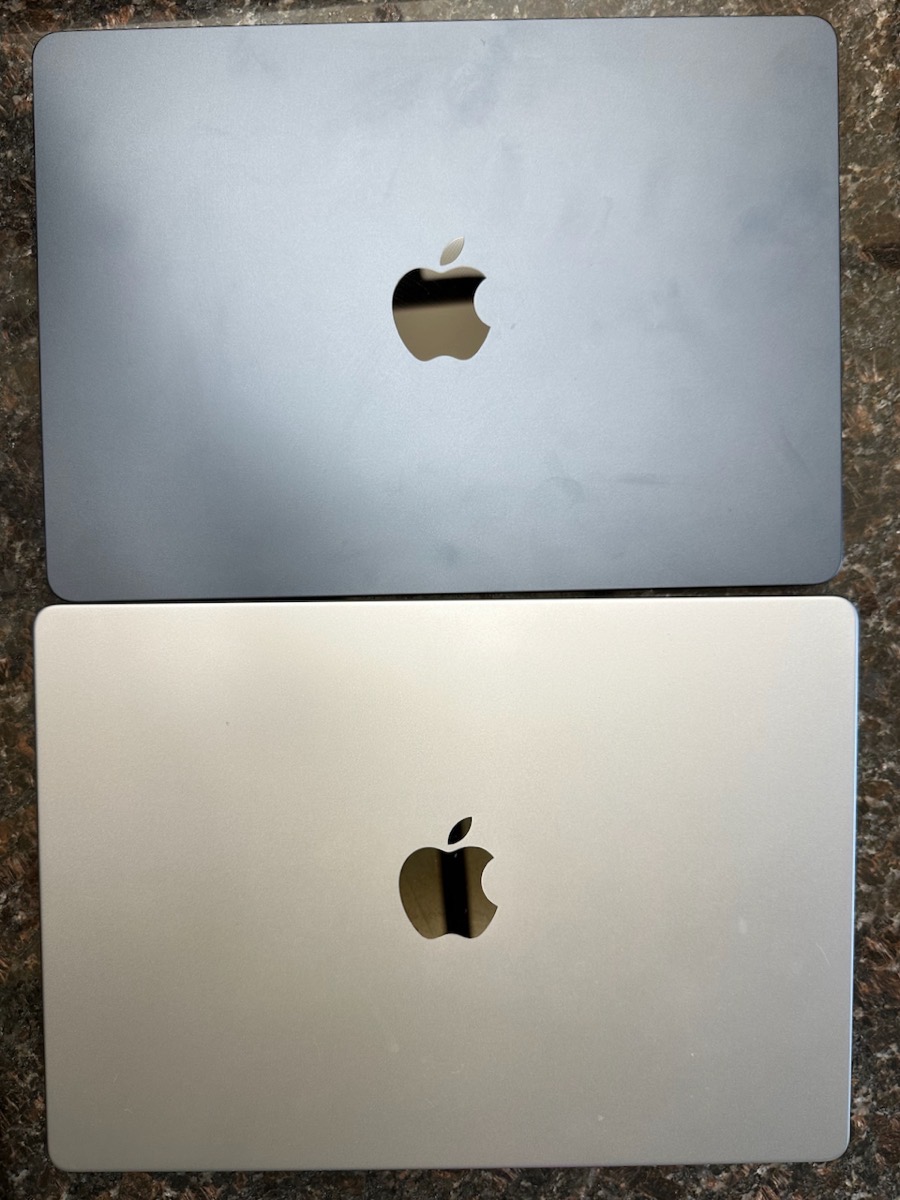 I was very curious whether I could really tell the difference in weight between the 13" MacBook Air and the 14" MacBook Pro. The MacBook Air is 13 oz lighter, but that's actually 23% lighter than the MacBook Pro. The MacBook Air is less than a quarter of an inch thinner, but that's 27% thinner and is also very noticeable. The 14″ MacBook Pro is so much better to carry around than my 16″ MacBook Pro, but the MacBook Air is even more delightful to hold.
I do find it a bit annoying to only have two USB-C Thunderbolt ports on the MacBook Air and especially to have them both on the left with the MagSafe connector. Having Thunderbolt ports on both sides for peripherals and especially for charging is much better with the MacBook Pro.
I chose the 35W power supply with two USB-C ports for the MacBook Air and it is absolutely adorable. The MagSafe cable is a dark blue woven material that looks really nifty too. I'm used to lugging 100W power supplies around for the Pro MacBooks, but the 35W power supply is about as small as a proper GaN (Gallium Nitride) charger. Why hasn't Apple gotten on the GaN bandwagon yet anyway?
Here are two fun charging anecdotes. Using my ginormous 100W Apple charger, the MacBook Air charged from 14-92% in just 1:10 hours. I thought that was pretty amazing. Another time I had the MBA on the counter in my bathroom where I charge my iPad Pro. I was able to fully charge the MacBook Air overnight using the 20W power supply of the iPad Pro, and it reached 100% by morning. I know that's a slow way to charge, but with 12 hours to feed it, it worked great.
The keyboard on the MacBook Air is a bit stiffer to press, which makes it feel like I'm doing more work when I type. The keys also make a faintly sticky sound that I don't find pleasing. I don't hate it, but I prefer the keyboard on the MacBook Pro for sure.
It was suggested that I might be disappointed with the display on the MacBook Air after more than a year with the amazing screen on the MacBook Pro. I have to say that I haven't noticed any difference at all.
The screen size of the MacBook Air is only a smidge smaller at 13.6" vs. 14.2". The MacBook Air has an LED-backlit display with IPS technology, while the MacBook Pro has a Liquid Retina XDR display with Pro Motion. I tried really hard to look at the two side-by-side, even while scrolling text by really quickly, but to be perfectly honest I don't think I can see any difference. I've always known I'm not worthy of my Pro Display XDR, and I guess this proves it if I can't tell the difference on a laptop.
I'm not sure what place the MacBook Air will have in my life going forward. Will it be my doodle around on the Internet while in bed with my morning coffee machine? Will it be my TV-watching device on the couch in the evenings? Will it be my throw it in my bag just in case Mac for when I go to a friend's house? Will it be my road Mac? What if I discover it can actually do the live show and I wasted a lot of money buying a Pro Max MacBook Pro?
I'm also still working on how to replicate the environment I have on the MacBook Pro. I know other people live happy two-computer lifestyles, but I still haven't settled on what should only be done on the MacBook Pro and what can be done on either Mac. The most important thing is that I can start my blog posts on either Mac since I use Bear for my rough drafts, and it syncs beautifully via iCloud.
But my final posts are done in MarsEdit, and it doesn't have any kind of syncing when a blog post is in draft mode. To use MarsEdit on two Macs, I'd have to always push drafts to my blog and remember to refresh before starting to work on it again on either one. If you're a programmer, it's like using Git to work on the same project on two Macs. Pull first, make changes, and then push. It's not hard but it takes discipline.
Most of my other crucial tools either sync through iCloud or don't require syncing, and it will be fun to figure out what I can do with the new MacBook Air. I'm hoping to get to parity between the machines eventually but it will probably take a while.
Let's Talk Price
I do have another excuse for buying the MacBook Air. While I did save $260 by going with a refurb from Apple, that still doesn't justify dropping $2500 including AppleCare.
Steve and I both had 2016 MacBook Pros (his was a 13") as our backups, but 2016 Intel MacBook Pros cannot run macOS Ventura. It might not sound like a big deal to stay on macOS Monterey for most people, but we have embraced Shared Photo Libraries in macOS Ventura and those Macs don't get any of our shared photos.
I looked at trade-in pricing at Apple, and while they normally are low-ball prices, they were absurdly low for these two Macs. They were both Intel i7s with a lot of RAM (mine had 32GB) and big SSDs (mine had 2TB, Steve's had 1TB). We decided to try selling them locally instead. I sold mine in one day for $400 through a local Mac User Group, and Steve sold his for $400 in two days through Facebook Marketplace.
It's always important to remember that your next Mac isn't really as expensive as it looks since your previous Mac will have high resale value. What 7-year-old Windows PC would be worth $400?
I can now justify the M2 MacBook Air with 16GB of RAM and 2TB of disk because after selling our two spare Macs, it only cost me $1700!
While Oshana, Khameela, Carlos, Felicia, Kareem, Michael, Brenell, and now Margo have all tried to help me fix my MacBook Pro's battery woes, I make myself happy by playing with the M2 MacBook Air.