Recently, there has been a groundswell of ambient noise applications. These are intended to provide a background level of noise to help you focus, relax, or even sleep.
The simplest may offer white noise, and a few other colours of noise. More feature rich examples may add in other, natural sounds like rain, a crackling fire, or birds chirping. iOS and iPadOS 15 added some basic options directly into the OS, as one of their many accessibility features.
One application I had tried was called Dark Noise. It offers many looped sounds. As well as white noise, pink noise, and several types of natural noises, it also includes such things as a freight train, a city street, and snoring! Dark Noise also lets you layer these sounds, which can be… interesting.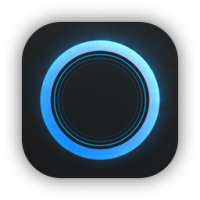 The application I want to tell you about today takes a different approach. It has no white noise, no freight trains, no layering of multiple sounds. Portal is an application that brings you out into nature, with real recordings of natural environments accompanied, if you wish, by a beautiful video of the recording location.
Another feature some applications offer is the ability to leave the ambient sound playing alongside other system audio, such as music or podcasts.
Portal has been available on iPhone and iPad for many years and I had tried it, I think, when version 3 came out in mid-2020, but I stopped using it for some reason. I recently rediscovered it and have been using it often when working.
When I am in the office, the general hubbub around me does not faze me most of the time — only when I need to concentrate. This is usually when I am trying to read some technical information, or writing some code, or perhaps trying to pick at the threads of an issue to understand what's actually broken.
Popping in my AirPods Pro, I fire up Portal on my iPhone and choose a favourite scene. I really like some of the ones that feature rain, especially if the day outside the windows matches this. While the AirPods Pro's noise cancellation also helps a lot, the soothing sound of rain lets me focus my mind on the task at hand.
Portal has recently taken on a whole new level of usefulness to me — they have now released a Mac version, and it is gorgeous!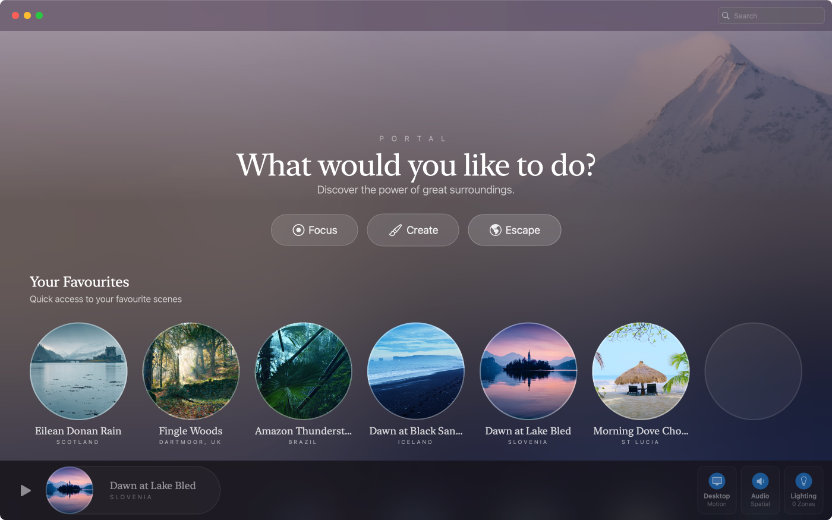 All three platform versions have feature parity, at least where the features make sense to the platform. However, I really think Portal is elevated running on a Mac. It's lovely looking at the visuals on my iPhone, wonderful on my iPad, but stunning on my Mac. If you let it, Portal will play the videos, some up to 8K resolution, as your desktop background.
All the videos are real-time and completely natural. You will, of course, occasionally catch the end of the recording as it loops back to the start with a quick crossfade, but all the scenes are largely static, with some amount of movement within; rain falling, waves lapping, waterfalls falling, or grass swaying.
All the audio is spatial audio, too. As you load up a scene, you will see various badges that denote the characteristics of the scene. The one I have running now says 6K, Dynamic Spatial Audio, 5.1, 7.1. All the newer scenes have at least these specifications. Some original scenes from pre-version 3 are not as high as 6K.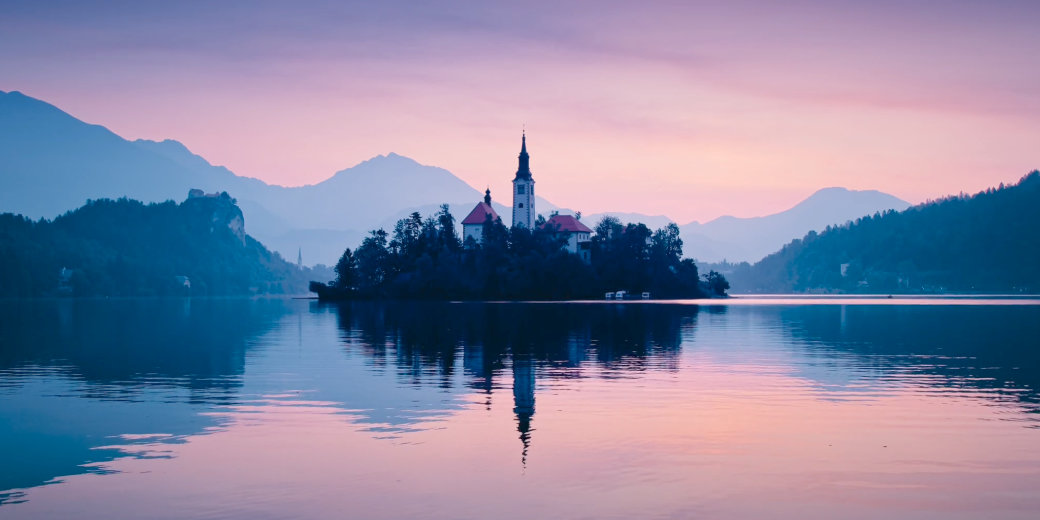 Speaking of those scenes, you can choose by time of day, activity (Focus, Create, or Escape on Mac), time of day, location, or from some curated collections. You can also search by keywords such as "summer", "birds", or "lake". Going by location you can tell how many there are to pick from.
31 from Iceland
6 from St. Lucia
5 from Devon & Cornwall
14 from the Scottish Highlands
11 from the Slovenian Alps
19 "Classics"
86 in total!
Here I offer you a brief taste of some of my favourite audio scenes. Oh, yes, you can also mark some favourites for quick access.
Since I have had the Mac app, only a few days now as I write this, I have a scene playing most of the time. I use the AirFoil application from Rogue Amoeba to stream it to a pair of HomePod minis that sit on my computer desk.
Portal uses a modest amount of CPU, and doesn't seem to impact on other uses of my M1 MacBook Pro. Curiously, the CPU graphs in iStat Menus don't look a lot different with video playing and not playing, considering it is playing on my 5K Studio Display and the internal laptop screen, and it looks gorgeous on both.
Portal can be used for free, with just six of the classic scenes and with slightly lower video quality. Aside from this, there are no limitations — you still get incredible, immersive sound and all the other features, some of which I haven't even mentioned. A subscription of $9.99 per month or $49.99 per year provides you full access to all scenes and covers you across all the platforms. There is a 7-day free trial, too, if you want to sample all the scenes available.
I encourage you to check out Portal and allow yourself to drift away to your favourite place.