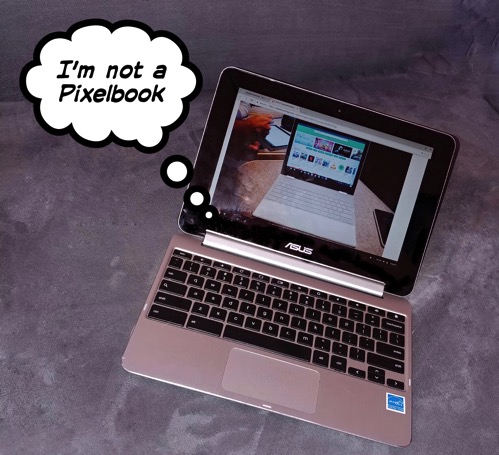 Hi, this is George from Tulsa sending some virtual help to Steve and Allison as they move Steve's parents. I'm sure they'd rather I flew to California and helped Steve carry the Steinway, but what they get is this small part of a podcast Allison doesn't have to build herself.
Find yourself the geek for work, family, and friends? I can't count how many times I've been called on to clean malware from Windows computers. A couple of years ago I threw in the towel, wiped the last version of Windows I owned, and told everyone I hadn't persuaded to move to Mac I no longer did Windows.
Of course, not everyone I know can afford a Mac, so the folks I couldn't persuade to buy a Mac, or who wouldn't maintain theirs and started calling me for Mac clean up, I've been recommending get Chromebooks. Heck, they're cheap enough I've given them to friends and family I cut off from my free Windows Support Service. Gave one to a sister-in-law two weeks ago.
Continue reading "Google Chromebook Pixel – by George from Tulsa"