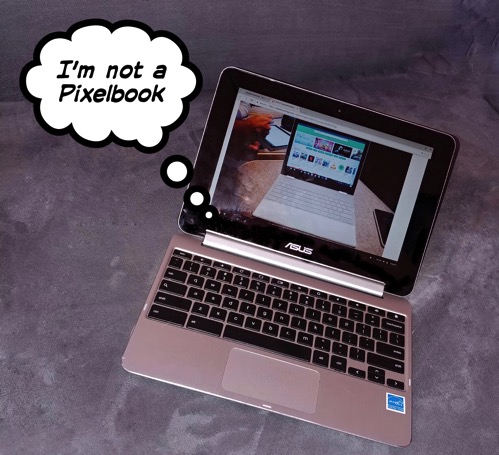 Hi, this is George from Tulsa sending some virtual help to Steve and Allison as they move Steve's parents. I'm sure they'd rather I flew to California and helped Steve carry the Steinway, but what they get is this small part of a podcast Allison doesn't have to build herself.
Find yourself the geek for work, family, and friends? I can't count how many times I've been called on to clean malware from Windows computers. A couple of years ago I threw in the towel, wiped the last version of Windows I owned, and told everyone I hadn't persuaded to move to Mac I no longer did Windows.
Of course, not everyone I know can afford a Mac, so the folks I couldn't persuade to buy a Mac, or who wouldn't maintain theirs and started calling me for Mac clean up, I've been recommending get Chromebooks. Heck, they're cheap enough I've given them to friends and family I cut off from my free Windows Support Service. Gave one to a sister-in-law two weeks ago.
Chrome OS is about simplicity. It's a light version of Gentoo Linux that does a Verified Boot on low-end hardware including ARM chipsets, and stores user data in Google's Cloud. Ideal for the kid at school who can't use the excuse "the dog ate my Chromebook" because if the kid did the homework, and the dog ate the Chromebook, the homework would still be safe on Google Drive, ready for the kid to log in and send the teacher. Chromebooks are effectively impervious to viruses and malware. About the only "threat" is a Chrome Browser extension gone evil, and once removed, that's cured. It's a simple fast process to "Powerwash" a Chrome OS device back to factory, and if that doesn't work, Google provides current downloads of Chrome OS images for every device on which Chrome runs.
I'm submitting some links to Allison's Blog, including one about how Verified Boot works.
You've probably read, "Why buy a Chromebook when a Windows computer that does more isn't much more?" Uh, those computers run Windows.
You've probably read, "You can't edit video or run Photoshop on a Chromebook." While that's not entirely true, it's close. Thing is, most people don't edit video and Instagram isn't Photoshop. They browse, email, Facebook, all an easy reach for Chromebooks. Anything you can do on any computer on the Internet using a browser, you can do on a Chromebook, and that's most of what most people do in 2017.
I've used Google's fairly easy Management Console to set up Chromebox desktops for secure public access at a public library, and separately set up charities with G Suite, and given Chrome devices so they can go about their business, and never bother me again about broken Windows.
I first reviewed a Chromebook for Podfeet back in 2011. The original commercial Chromebook, a Samsung 5, was crippled by an inadequate Atom processor. Link in Allison's blog: podfeet.com/…
I'm also linking to my 2015 dual review of my very favorite Chromebook, the Asus Flip C100 and a more powerful i3 Toshiba.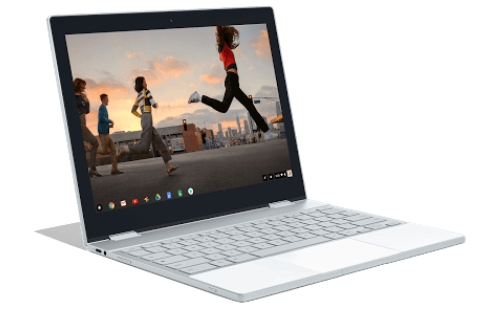 As a user of Chromebooks, I naturally had to amble out to Best Buy and see Google's new i5 Pixelbook, especially after the reviews that didn't hoot it was ridiculous to pay $1,000 for a Chromebook but OK to spend $1,300 for a cell phone raved over its lustworthy hardware.
The 2010 MacBook Air that first brought SSDs to my life was transformative. The Pixelbook, well, it's a really good Chromebook.
Next visit to Best Buy, see the Pixelbook yourself. It's seductive. And judging it from the Best Buy display just isn't fair, the poor thing's strapped to a table and can't easily be moved among laptop, tent and tablet modes. Best Buy's so bright the backlit keyboard won't light, and if it did you couldn't see it, or try out the wonderful ability to adjust keyboard light intensity. Then there's Google's dumb demo mode. Seriously, Google, do you want to sell these things, or not?
As it was near my birthday, I decided to buy one, planning to keep it and give the Flip to my son.
I take back nothing I said above, but I did take back the Pixelbook.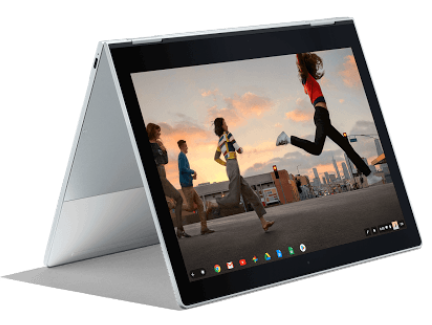 The superb screen is 2400 x 1600 at 235 ppi and exceptionally bright at 421 nits. From specs, seems to be the same panel as in Samsung's Chromebook Plus discounted today at Best Buy to $399. It's also a 3:2 aspect ratio, good for some things, but not spreadsheets I usually have open across the width of two 27" monitors. The Pixelbook works in tablet mode, but is dense though not very heavy, and just isn't easy to hold and use as a tablet. The Sammy Plus is lighter, has rounded edges, and would probably be a bit better as a tablet.
Pixelbook is USB-C only. At least there's two ports, so it is possible to charge and connect peripherals simultaneously. Dongle probably required for more than a single USB-C thumb drive. I had trouble with a USB-C Dock keeping Ethernet connected and just gave up and reverted to WiFi. There's no SD slot as offered in most Chromebooks. But there is storage ranging from 128GB all the way to 512.
That storage is important because Google has brought Android applications to Chrome OS, and they and their data quickly fill the 16GB storage of most Chromebooks sold in the day of "cloud only." Google is ambivalent about SD storage for Android, and that shows in how Android Apps work on a Chromebook. With 128GB model, it's no problem using the Android Apps to download Netflix videos or Google Music Playlists and take them along. Yet massive storage doesn't fix the partial disconnect between partitioned Android data and the Google Chrome OS File Manager. That may be to keep users from uploading downloaded DRM content to Google Drive, or external storage.
I bought the optional $100 Pixelbook Pen. I'm not an artist, and so found no real use for it myself. My art school trained daughter tried it out and said it seemed competent when used in the trial of Infinite Painter that takes advantage of the Pen's abilities. As a dysgraphic normal who can't draw stick figures, someone who thinks the Deity invented the keyboard so I could stop scrawling illegible handwriting, the Pen wasn't for me. It also tried to go walkabout as it rolls very easily; the Pixelbook offers no storage compartment as in the Samsung Pro and Plus where the stylus is included without extra cost. I barely caught the $100 Pen as it rolled off a counter toward a swim in the dog's water bowl.
The Crouton utility, offered as a Chrome extension, enables installation of Ubuntu variants on a Chromebook. Not especially difficult, and I did install Ubuntu Unity. What I couldn't figure out how to do was add to the usual Unity Suite (including LibreOffice) some applications we use on Linux at work. That, and I could not, either in Chrome or Ubuntu mode, connect the Pixelbook to the Synology NAS that holds our work files. It's point and click easy in Win, Lin, and Mac. May be possible, but I didn't pay to buy the best "simple" computer to spend all my free time trying to figure out how to use it enough get value for my $1,000 investment.
Hate to mention the 7th Generation i5. The Pixelbook is an expensive computer, even if "only" a Chromebook, but, hey, Google, Intel started shipping the much better, faster, 8th Generation Quad Core laptop chips in time for HP, Dell, Asus, Acer, and Lenovo to have them waving "Hi!" at Best Buy as the Pixelbook arrived.
Side note: surely Apple will refresh soon to the 8th Gen. According to benchmarks and reviews, it's the real thing.
Used Pixelbook to participate in the NosillaCast Live Show found at podfeet.com/live, yet that 3:2 aspect ratio wasn't as Live Show Friendly as 16:9 and that's when I pretty much decided to Powerwash and return it. I tried it with the Android Snapseed photo editor. Honestly, didn't seem better than the "slow" Flip, my good Android phone, or $240 T-Mobile LG Android Tablet. Then, Android Apps may be optimized for ARM.
In the end, I just couldn't figure out what more Pixelbook did for me than the Flip C100, that has more ports, SD slot, and is lighter, easier to carry, and with better battery life. And if the dog ate the Flip, no financial disaster.
There's a number of good Chromebooks at much to substantially lower prices than the Pixelbook. Samsung, Asus, Acer, Dell, HP, Lenovo, and others, all make a variety of devices with varied specs. This time of year, prices vary day to day, and new Chromebooks are expected at CES in early January where Google has staked out a large presence for the first time. They're not for those who render in Final Cut or do massive layer based photo editing, but they're darn near trouble-free tools.