Al's busy week on the Mac Roundtable, the Views from the Coop Podcast, the first MacDay LA event, and finally co-hosting the Typical Mac User Podcast with Victor Cajiao over on TalkShoe! Margaret points out I do go out with friends as long as they're not James. Pixelmator from pixelmator.com gets constrained cropping, another good keyboard shortcut site at allhotkeys.com and Rose explains why she bought an iPod Touch instead of waiting for the iPhone in Ireland. in Chit Chat Across the Pond Bart explains High Dynamic Range (or HDR) photography editing (his site link on the subject: http://www.bartbusschots.ie/blog/?p=701) and a rant against Apple for pushing its software where it doesn't belong!
Listen to the Podcast Once (43 min 51 sec)
[tags]Macintosh, iPhoto, iPod, HDR, keyboard shortcuts[/tags]
A technology geek podcast with an ever so slight Macintosh bias. Today is Sunday, March 23rd, 2008 and this is show #141.
Hey how come nobody (not even QA Director Steve or Honda Bob) noticed that I said it was show #141 last week, when indeed it was only show #140? Ha! I got it before you did! I guess I got ahead of myself for the same reason I've been telling everyone I'm 50 when I'm actually only 49. somehow 50 sounds cooler to me. 49 sounds like you're in denial, and I plan on embracing each year as it comes!
I gotta tell you guys, I think I'm burning this podcasting candle at both ends these days, and perhaps in the middle, and perhaps a little more on the left hand side! So get this. On thursday I was on the Mac Roundtable again, which was SO much fun! We had Don McCallister, victor Cajiao, Katie Floyd, and Tim Verpoorten on the show and I think it was one of our best yet! We're really getting into the groove now I think. the show will be posted on Monday I think.
Then on Friday I co-hosted the Views from the Coop Podcast with Paige Eissinger and Kim Beasley. You know I love Paige – remember she did the book review of Design Accessible Websites? I had never virtually "met" Kim before so it was fun getting to chat with her too. Check out this podcast if you haven't already, it's lively and unpredictable and it's recorded live on Blog Talk Radio so you can even join in and participate if you want to!
Ok, are you tired yet? Well, on Saturday I was on an expert panel at the first MacDay LA event. this was a really fun event put on by Deb Shadovitz, who was responsible for the MacMingle up at MacWorld that I enjoyed so much. She does a great job at these events, pulling together a ridiculous number of details to make it really enjoyable for the audience.
We had table talks during breakfast where I hosted a table talking about freeware, shareware and open source tools (what else?) there was a woman there, wish i'd gotten her email address, who was trying to figure out how to get her AppleWorks databases converted into something that would run under Leopard. I suggested to her that she could probably export them as comma separated values (.csv) and then the free and open source software NeoOffice could read it into the Base program. When I got home, I found on the Neowiki site some specific instructions on ways to do this so I put a link in the shownotes for her in case she's listening!
there was a nice couple who were interested in photography and creating newsletters, three educators who had great stories to tell about how the kids teach THEM about technology and with some interesting tool questions as well. Greg Taylor was one of the educators and he had some great insight into tools that I really enjoyed. I found out he was already a listener to my Podcast (I was pushing my business cards pretty hard!) and I told him that I think he really should be contributing to the show because he's really knowledgeable about this stuff.
I should mention that MacDay LA took place on the CBS studio lots, which was great fun. We parked on Gilligans Island road, then took a left on Gunsmoke, went past the bungalows where the actors on Samantha Who hang out, saw set designs being rolled around – very cool. After breakfast we had a couple of sessions of Q&A with Bruce Brown a Mac Computer consultant who can be reached for help at [email protected] and Mark Hartman who is a senior consultant on all things Macintosh and he can be reached at [email protected]. Both Mark and Bruce were great on the panel, they have a deep understanding of how things work, and were really helpful. I was honored to be on the panel with them. The only problem with the Q&A was that we kept running out of time and had to cut off the questions, but I guess that's what you want – leave your audience wanting, right?
Ok, now you'd think I'm exhausted already for one weekend, right? not me! I'm recording this early, because tonite I'll be co-hosting the Typical Mac User Podcast with Victor Cajiao over on TalkShoe! I always have a great time with Victor, and a highlight of the MacDay LA event was getting meet the love of his life, Mary at the show. I thought I'd be tired, but I'm all pumped up!
Well let's dig into THIS show!
James email
Friend of the show Margaret wrote in with a really interesting observation about last week's show:
"I sure hope Crazy James didn't tune into your 16 March podcast. After you explained to him that you never go out for people you like, you proceeded in the same podcast to mention how you drove 100+ miles to help a friend buy a MacBook Pro, photographed a listener's garden and had to close out the show cause you were off to a party. I laughed so hard. Of course in your defense, you do love photography and Macs, so that can be explained. But, the party?! 😉 "
Uh, yeah, um, the party, um well it was sort of a family obligation. Yeah, that's it, as a family we're going on a cruise to Mexico with friends, and we had to have a pre-party to celebrate the future fun! I don't remember if I told you but I bought an AWESOME pair of shorts in Sedona. We packed assuming it would be really cold there, but when we arrived it was about 65 degrees out! We went to a store called Beales, which can best be described as an outlet store for K-Mart. anyway, I found this awesome pair of shorts there – they're teal and lime green plaid bermuda shorts. While I clearly made a fashion statement in Sedona, you can imagine my delight when i realized that these would be the PERFECT shorts to wear to the pre-Mexico party! I don't want to just be a tease here, I put a photo of me in these lovely shorts in the shownotes so you can see how awesome they are!
Pixelmator

I have a quick update on the product Pixelmator. I reviewed this excellent image editor back on show number #117 in October of '07. I really liked Pixelmator, but the one thing that kept me from using it instead of Photoshop elements was that it did not have the ability to crop to a certain size, constraining to 4×6 for example. Now my daughter is trying to convince me that since we never print anything any more I should break out of that constraint, but I'm just not ready for that change yet! in any case, over the last six months I've checked in on it from time to time, mostly when i didn't want to wait the interminable length of time it takes for PSE to open up. This week i popped it open and there was an update – and it now has constrained cropping!!!
It's funny that I was so obsessed on this one point though, because Pixelmator always has had some outstanding attributes. The most impressive feature is that it uses core image technology, which from a layman's perspective means that you get graphics rendering performance that's outstanding. Instead of watching a progress meter as your Mac renders a gaussian blur for example, you see the effects real time in the blur tool. Same thing if you took a picture kind of crooked and you want to straighten it up – as you change the angle to rotate it, it shows you real time how it looks so you can adjust until it's perfect.
Pixelmator a beautiful piece of software, and for $59 it's a great price for a highly capable and fast image editor! go check it out at pixelmator.com
Keyboard Shortcuts

Back in February I told you about a cool site called KeyXL where you can find keyboard shortcuts for a whole slew of applications, both Windows and Mac. not to take anything away from KeyXL, but I found another site that provides the same service. All Hotkeys at allhotkeys.com says "We're here to help you to increase work speed 🙂 Want to know how exactly we're going to do that? Hotkeys. They are also called keyboard shortcuts, or "Magic keys". All this means one – using hotkeys will increase speed of your work." All Hotkeys has browsers, Microsoft applications, Apple apps like iLife, Google tools like Calendar and Writely, xNix shortcuts for Bash and KDE, and GNOME and more, and even Games like World fo Warcraft and Heroes of Might and Magic, and even a broad category called Other! Other is a huge category – including Eudora and SQL and Lotus Notes and Oracle and Yahoo! Mail and Photoshop – there's a ton of applications in here! If you're an efficiency nut like me, and you want a nicely organized site for looking up hotkeys, you'll love All Hotkeys.
Honda Bob
As many of you know, I'm kind of particular about my car. I wash it weekly, dust it mid-week many times and wax it 3 or 4 times a year. I believe that if you take care of your car, enjoy your car more during it's life, that time that it makes you happy will be longer, you'll get better resale value when you finally can't stand it and want a new car. but it's not all about making it look good with washing and waxing, you have to take care of the engine too. Since I have Hondas and Acuras in my fleet, we have the luxury of having Honda Bob drive to my house whenever I'm due for a service or in the uncommon event that I actually need something repaired. Honda Bob comes out and makes sure all the belts and fluids and all that nonsense are clean and well maintained, and because of that, I have always had great success with my cars, and I sell them for a lot of money when I'm finally done with them! In fact, I've had people put themselves on a waiting list to buy one of my hand me downs! And if you are lucky enough to live in the LA or OC areas, and you'd like this same in-home care for your Honda or Acura, give Honda Bob a call at (562)531-2321 or send him an email at [email protected]. HDA Bob's Mobile Service is not affiliated with Honda, Acura or Honda Worldwide.
Rose on the Touch
===============insert rose touch================
thanks Rose – I love your style of explaining things. I can't believe you would even SUGGEST that you would cheat on me with Tim or Victor or Ken – lovely boys they may be! It's great that you found free wifi at your local pub – now you're going to be a DRUNK mac fanatic! In any case, nice review, bet that will help some people get off the fence! (that's US speak for "make a decision")
Chit Chat Across the Pond
Bart's explanation of High Dynamic Range (or HDR) photography editing using a Nikon d40, Bracketeer & iPhoto:
http://www.bartbusschots.ie/blog/?p=701
Well, you heard your homework assignment folks – we need to know how Nikon is pronounced in Japanese!
Apple uses BAD net etiquette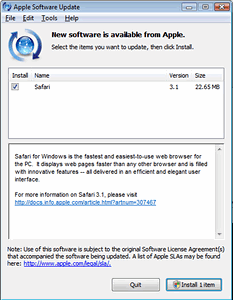 I'm going to go on a rant here, and it's about something simply awful that Apple did this week. On my Windows Vista laptop at work, I have iTunes and Quicktime loaded. on Thursday morning, an Apple software "update popped up". However, it was NOT an update, it was an offer to install Safari 3, DISGUISED as an update! I was LIVID. I do NOT have Safari loaded on that machine, so how DARE they offer me an update??? this was extremely bad net etiquette and I think Apple ought to be spanked for it. I had a few reabid Mac fanatics i talked to say things like, "well, they have to do things like that to compete with microsoft." That's just not acceptable to me – we can't be enraged when Microsoft does something underhanded but nod approvingly when Apple does something like this. I think Apple ought to be ashamed of themselves. What an awful thing to do. I put a screenshot of the "update" they offered me so you can see for yourself how misleading it was.
Well, on that enraged little note, I think I'll wind up this exhausting week of podcasting. I really did have a ball and wouldn't have missed a single show! If you saw or heard any of these extra shows, send me a note at [email protected] and let me know what you thought! Hey, even if you didn't hear the shows, STILL let me know what you're thinking! Thanks for listening, and stay subscribed.