I hosted Eye Chart Radio with Mike LaPlante. Rush Sherman sent us this link to Steve Jobs giving a talk in 1983 I've never heard before. CES interviews with Fisher Price, Ziro, ThinOPTICS and Nite Ize. I'll give you a caution about Dashlane security manager. Then we've got Security Bits with Bart Busschots.

mp3 download
Hi this is Allison Sheridan of the NosillaCast Mac Podcast, hosted at Podfeet.com, a technology geek podcast with an EVER so slight Macintosh bias. Today is Sunday February 4, 2017 and this is show number 613.
Appearances
This week I made my 6-weekly host appearance on Eye Chart Radio with Mike LaPlante. We pondered what we learned about Apple's Q1 2017 earnings. We talked about the impact the US President's ban on immigration might have on tech companies. We compared the President's desire for US companies to bring more jobs into the US while Apple is building a factory in Bangalore, India. I really enjoyed talking to Mike about all of the topics. It's a much different show than the NosillaCast and that made it fun for me. Mike now has a rotating cast of co-host (hence me being on every six weeks) so the easiest way to find the shows is by going to your favorite podcatcher and subscribing to Eye Chart Radio.
Next week, I'll be on Monday's edition of Daily Tech News Show with Tom Merritt. I have such a blast talking tech news with him. Mostly because I learn so much from trying to keep up with him. Here's something else fun. Chris Ashley of the SMR Podcast was on the show on Friday, so when Tom signed out, he said, "And completing the DTNS/SMR/Podfeet alliance, Allison Sheridan will be on the show on Monday!" I loved it. Definitely go check out Chris' appearance on show 2960 and I'll be on 2961. DTNS is at dailytechnewsshow.com.
Chit Chat Across the Pond
I'm having a blast in the Programming By Stealth series with Bart. This week I completed the entire homework assignment! Ok, so Bart had to help me for some of it but I really think it's starting to sink in. This week Bart teaches us about another "bad smell" and shows us how to get rid of it. Then we learn about glyph icons which are scalable icons for the web instead of pixel-based icons. It's great fun and I can't wait till we get homework not hat! Subscribe to Chit Chat Across the Pond on your podcatcher of choice, or at podfeet.com/blog/category/programming-by-stealth/.
Steve Jobs in 1983
Friend of the show Rush Sherman sent me a link to something I never expected, an audio recording of a talk Steve Jobs gave that I've never heard before. The talk was on June 15th, 1983 at the International Design Conference in Aspen. It's fascinating to hear his vision and his ideas about design, before the Mac was even born. At one point he tells them that we can have functional tools that look like crap or we can have them look beautiful, and he'd rather they look beautiful. Since he's talking to designers he asks for their help. Maybe you've heard this one before but like I said it was all new to me.
Marcel Brown, who goes by MB Tech, posted the audio over on Soundcloud so I put a link to it in the shownotes. Enjoy!
Let's kick into the show with an interview with two super fun women who showed us a smart tricycle at CES.
Blog Posts
You can tell we had great fun with Colleen and Julia, right? Maybe it's a job requirement to be super fun if you work for a toy company!
This next interview is with Raja Just from Ziro and while his products aren't nearly as ready for prime time as some of the others, his enthusiasm for how children can learn robotics was really inspiring.
Patreon and Amazon
want to take a break to thank all of you who help pay the cost of creating the podcast through using the Amazon Affiliate Links at podfeet.com. It's a pretty easy way to support the show. If you want to buy something on Amazon anyway, if you start your search by clicking on the big Amazon logo on the left side of podfeet.com, anything you buy will have a small percentage go towards hosting fees and other podcast costs.
If you'd like a more direct method, do like John Haller did this week and go to podfeet.com/patreon and pledge a specific amount of money to go towards the show. The default is to do it by episode, and you can pretty much guarantee that if there are 4 weeks in a month, you'll get billed for four NosillaCasts. Five weeks in a month, that'll be five shows. I really appreciate all those who have chosen to support us through Pateon.
Darren gave me a pair of the ThinOPTICS reading glasses and they really are quite remarkable. I have one problem with them though. When I was in high school, I broke my nose in track. Hurdles. Yeah, think about how that had to happen. Anyway, I have a bump on my nose that isn't from my French ancestry! Because of that I have to wear the thinOPTICS above the bump and my eyelashes hit the lenses when I blink! But other than that, the lenses are super clear and I can read easily as well as I can with my prescription glasses. If you didn't break your nose doing hurdles in high school, I would definitely check out thinOPTICS compact reading glasses at thinoptics.com.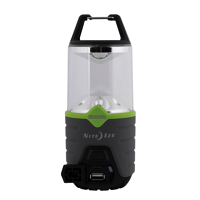 Can you tell I'm a fan of Nite Ize? After the show I bought two big packs of the smallest Gear Ties, one in fluorescent orange and one in black. My plan is to replace all of Steves's with black and all of mine with orange. That way if he steals one of my cables, I'll know! I also bought Nite Ize Radiant 300 Rechargeable 300 Lumen LED Lanternthe rechargeable camping lantern.
he talked about. It's crazy bright and it's only $34 on Amazon right now (link in the show notes of course). Now I just need to go camping!
Security Bits
Important Security Updates
Important Security News
Notable Breaches
Suggested Reading
Suggested Bookmarks
That's going to wind this up for this week. Don't forget to send in your Dumb Questions, comments and suggestions by emailing me at [email protected], follow me on twitter @podfeet. Remember, everything good starts with podfeet.com/. podfeet.com/patreon, podfeet.com/facebook, podfeet.com/googleplus, podfeet.com/amazon! And if you want to join in the fun of the live show, head on over to podfeet.com/live on Sunday nights at 5pm Pacific Time and join the friendly and enthusiastic NosillaCastaways. Thanks for listening, and stay subscribed.