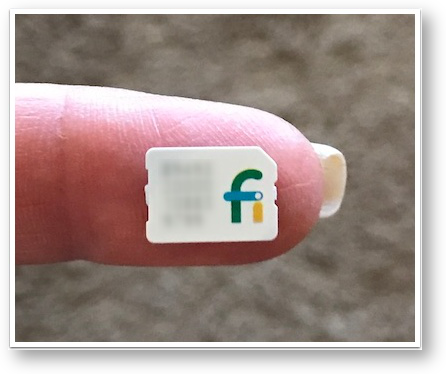 When Mike Elgan, (the digital nomad) came on Chit Chat Across the Pond to talk about how he works and lives all over the world, of course we talked about how he uses technology to do this. If you haven't listened to CCATP episode #456 from September, it's a fascinating discussion.
In that conversation, he said that an essential tool of how he gets along is by using Google's Project Fi. You may have heard of Project Fi before but I'm betting that unless you have used it yourself, you don't quite get what it is.
Project Fi is a cellular service from Google where you pay $20/month for a service fee, plus $10/GB for data. You get unlimited domestic talk and text, and unlimited international texting. Unlike any of the cellular plans from any of the big US carriers, your data usage is prorated so you only pay for what you use. If you come in under what you thought you'd use for a month, Google refunds the difference. Need more than what you thought you'd need? You pay by the MB. Seriously. This would be cool on its own, but the data plan works in more than 135 countries.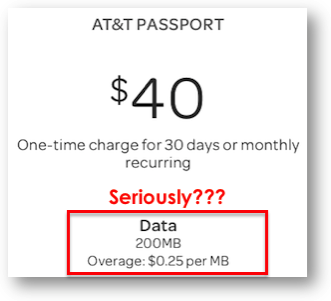 As Steve and I go off on our trip to the Galapagos and Machu Picchu, we thought maybe Project Fi would be a good idea. If you haven't traveled internationally from the US, you may never have checked with your carrier on what it costs. I checked AT&T's international rates just for grins and giggles. I knew it would be bad, but it's so horrendously bad it's not even funny. Ready? For a 30 day pass, AT&T charges $40 for 200MB. Yes, $40 for 200MB! Need more? It's $0.25/MB. To compare to the Project Fi plan, if we don't count the monthly fee for either one, 1GB on AT&T is $250, where it's $10 on Project Fi. Seriously. Oh and you can tether up to 6 devices too.
Couple more details on Project Fi: you can suspend your account for up to 3 months, and you can cancel it at any time as well.
Now that I've gotten you excited about it, let's talk about the down side. Project Fi only runs on Android, and it only runs on a few very specific phones. But Mike explained a little trick to us. He said that if you get a Project Fi SIM card, and you activate service in one of the specific phones they authorize, you can actually take the card out and put it in an iPhone! Now we're talkin', right?
All we had to do was sign up to fi.google.com to get a nano-SIM card, find someone with a Project Fi-capable phone, stick it in, authorize it to my account, pop it into my iPhone and we're golden. At first I had convinced Rod Simmons of the SMR Podcast to do it for me (he's a huge Project Fi guy) but I would have had to mail it to him and I wouldn't get to see how the setup worked.
We live really close to Tom Merritt of DTNS, and he agreed that it would be fun to test in his phone. He had bought a Nexus phone from Google just for the purpose of using it with Project Fi as a WiFi hotspot on his recent travels to Asia.
Steve and I went to Tom's house, ready to get this thing going before our trip. We replaced his Project Fi card with mine and it seemed to go through just fine but then took us to a screen that said my Project Fi service couldn't be activated because my account currently isn't authorized for service. Shockingly, Google had a phone number we could call.
We chatted with a lovely woman who explained that we couldn't activate my card in Tom's phone unless Tom deactivated his service from the phone first. Well Tom's as big into experimenting as anybody, so he basically reformatted the phone from scratch so we could set it up with my card.
But we got the same error. It turns out that if you have a Project Fi account, you can enable and disable service on phones at will, but you can't have less than one device activated unless you cancel your account.
Discouraged but not down and out, Steve and I realized we just needed to find someone with a Project Fi-capable phone who hadn't used it for Project Fi yet. Then it occurred to us that if we did it with someone else's phone, they would never be able to use Project Fi for themselves on their own account. Shoot. Well what if we bought an old phone on eBay? Well, how would we guarantee that it hadn't ever been activated on someone else's Project Fi account?
Well, there was only one thing left to do. Find out the cheapest new Project Fi-capable phone I could buy. I found the Nexus 5X selling from LG themselves on Amazon for only $303 with Prime shipping. It's listed as a factory unlocked European GSM phone.
Let's do a little math on this price to see if it's reasonable. If I use say 3GB of data on my trip (and you know I'll use more), that's $20 in service, $30 in data, and $300 for the phone, or $350 total. If I used 3GB on the AT&T plan that would be $740!!! And for the $350, I actually have an Android phone to play with, and it's stock Android because it's a Nexus.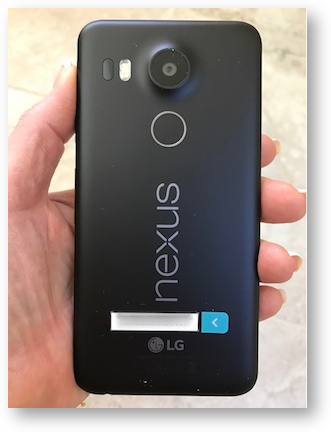 No brainer, I bought the Nexus 5X. It's actually a lovely phone. It's got 32GB of storage, a fingerprint sensor that was really easy to set up, and a passable, but not great, camera. The only downside to it is that it came with a European plug. In a delightful bit of packaging, they strapped a converter to the outside of the box. At least I can plug it in at home. Sorta wish it was the other way around, but the US version of the exact same phone was $100 more. You can also buy the phone through Google directly. It was listed as $400 with $150 off if you activated it with Project Fi in 30 days, but it also said that deal expired in February so I didn't want to take a chance.
We popped in the Project Fi SIM card, and while the phone recognized the card and it said it worked, I couldn't make a phone call or receive data on it. My little friend Dillan on the phone at Google told me that it was because Sprint was down. Right before he said that, he explained that in the US, Project Fi will find the best service between Sprint and T-Mobile and connect you right up. So … why didn't it pick T-Mobile if Sprint was down? Steve and I looked on line, and could find no evidence of a Sprint outage, but Dillan said it was so big he wanted to know if we were having a natural disaster!
We went back and forth for quite some time until he finally got the brilliant idea to have me turn the phone off and back on again. When it came up, it said T-Mobile and both data and voice worked just fine. Yippee!
We tested it as a WiFi hotspot by turning off cellular data on our iPhones and it worked just like a Mifi. I paid $200 for my Verizon Mifi many years ago, with a contract AND a $60/month bill, so this is a super good deal.
While our main use was going to be as a Mifi, ideally we could also pop the Project Fi card into our iPhones and use it without the Nexus phone. If you want to do this, you have to make sure your phone is unlocked. In the US, your ISP will let you unlock your phone IF you're not under a contract of any kind. I paid in full for our phones the last couple of times just so we'd be able to do this.
I couldn't remember which phones I'd unlocked though, and AT&T will only tell you if you know your request to unlock case id. Well that's a big help, right? I broke down and made an actual phone call to AT&T and deftly (in two tries) managed to navigate their phone tree to get to a human. The lovely woman on the line told me that my phone was unlocked but Steve's was not. We went to att.com/deviceunlock and made the request. They tell you it takes a couple of days (are they doing this by hand with humans?) but it only took one day and he was unlocked.
You'd think that's all there is to this, but oddly you have to erase your phone in order for it to actually take effect! After a 3 hour, local, encrypted iTunes backup (encrypted to ensure that his precious workout data was backed up), and verifying that he had an iCloud backup as well, he erased his phone and then restored from backup. I still think it's idiotic that you have to do all this.
Now the question is, how do you tell if your phone is actually unlocked? Try popping a different SIM card into your phone of course, and we just happened to have a Project Fi SIM card handy. Steve put the Project Fi card in his iPhone 6s, and it said there was a carrier update. He clicked ok, but he got no service. For some reason it occurred to him to just lock the screen and unlock it, and then he got service with the Project Fi card.  We tested data and phone calls with no problems. Then we tested to see if he could tether to me and that worked too.
There's one more test but I'll have to do that as an update. I ordered two more data-only Project Fi SIM cards from Google. By ordering them on the same account, they can share the same data I'm buying for the existing voice and data card, but I can have them in the iPhones directly instead of having to tether. Not sure it's a huge advantage but if Steve and I were to get separated at least we could use iMessage over data to communicate. Because of so much wasted time with the folderol of getting the first card to work, we won't get the data-only cards till a day or two before we leave.
I guess there will also be a follow up on whether this actually works in Ecuador and Peru. I'm pretty sure that when we're 500 miles off the coast of Ecuador on a catamaran in the Galapagos, a) there won't be any cell service anyway and b) we probably won't care!
If you're thinking of doing international travel and don't want to fiddle around with getting a SIM card when you get there, I think Project Fi is a pretty good deal, plus now I have an Android phone to play with!
---
Addendum – Data-Only SIM cards
Just in the nick of time, the day before we're leaving on the big trip, the data-only SIM cards came from Google. The main Project Fi card came with no instructions, but the data-only SIM cards had an 8 character code, and instructions telling us to go to fi.google.com/data to activate the cards. Once we did that we were quite happily surprised to see a screen asking us whether we were going to use the cards in Android or iOS! That was cool because it means this isn't some dark, secret thing we're doing here, Google at least knows about it and is going to give us a tiny bit of support.
When we chose iOS, They said to go to Settings/Cellular Data, APN settings, and change it to h2g2. Oddly, APN settings isn't an option in the Cellular Data menu. I did. a smidge of searching on line and found an Apple support article giving a better explanation and directions..
Apple explained that APN stands for Access Point Name and defines the network path for cellular-data connectivity. They also gave the right path to change the APN on iOS. The path is actually Settings/Cellular/Cellular Data Options/and then Cellular Network. Once in there you can change the APN to h2g2.
After that long explanation, it turns out neither of us even needed to change the APN to get our phones to work with the Project Fi data-only SIM cards. It was good to find that menu though because I've heard that in some countries you have to mess around with that APN thing.
One more tidbit before we go. After I got my SIM card working in my iPhone I received a popup on my Mac asking if I wanted to add a new number to iMessage FaceTime. It was a number I'd never seen before. I opened up Settings on the iPhone, selected Phone and sure enough, there was a number. Curious, we tried calling the number and it didn't work, which makes sense. I then told the Mac to allow the number for iMessage and FaceTime and Steve was able to call me via FaceTime audio and video!
But one more curiosity, Steve's data-only SIM card does not have a phone number. Even more curious, I contacted Google chat support for Project Fi and my little friend Daniel told me that I shouldn't have gotten a number, that mine was the fluke, not Steve's. I'm still not sure he's right but now we could put the voice and data SIM in Steve's iPhone and the data-only SIM in mine, and actually talk over FaceTime audio if we're ever separated. And have data.
Well, wish us luck, we'll be sure to report back on how well this works!
---
Update from Ecuador: Project Fi in the Nexus 5X works like a champ. URemember how on the iPhone Google's instructions said to change the APN to h2g2, and I said we didn't have to do that? Well, in Ecuador it wouldn't work without that. Confirmed, iPhones working in Ecuador on Project Fi!
Now how much data do you think iCloud Photo Library is going to suck up on my phone?