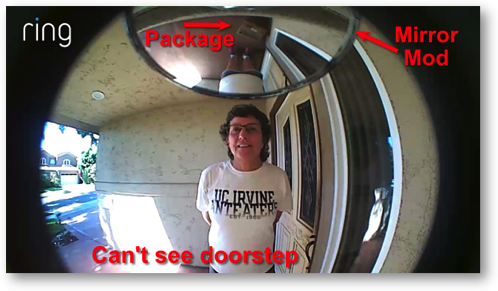 The Ring Video Doorbell has been described as "caller ID for your front door". It's an awesome device that lets you see who's at your door, talk to them or not, and do all this from anywhere you are on the planet (assuming you have internet). Another theoretical advantage is that you can see if there's a package left on your doorstep and ask a neighbor to go get it for you before someone steals it.
For answering the door it's awesome. For seeing the packages on your doorstep, not so much. A year and a half ago when we first got the Ring doorbell, I did a very favorable review of it, with this notable exception. The problem with the Ring doorbell is that it has way way way too high of an upward viewing angle, and not nearly enough downward view to the doorstep.
To illustrate this point, I simulated former NBA star Shaquille O'Neal standing at my front door and showed how there was a good six inches still viewable above his head. I even talked to the CEO of Ring, Jamie Siminoff, about it CES, but he didn't seem sympathetic to this problem even after I told him about my Shaq experiment. Probably thought I was a nut job.
Continue reading "Ring Video Doorbell – Mirror Mod Allows You to See the Doorstep"