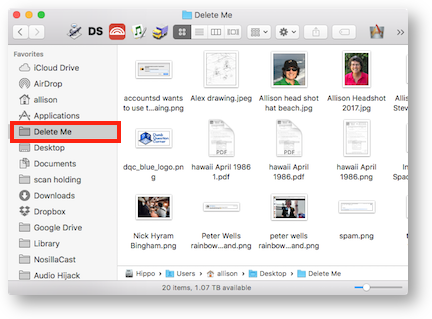 I have a tip that is one of the most useful I'll probably ever give you, and is also one of the simplest.  I've been wanting to give little tips from time to time so I have created a new type of post called Tiny Tips. I even made a little logo!  No, it's not going to be a spin off podcast…
Let's start with the problem to be solved. We all create temporary files for a myriad of different reasons. Maybe you export images from Photos in a specific size just to post to social media. Or you print things to PDF just to send them to someone but don't need a copy. There's a lot of reasons we do this. And most of us plop them all on our desktops. A few of us have a tidy little folder they go in, but the clutter is still there, it's just swept under the rug.
Eventually we buckle down to clean up this mess we made for ourselves, but we have to open each document and image to figure out whether they need to be kept.  We procrastinate and fill up our drives with useless stuff.
I have the solution. Continue reading "Tiny Tip – Delete Me"