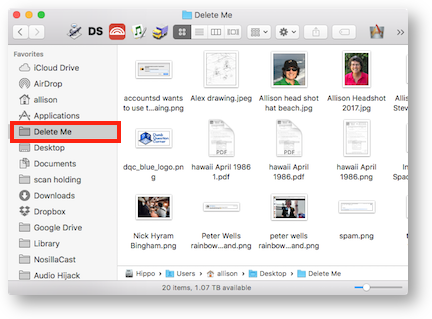 I have a tip that is one of the most useful I'll probably ever give you, and is also one of the simplest.  I've been wanting to give little tips from time to time so I have created a new type of post called Tiny Tips. I even made a little logo!  No, it's not going to be a spin off podcast…
Let's start with the problem to be solved. We all create temporary files for a myriad of different reasons. Maybe you export images from Photos in a specific size just to post to social media. Or you print things to PDF just to send them to someone but don't need a copy. There's a lot of reasons we do this. And most of us plop them all on our desktops. A few of us have a tidy little folder they go in, but the clutter is still there, it's just swept under the rug.
Eventually we buckle down to clean up this mess we made for ourselves, but we have to open each document and image to figure out whether they need to be kept.  We procrastinate and fill up our drives with useless stuff.
I have the solution.
When you export things that you won't need later, name them "Delete Me". That's the trick. If you save them with this name, you're telling future you that it's ok to delete these files! Isn't that brilliant? In this way, when you go to clean up, if you find a photo, even one of your adorable, cherubic grandson, and it's named Delete Me, you know that a real copy is safe somewhere else and this is just a throw away version. Pretty cool, am I right?
But wait, there's an enhanced version of the idea. If you name everything Delete Me, after a while. you'll have multiple files all with this same name, maybe with version numbers after the name. You export a copy of that cherubic little boy and call it Delete Me but there's already a test version of a logo you created with the same name. When you go to attach the image it's awfully hard to tell them apart.
So here's the upper division version of my tip. Create a folder, and call the folder itself Delete Me. Then whenever you're creating a throw away file, just toss it in there with any old name you like. I'll even let you put your Delete Me folder on the desktop. That is, as long as you promise to not put anything else on the desktop.  I drag the Delete Me folder into the left sidebar so it's right there for the choosing in any Save As dialog box.
As though you hadn't gotten your money's worth out of this Tiny Tip already, I have one more enhancement to this idea. Get yourself a copy of Hazel from noodlesoft.com and build an action that watches your Delete Me folder.  Teach Hazel to simply throw away, anything older than say 2 weeks old. You know it's ok to delete this stuff because you already made that decision by putting it in that temporary folder, so why be bothered ever cleaning it out?
I hope you find this Tiny Tip as useful as I do!