I brag a bit about being a speaker at the CMD-D Conference, and then you'll get to hear the talk I did at Macstock Conference and Expo in Woodstock, Illinois last weekend. Password Playdate on Youtube: youtu.be/…, Keynote version of the charts, click here and Download PowerPoint version here. (I died a little bit inside installing PowerPoint on my Mac.)
Hi this is Allison Sheridan of the NosillaCast Mac Podcast, hosted at Podfeet.com, a technology geek podcast with an EVER so slight Apple bias. Today is Tuesday July 18, 2017 and this is show number 636.
Before we dig into the show, I want to give the folks that attend the live show a heads up. There won't be a live show until Sunday August 6th. We're heading off to a week vacation with Steve's family and Bart is going to hold down the fort for us.
Bart talked to me about how weird it was for him to not have the NosillaCast to listen to on Monday and I feel badly about that, but I'll make it up to you by giving you the next show two days early! Then Bart will be doing the show the following week (week ending 30 July) and finally we'll be back to our regularly scheduled programming on August 6th.
Chit Chat Across the Pond
On Chit Chat Across the Pond last week, Rod Simmons of the SMR Podcast joins me to on part one of a two-part series on electric vehicles, In part 1, Rod helps us understand the difference between the different types of vehicles from hybrids to plug-in hybrids to plug-in EVs. Rod explains how he analyzes his driving (using Excel and pivot tables) to figure out what kind of an EV he should get. He'll talk about maximum range vs. how far do you really drive. Stay tuned for part 2 next week where we'll talk about specific cars and about some of the autonomous features that you often will find in electric vehicles.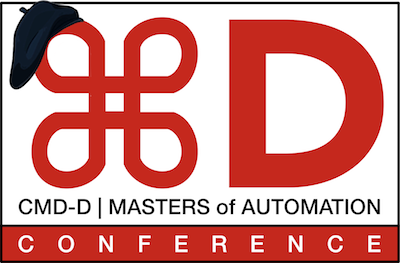 I want to tell you about a really cool conference coming up soon. On Wednesday August 9th, the venerable Sal Soghoian is hosting a conference called CMD-D, designed to bring together the Apple automation and scripting community. It will be held in the Santa Clara Convention Center which is super close to the San Jose Airport in California.
The speaker list is crazy amazing. Not only Sal himself, the former champion of automation from within Apple, but also Andy Ihnatko, John Pugh, Jason Snell, John Welch, Ray Robertson, David Sparks, and Shelly Brisbin. Oh, there's one more speaker. ME!!! I have to say I'm a big intimidated by the talent speaking (and probably the audience as well) but I've got an angle. I'm going to present not a deep dive into how to master a specific tool for automation, but rather I'll talk about all the little bits of automation I use to streamline the production of my podcast.
The conference isn't very expensive considering the speaker lineup, it's $417 for a show that's from 9 in the morning to 10 at night.
If you're new to scripting, there's an all day scripting bootcamp the day before that's another $417.It's being taught by Ray Robertson who I understand is an amazing instructor.
I'm super excited and I'd be thrilled to see some NosillaCastaways there. I put a link to CMD-D Conference in the show notes so you can check it out. My face and bio and talk aren't up on the website as of when I'm recording this; I just finished negotiating what they were going to write this afternoon. Hopefully by the time you check it out it will be up.
Here's one more really cool thing. Sal's wife, the awesome Naomi Pearce, was who called me and "talked me into" speaking. (Note air quotes.). While we were noodling ideas, I mentioned Bart's Programming By Stealth series on JavaScript. She suddenly says, "I hear a husband in the kitchen, lemme put him on the phone because he'll want to hear about this."
Can you even imagine??? I'm talking about JavaScript and Bart to the guy who ran Automation Technologies at Apple, responsible for AppleScript, Service, Automator, and the Terminal itself! I felt like chanting, "I'm not worthy, I'm not worthy." I'd met him before; he spoke on the Mac Mania cruise when I did but we never sat down and chatted about his favorite subject. I managed to hold my own in the conversation, and of course he was lovely.
Anyway, I guess I should stop gushing, but I really hope some you can come to the conference.
Password Playdate
This week's show is going to be unusual and I hope really interesting to you. As you know, Steve and I went to the fabulous Macstock Conference and Expo just outside of Chicago this weekend hosted by Mike Potter. It was a spectacular conference but I'm not going to tell you about it just yet. I'm going to tell you a all about it in the next show.
Instead I'm going to let you listen to the presentation I did entitled Password Playdate. Based on the audience reaction, I think it came off really well. Personally I really hate recordings made at live events. The audio is always awful. We wouldn't subject you to bad audio though.
Steve recorded the talk on video using his shotgun mic from the back of the auditorium, and Mike Potter gave us the house audio recorded right from the sound board. Then Steve mixed the two together so you get a super clean recording of me from the mic, but also the reactions of the audience. He did a great job.
If you want to watch the video, it' embedded in the show notes for this episode.
Using a Screen Reader? click here
I hope you enjoyed that as much as I enjoyed giving it. If you're already using a password manager, I encourage you to use my charts to help convince your friends and family. For an immediate download of the Keynote version of the charts, click here,
And because I'm such a giver, I even made a PowerPoint version. I died a little inside doing it, so I hope you appreciate it. Download Powerpoint version here.
That's going to wind this up for this week. Don't forget to send in your Dumb Questions, comments and suggestions by emailing me at [email protected], follow me on twitter @podfeet. Remember, everything good starts with podfeet.com/. podfeet.com/patreon, podfeet.com/facebook, podfeet.com/googleplus, podfeet.com/amazon! And if you want to join in the fun of the live show, head on over to podfeet.com/live on Sunday nights at 5pm Pacific Time starting back on August 6th, and join the friendly and enthusiastic NosillaCastaways. Thanks for listening, and stay subscribed.