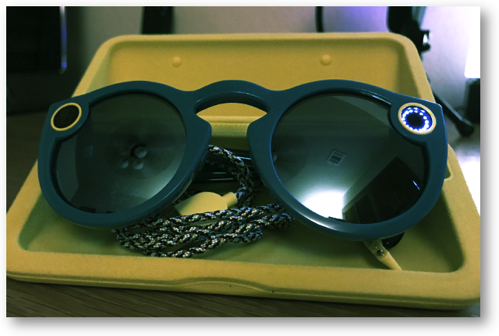 Greetings fellow Castaways, Denise Crown here with a review of Snapchat Spectacles. In a nutshell, Spectacles are sunglasses with a built-in camera.
We do not violate the Podfeet Terms of Service, so, regulations require we start with the problem to be solved. Say you're out walking the dog, hanging out with friends, at a festival or amusement park, or doing some other fun outdoor activity, you can capture some of that without carrying your phone or bolting a go-pro to your head. Before you dismiss this as something only for the millennials, these things are FUN. I tried them outdoors, while driving, and even in my office and they worked well as both sunglasses and a video camera. I plan to take them to an upcoming trade show.I feel like Snap took a lot of the complaints people had with Google Glass and came out with a more public-friendly, less creepy, version. You can tell when you're being filmed because there is a very visible ring of white light on one temple when the Specs are recording. The wearer also knows when their video starts and stops because you can see the light in your peripheral vision. This light has a third purpose, it tells you your battery status.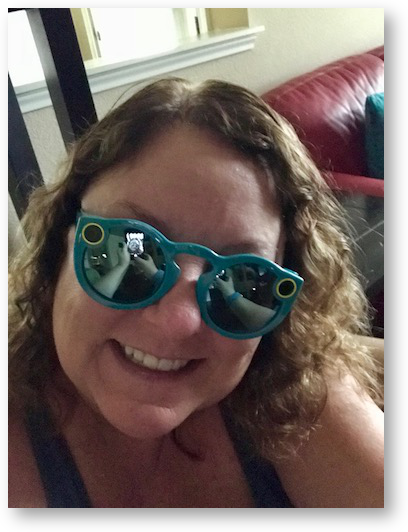 As sunglasses, they are pretty great, well made, and not too heavy. They come in teal, red, and black. My only knock on the design is that they are ROUND, and I think some other styles would be more flattering on more faces. My guess is they were going for a unique look for the early adopters and they'll soon make more mainstream shapes and colors.
Specs will record about 100 Snaps (10-second segments) per charge, so you can have a pretty good day out on the town considering the charging case will charge them 4 times so you're good for 400 snaps before you need to find electricity or a USB port. You can link three snaps together for a 30-second video. There are two resolution choices, 704×704 and 1088×1088. One odd thing, to get the HD version out of your Specs, you need to connect to a special wifi network named after your glasses.
Snaps are synced over wifi to Snapchat on your iPhone (iOS 8 or later) or Android phone (4.3 or later with BLE, and Wi-Fi Direct, whatever that is, slight Apple bias). In approximately 20 cities, they have cool vending machines with virtual try-ons. To buy, just swipe card and pick color.
I love this retail trend of vending machines, I stare at the Best Buy kiosk and Benefit Cosmetics at every airport I visit. Go check out Carvana if you're shopping for a car. Just amazing… but I digress. If there is no vending machine in your area, you can use Allison's link and buy them from Amazon, or order them directly from Snap's spectacles.com website where shipping is free.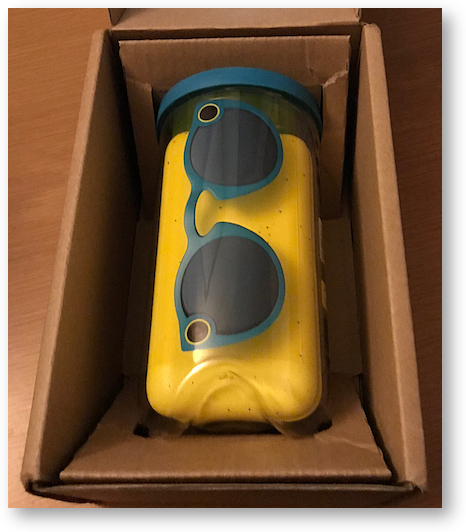 The packaging is delightful. It comes in a tube like a package of tennis balls. Included are instructions, a cleaning cloth, a triangular carrying case that doubles as a charger, and a proprietary charging cable for recharging the case. The charging case will charge the Specs four times before you need to charge it.
Should you be so inclined, you can take them to any optician and have prescription lenses added, there are even third-party accessory lenses you can buy.
Pairing them to your phone is quite simple. You download the SnapChat app, take a picture of your avatar after you create it, and they pair. One big benefit is you can use them without having your phone present. Your snaps will sync back to your phone when you are within range.
Now, the SnapChat app is the weakest link in the chain. The user interface takes some getting used to. Once you have the videos imported into the app, you can apply all the usual filters and emojis that are included with SnapChat, and be just like the kids. You can save videos to your camera roll, or share them like any other SnapChat video.
Included for your enjoyment is a sample video I shot on my first day trying them out.
Specs are $129.99 US, can be returned within 30 days, and carry a one-year warranty.
I highly recommend them.