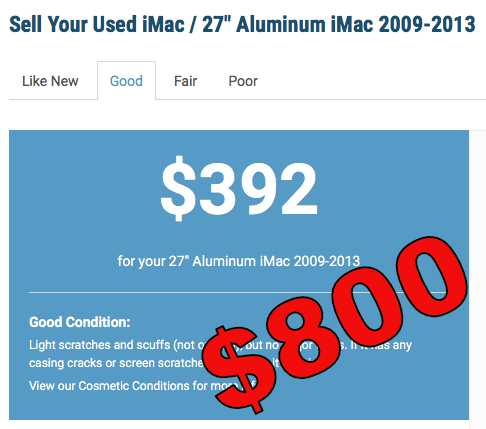 One of the ways to justify spending money on Apple gear is to sell your used Apple devices when you're done with him. Apple products retain their value really well, which I'm sure you've noticed if you've ever tried to find a "cheap, used MacBook".
I illustrated the value of selling your own Apple gear when I did a spreadsheet analyzing all the different ways you could buy an iPhone from a 2-year subsidized contract, to paying outright, to trading in your phone every year, to buying on one of these free loans they're offering in the US right now. In my analysis, I explained that a phone that cost $600 new will sell for around $400 one year later and $200 when it's two years old.
If you do the trade-in deal, you get the new hotness every year but you're actually losing a couple hundred dollars every time you do it because Apple (or your carrier) gets the still highly available sales value of the used iPhone.