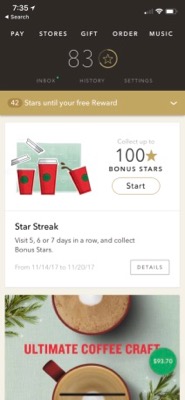 This one might count as a nano-tip, but if you've got the problem this solves, it might be a mega tip for you.
One of the cool things about Face ID on iPhone X is that you don't have to enable it for sites and apps that already used Touch ID. The API (Application Program Interface) just sees a biometric authenticator and doesn't care if it's your fingerprint or your face unlocking the phone.
However, Steve found that after bringing up the Starbucks app on his iPhone X, he could not open the app due to authentication issues with Face ID. When the Starbucks app requested his credentials, Face ID was activated as expected. The app would appear to accept Face ID for authentication, but then the app would freeze.
At first, Steve thought that the Starbucks app was not compatible with Face ID. It's been really awesome how if you're in line and you realize your balance is low, you could so quickly reload your card. There was no way Steve was going back to typing in his password every time he needed to reload his code.
I checked my iPhone X and got the same behavior. Not being able to get our Starbucks fix was pretty much DEFCON 1 around the Sheridan household.
Steve sent out a request on Twitter to see if anyone else had the problem. @MattJSuda responded with a workaround solution that actually worked.
His solution was to tap Sign In on the app and quickly move the iPhone to face away from you so that Face ID fails. He said that when the Face ID animation comes up, you should tap and then it will go away. With Face ID temporarily stopped from coming up, he explained that you can safely look at the phone and type in your login credentials. This approach also might be a good workaround for other apps having authentication issues with Face ID.
Once you've authenticated by typing in your username and password like an animal from 2012, you'll be able to go back to using Face ID. Tap on reload, and of course, you're using Apple Pay, and you'll see the happy little Face ID icon spin in front of you to authorize the payment.
We can hope that Starbucks will fix their app soon, but since it was over a year that they had a bug that kept my balance showing as $16.45, I wouldn't hold my breath.
In any case, we are now able to reload our cards and get our caffeine fix with ease and enjoy our Starbucks coffee again, thanks to Matt!