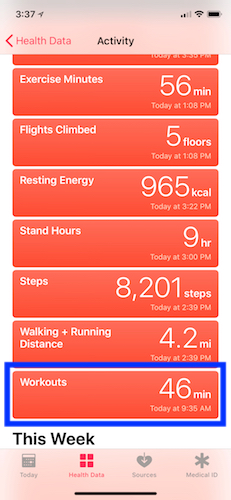 This Tiny, or possibly Nano tip came up when Sandy Foster asked in our Google Plus group at podfeet.com/googleplus how to add a workout from the iPhone. I responded that I didn't think it was even possible, but luckily Allister Jenks stepped in and helped. Here's Sandy's Nano Tip:
Hi Allison. This is Sandy Foster with a quick tip, thanks to Allister's help. I sometimes forget to start a workout on my Apple Watch before beginning. That's usually because I'm with friends and we get talking. Oh well. I had a difficult time finding out how to manually add a workout, but here's how it's done.
Open the Health app on the iPhone. Go to the bottom of the page and tap on the second icon from the left; it's the Health Data icon.
On the new page that opens, you will see four large colored squares. Tap on the one that says Activity, which will take you to a new page.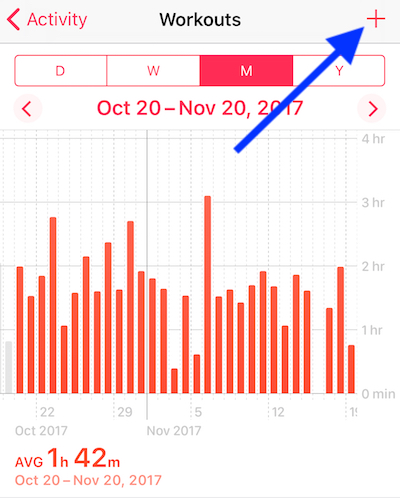 Scroll down a little to see "This Week" and — under that — "Exercise Minutes" and "Workouts". Tap on Workouts. This takes you to yet another page.
This new page is the one I'd been searching for. In the top right-hand corner is a red plus sign. Tap on that.
Now just tap on the Activity Type field to get a selection of different workouts in a scrolling section at the bottom of the page; select the appropriate one. Then tap on the Starts and Ends sections in turn to set the date and time of the workout.
At the top of the page, tap Add, and you're all done!
---
Allison interrupting again. Sandy and I chatted after she submitted this awesome tip because I couldn't find Workouts below This Week. For some reason mine were above This Week. Workouts are hard to notice because they're an orange button that looks like all the other buttons. I'm sure you're more clever than me and can find them though.
I asked her the benefit of adding workouts in this manner, and she explained that this will give you credit in the Apple Activity app for time exercised and even calories if you have a good way to estimate what you burned.