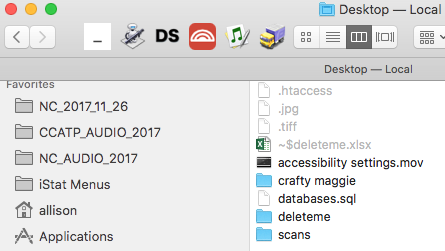 This week's Tiny Tip is from Bart Busschots. The problem he is solving is how to easily show hidden files in the Finder. There are various tools to do this, including using the defaults write command in the Terminal:
defaults write com.apple.finder AppleShowAllFiles YES
After which you have to relaunch the Finder. It's not hard to do but you always have to look it up, and after you're done looking for the hidden file in question you have to flip the switch to NO, and relaunch Finder again.
The Tiny Tip Bart discovered has been available since Sierra, but I sure never heard about it. It's a beautiful thing.
With the Finder in focus, simply hold down command-shift-. And instantly all windows will show all hidden files! Hit the same keystroke again and they disappear.
I LOVE this tip. The keystroke is even easy to remember because . is often at the front of all hidden files, so command-shift-. Is entirely memorable.