I'm still working on how to get chapters in the podcast (this show might have them!) Follow up tips from Mike Price and Kaylee Dayo on Reader View. How Sandy and Allister saved Thanksgiving with their tip on saving a workout from last week. Bart brings us a Tiny Tip on a trivially easy way to show and hide hidden files in macOS Sierra and High Sierra. I mind mapped all of the settings in iOS 11, and it was utter madness. In Security Bits Bart and I talk about how Face ID isn't broken, we learn about USB bugs in the Linux Kernel and how there's a vulnerability in Intel chips you might need to know about.
Hi, this is Allison Sheridan of the NosillaCast Apple Podcast, hosted at Podfeet.com, a technology geek podcast with an EVER so slight Apple bias. Today is Sunday, November 26, 2017, and this is show number 655.
Chit Chat Across the Pond
This week's episode of Chit Chat Across the Pond is Programming By Stealth #44 of x. In this installment, Bart teaches us new ways to deal with arguments and objects in JavaScript ES6. We learn how to set default argument values for functions in a way that is self-documenting. He explains how variadic (aka Rest) arguments allow you to shove all of the arguments of a function into an array. Then he walks us through how to use for … in loops to loop over objects. He reminds us of the difference between instance and static properties and explains how for … in loops work with both kinds of properties. I really enjoyed this episode and followed almost all of it on the first time through! You can find this episode in your podcatcher of choice by searching Chit Chat Across the Pond, or Programming By Stealth.
Follow Up on Chapters
Last week I talked about Joe LaGreca's request for chapter markers in the podcast. I whined quite a bit at how hard it would be and then confessed that the recording tool I use, Hindenburg Journalist, has a very easy way of adding chapters and that my workflow during the live show includes stopping recording every time I change topic. I'd run out of excuses, so I did put in chapters during the live show. The live chatroom had a bit of fun with it too, yelling CHAPTERS! Every time I stopped.
I warned though that I had reason to believe that Auphonic Leveler on the desktop would strip out my carefully-crafted chapters. I also said I wouldn't know until after the show was produced. As you may have figured out if you went looking for them, there were no chapters in the final file.
There is a way to solve this, and that's by me abandoning the desktop version of Auphonic Leveler and going with the subscription-based, web tool from Auphonic. It will do more than just preserve the chapters from what I understand, adding ID3 information and such and doing the FTP job for me, so it was something I was interested in anyway. I'm just bummed I didn't do it in the first place, because I spent $100 on the Auphonic desktop app, and this is $11/month. Not a big deal if you guys really appreciate the chapters. I'm betting more people than just Joe want this so we'll do it!
Here's the only rub – I didn't have time to learn how to use the web-app yet so I'm not promising there's chapters in this episode either! There might be but let's just say it will be a surprise for all of us if there are, ok?
Follow Up on Reader View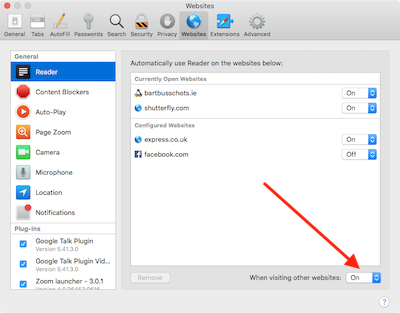 I got a couple of follow up tips about using Reader View on Safari for Mac and for iOS. Mike Price commented on the blog post that if you like to have your Mac read to you, putting Safari in Reader View mode first makes the whole experience that much better.
Kaylee Dayo pointed out that in iOS 11 and High Sierra, you can enable Automatic Reader View. I totally forgot to mention this part of the tip so a big thanks to Kaylee for reminding me. In Safari on High Sierra, if you right click on the Reader View icon (the four little lines in the URL bar) or use force press on a trackpad, you'll see two options. One says "Use Reader View Automatically" followed by the name of the site you're on. This would allow you for specific sites to enable Reader View.
The second option under the Reader View icon says "Reader Website Preferences". If you select that option, it opens Safari Preferences to the Websites Tab, with Reader selected in the left sidebar. In the man window you'll see the sites you have previously configured to have Reader View on or off by default. At the bottom of the window is a pulldown to set all sites to be on, or off.
This granularity allows you to turn Reader View on for all sites, except the ones listed specifically to have Reader View turned off. If you're as big a fan of Reader View as I am, you'll really like this option.
On iOS, press and hold on the Reader View icon in Safari and you'll get the same two choices, to change the current website to Reader View or to change all websites. Near as I could find, there's no further granularity available for Reader View in iOS. I did check Settings, and as you'll hear in a few minutes, I know settings pretty well now.
Thanks to Mike and Kaylee for the tips.
Follow Up on Adding a Workout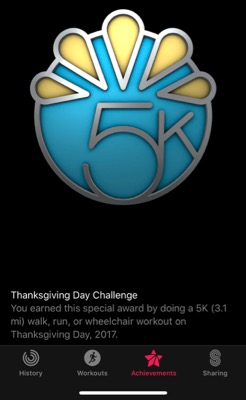 One of the oddly motivating things about the Apple Watch is the little badges you can earn. This week Steve decided that we should try to earn the Thanksgiving Day badge for doing a 5K walk, run or roll in a wheelchair. Now for us on a normal day, we'd have to back off on our exercise to only go 3.1 miles, but Thanksgiving is problematic.
First of all we host Thanksgiving dinner for a dozen people and this year it was scheduled for early afternoon which meant the turkey had to be in the barbecue by 7am, so up at 6. We had our kids here too, including Forbes so we wanted to play with them. Then Steve's parents got here at 11am, more guests at noon. Our son-in-law Nolan's family comes and they always stay late into the evening to play games which is super fun. So when could we possibly fit in a 5K anything?
Well, Steve announced that we were leaving our guests AFTER dinner and going for a walk right before sunset. We left the family outside on the back deck playing dominos with a couple of bottles of wine and I'm pretty sure they didn't care a bit that we left them!
I tried to get Steve to walk really fast like I'm used to doing but he suggested that was a bad idea on top of the huge meal. Pretty soon I realized what he meant – I felt like Michael Scott in The Office when he carbo-loaded with fettuccine alfredo 5 minutes before the Rabies Fun Run.
Anyway, when we got back to the house, we checked our workouts on our watches to compare notes. We burned within one calorie of each other, but for some reason Steve got more distance than me. Go figure. He was really happy we did it, until he looked at his watch and realized it got stuck on saving the workout.
In a minute or two I got the turkey day badge on my iPhone but Steve's didn't get credit. Clearly we knew the watch had recorded the workout and it was showing the steps and calories. He was so sad! He messed around turning Bluetooth on and off on the watch and the phone to see if they just weren't communicating, but no joy. He even rebooted both the phone and the watch and there was no happiness.
And then I remembered Sandy's tip from last week on how to add a workout manually in the Health app on the iPhone! We knew his calories because we'd compared our two workouts, and he knew the distance, and I had on my watch the exact time we started and ended the workout. He plugged in the numbers, he hit save, we held our breath…and the badge came in to Steve's Activity app on the phone!
So one more thank you to Sandy for an awesome tip that made my husband very very happy.
Blog Posts
Patreon and Amazon
Well it's beginning to look an awful lot like the holiday season, if my neighborhood walks are any indication. On my most recent walk, I saw four big old TVs sitting on the curb hoping someone would take them away. There was an aging flat panel, a giant tube TV, an even gianter rear-projection TV, and an actual wood console TV circa from the 1970s. I'm guessing a lot of Black Friday deals had been invoked!
If you're in the mood for a new TV, There's a link in the shownotes to a bunch of new 4K TVs on Amazon. Remember, the links used are affiliate links. By buying through the links I may receive a commission for the sale. This has no effect on the price for you.
We just got a 4K HDR TV and it's glorious. I'm just sayin.
That's going to wind this up for this week. Don't forget to send in your Dumb Questions, comments and suggestions by emailing me at [email protected], follow me on twitter @podfeet. Remember, everything good starts with podfeet.com/. podfeet.com/patreon, podfeet.com/facebook, podfeet.com/googleplus, podfeet.com/amazon! And if you want to join in the fun of the live show, head on over to podfeet.com/live on Sunday nights at 5pm Pacific Time and join the friendly and enthusiastic NosillaCastaways. Thanks for listening, and stay subscribed.