Guest Post by George from Tulsa
---
I recently re-configured my home computer desk which enabled me to replace a 27" WQHD monitor with a 49" 4K TCL ROKU "Smart" TV purchased for $320 at the nearby Best Buy. Running the 4K TV at 1920 x 1080, I'm able to scale both Mac and Linux UI to compensate for my increasing visual challenges. Don't have vision issues? The native 4K resolution would enable putting a lot of spreadsheets or Garage Band tracks on screen at one time.
I'd been listening to Leo Laporte and his "Home Theater Geek" Scott Wilkinson discussing 4K TVs on the "Tech Guy" Podcast, and they both speak favorably of TCL sets. My now three week experience verifies their accolades. The image is better than good. $320. What's holding anyone back?
Over the last several weeks Scott has been fielding listener questions about "bias lighting," a fancy way of referring to lights placed behind TVs to create an aura around the set that reduces the contrast differential of a bright set in a dim room. It's supposed to ease eyestrain.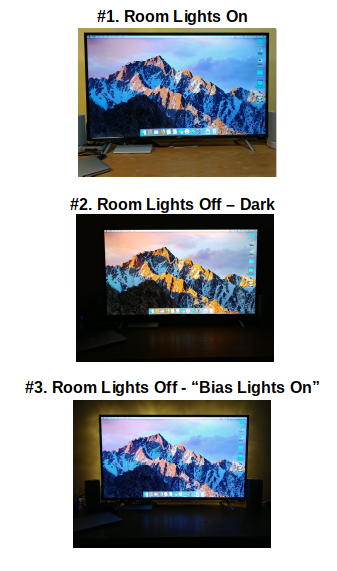 I decided to test it out by putting a couple of LED lamps behind my new TCL, and was pleased with the effect. The lamps weren't shaped right to stay there. The Goog showed that "bias lighting" kits are strips of LEDs on adhesive tape stuck to the back of a TV and aimed at a wall. Some plug into the powered USB port on many new TVs and turn on and off when the set does. More elaborate kits plug into AC power and have dimming remotes that can also, like the Phillips Hue system, set color palettes. I've read that the most expensive ones will adjust the color palette to what's onscreen.
Even after my test with LED Lamps, I wasn't sure I wanted to spend money on what might turn out to be a gimmick. Best Buy sells a variety of bias lighting kits; the one with dimming and color control costs $60. A big percent of my $320 TV! Amazon has a wide variety, but there's that problem on Amazon of third party sellers offering junque and buying favorable reviews.
Which led me, pun acknowledged, to Home Depot seeking LED lights that would work behind the TV, and for less than $60. Nope. And what was there was more expensive than Best Buy's bespoken offerings.
On my dejected path toward Home Depot's parking lot, I noticed the Christmas Lighting display. A rope of white LED lights for $7? Experimenting is fun, right? I splurged on a 14' string for $12, knowing if the LEDs didn't work out behind the TV, it's about time to string them on the holly bushes to guide St. Nick to my stocking.
What I learned from my Christmas light test is that Bias Lighting really is a good idea, and that while the Christmas lights work, they'll work best as Christmas lights. I'm going to upgrade, either to the Best Buy with remote, or possibly some alternative from Amazon.
You'll find some pics of my home workstation in the show notes. They give at least a hint how Bias Lighting can enhance both computing and TV viewing.