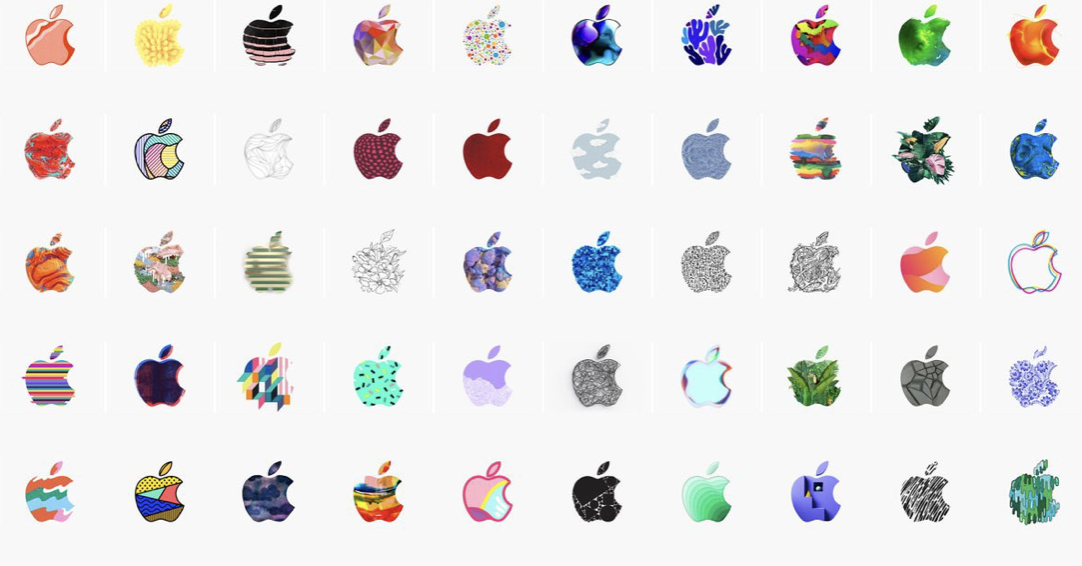 I don't usually do a rundown on the Apple announcements unless I'm on someone else's show, but I'm going to make an exception this time. I did get to be a guest on Daily Tech News Show but the format of the show doesn't really lend itself to a lengthy discussion of the details. It's a new show so there's really not the time to dig deep. I'm not going to drone on like I normally do, but I do want to talk about what I thought was interesting.

MacBook Air

Let's start with the MacBook Air, and I'd like to start by being snarky. I know Tim Cook is an amazing leader and he's got huge value to the Mac faithful in many ways, but sometimes his attempts at showmanship really look silly to me. When he started the announcement by flinging his arms wide and yelling, "Now with RETINA!!!" I thought it was really dopey.
Of course, Apple needed to bring retina screens to the MacBook Air. You've heard me say many many times that I simply wouldn't recommend it to anyone with that dreadful low-resolution screen. But he acted like Tom Hanks in Castaway when he made fire! I looked it up and the first time Apple used the marketing term Retina was with the iPhone 4. The first Mac with Retina is now considered "vintage" because it was introduced in 2012, six years ago. You don't get a standing ovation from me when you put it in a laptop six years later, you get an "it's about time!" From me.
With THAT off my chest…
No Touch Bar
I think one of the most interesting things about the MacBook Air is that they gave it Touch ID without Touch Bar. Two years in, I don't really use Touch Bar very much except for the things that would have existed as physical keys, like volume and brightness of the screen. It was an interesting innovation but I don't think it's a bad thing if it quietly goes away. Touch ID, on the other hand, is transformative. If you use a password manager (you DO use one, right?) not having to type in your long, complex password to unlock your vault is positively joyous.
Video Playback
When they were talking about the battery life, they said that it would give you 13 hours of iTunes video playback. Not video playback, iTunes video playback. The reason I highlight this point is that it's a clear signal that Apple works to optimize their software for the least battery drain.
I've heard a lot of people talk recently about short battery life problems when they're using Chrome, but the battery is fine with Safari. I'm not Google shaming here, it's just a really cool thing that Apple does that we shouldn't take for granted.
Android is getting a lot better on battery drain, and with fast-charging that big of a deal, but Apple manages to squeeze a lot more battery life out of the same milli-amp-hours.
Form Factor & Speed
When the Touch Bar MacBook Pros first came out, Steve was looking to upgrade his aging 13″ MacBook Air. The new 13″ MacBook Air weighed 2.96 lbs and the new 13″ MacBook Pro weighed 3.02 lbs, so weight wasn't a determining factor in his decision. The Retina display and more power for the same heft of a machine made the MacBook Pro the easy choice.
Now the MacBook Air has dropped to 2.75lbs. I know a quarter of a pound doesn't sound like much, but it's more than 8%. I can definitely feel the difference at 8%. Having a retina screen, with Touch ID, and saving 8% in weight starts to look pretty sweet if you travel a lot with your computer.
I also think it's wicked cool that the MacBook Air is made out of 100% recycled aluminium. As the keynote continued I kept wondering where the recycled aluminium was coming from, especially when they said the Mac mini was also from recycled aluminium. When they got to the iPad announcement, that's when they explained. They make so many iPads, that the leftovers are enough to make the chassis for Mac minis and MacBook Airs. That's crazy.
Now we should address the speed. I am not a CPU testing person, and I don't even spend much time studying the comparisons, but luckily my research assistant Steven Goetz is positively obsessed with the topic. He has explained that the new MacBook Airs have an inferior chip compared to what is in the MacBook Pros.
He sent me an article from 9to5mac.com/… that talks about the latest Geekbench test scores of the new MacBook Air. As the article explains, the absolute Geekbench score doesn't really tell you much about what real-world experience will be. But if you look at comparisons between machines by their Geekbench score, you will get an indication of their relative performance.
I am not going to repeat all of the statistics from the 9to5Mac article, you can read them yourself if you need all of the gory details. But the basic discovery is that going from the 12″ MacBook to the previous MacBook Air to the new MacBook Air to the Touch Bar-less MacBook Pro is only a matter of small improvements in speed. Some models I just listed are the same speed, some 16% faster, and at most a step up of 27%. But, there is a huge jump in speed when you go to the 2018 Touch Bar MacBook Pro, which is actually double the speed of the 2018 MacBook Air.
Now, with all that said, Bart creates all of his audio podcasts, Let's Talk Apple and Let's Talk Photography with a first generation 12″ MacBook that he simply adores. When I upgraded from a 2013 MacBook Pro to a 2016 Touch Bar MacBook Pro, I was unable to personally measure any speed increase in my real-world tests. I'm including transcoding 5GB videos from ScreenFlow. The SSD was more than twice as fast in copying files, but the processor jump made absolutely no difference to my daily work.
So, obsess over specs and Geekbench scores, or just get the Mac you can afford and is the weight you want, as long as you get one with Touch ID.
Mac mini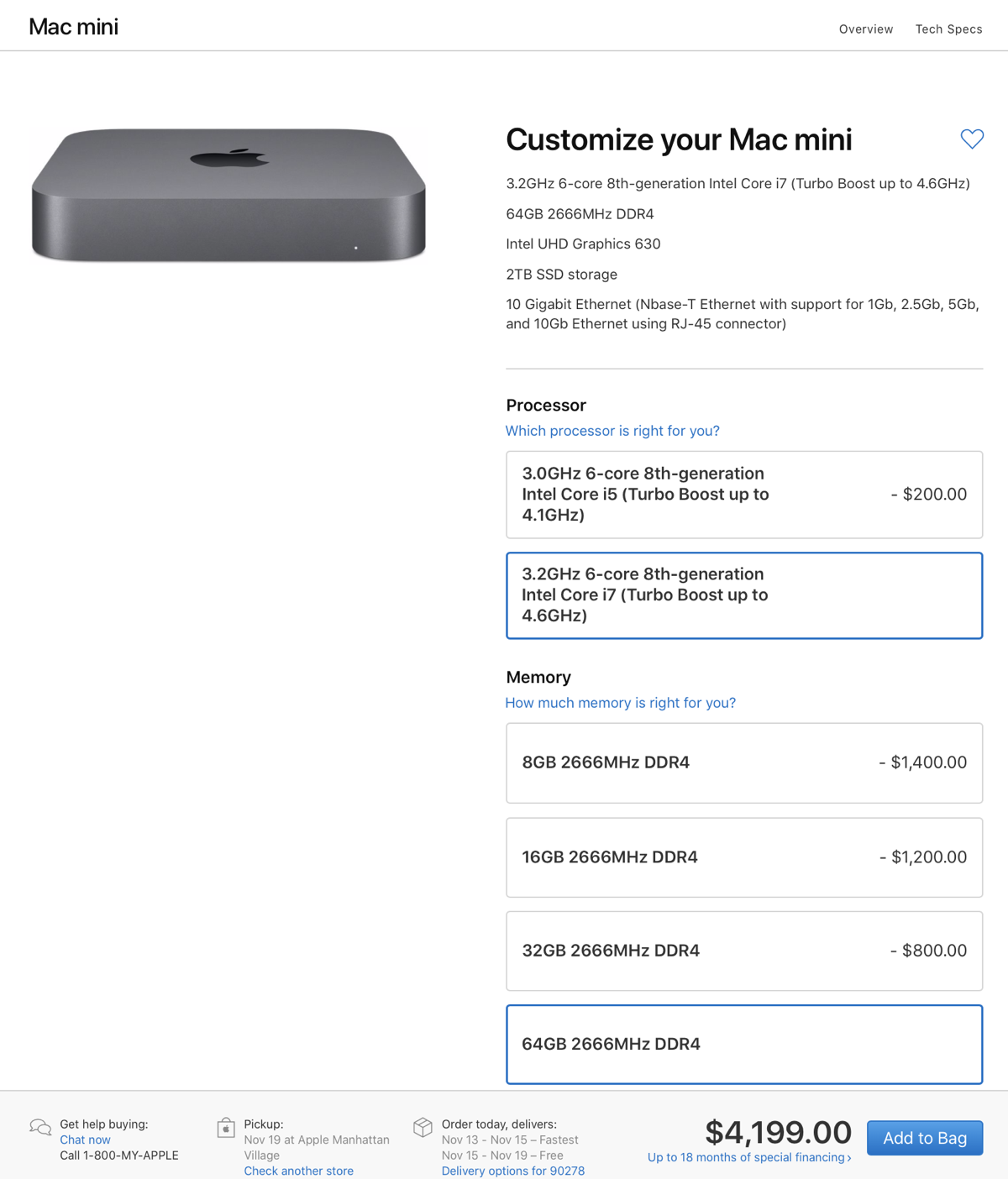 The new Mac mini is an interesting little device, because I think the product serves two distinct audiences. When Steve's mom and dad were ready for upgrades to their computers, we looked at a few options. Steve's mom had a MacBook connected to a 24″ monitor and she very rarely moved the MacBook from her desk. She had no big need for a laptop. Steve's dad had the old 17″ iMac and loved it.
We considered advising them to get two new 21.5″ iMacs, and even thought they could afford the cost, it seemed like overkill for them. Instead, we opted for two Mac minis, using his mom's existing monitor which she loves, and getting a new 24″ monitor for his dad. Their computing needs are very modest, and they loved the speed bump they got and are super happy with them, especially for the cost.
I explain all that because the new Mac mini is still the most affordable entry-point Mac that Apple offers, at $799 for the base model. That's a huge jump in price from the $499 starting point on the 2014 model, but that's four-year-old technology in there. Starting with all SSDs and going from a gen 4 Intel i5 to a gen 8, going from dual-core to 6 core, and from 1.4GHz to 3.6GHz is a huge difference. Did you also hear that it supports 10Gb Ethernet? Personally, I don't have a 10Gb network, but if you do, you'd sure want to be able to fly on it.
Let's head back to 9to5mac.com/… to see whether the Geekbench scores tell us how big that leap really is. According to 9to5Mac, the base Mac mini's single-core score "beats every current generation Mac aside from the latest quad-core 4.2GHz iMac." Seriously? That's crazy. The multi-core performance is actually in the range of the latest-gen MacPro.
Now you know who the second audience is. Not Steve's parents but professionals who need every bit of power squeezed out of their machines because every minute spent is money not made. I specced out a Mac mini with the top of every choice, upgrading to the fastest processor, adding 32GB of RAM, and bumping up the SSD to 2TB and threw in 10Gb Ethernet for grins and giggles. That brought the modest $799 Mac mini up to $4200 before AppleCare and tax! Again, when time is money that's a tiny bit of cost with an amazing amount of power.
iPad Pro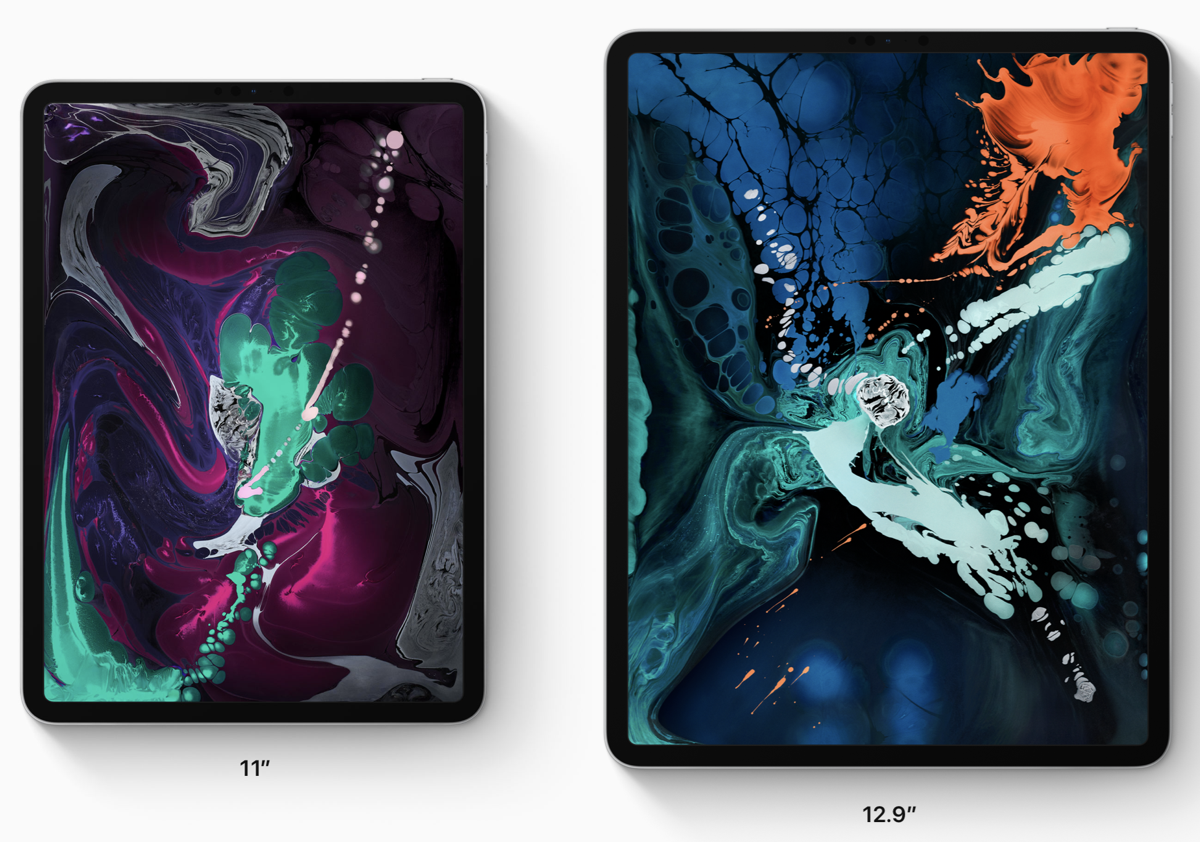 Apple did something really interesting with the new model iPad Pros. We wondered whether they would shrink the bezel and make the iPads smaller, or whether they would keep the same form factor and make the screen bigger. Well, they did both!
The new 11″ iPad Pro is the same physical area of the 10.5 but with a bigger screen. You would think .5″ isn't much but it's actually a huge increase in area. Then on the 12.9″ iPad Pro they actually kept the same screen size but shrank the form factor considerably.
I ran the math (even though Apple told us) and the new 12.9″ iPad Pro is 24% smaller in volume and weighs 9% less. That's really an exciting change. I think for a lot of people this will make it even harder to choose between the two models.
| Model | Dimensions (inches) | Volume (inches3) | Weight |
| --- | --- | --- | --- |
| New 12.9" iPad Pro | 11.04 x 8.46 x .23 | 21.48 | 1.39lbs |
| Old 12.9" iPad Pro | 12 x 8.68″ x .27 | 28.12 | 1.49lbs |
While size and weight are a huge factor, I think I am most excited about having Face ID on an iPad. Touch ID rocks but Face ID is even cooler. The speculation that Apple would only be able to make it work in Portrait mode was completely wrong and Apple actually leaned in when they made it work in all four orientations. That is going to be so awesome. Plus Memoji on iPad, right?
I know people hate the speed comparisons but it was pretty interesting when they said that the new iPad Pro is faster than 92% of laptops shipping today. Let's head back to 9to5mac.com/… to see what the Geekbench scores actually say.
I was hoping they'd give us a comparison to some PCs but they stuck to Mac comparisons. The new 2018 iPad Pro is as fast as the 2.6GHz i7 2018 MacBook Pro in single core performance, but the 6-core performance on the MacBook Pro beats it, but they say not by much. I don't know much about Metal, but if you do, you'll be glad to know that the Metal Compute Score rose 40% over the previous gen iPad Pro.
USB-C
I was fascinated by how little outcry there was when Apple swapped out the Lightning port on the new iPad Pro for USB-C and removed the headphone jack. It seems to me that the initial outrage about USB-C has finally fallen away and people see the advantage of it.
I'm curious about one thing. When they were talking about external display support for the iPad Pro, they didn't say Thunderbolt 3. I am a bit confused on this as my understanding was that you needed Thunderbolt 3 to carry the HDMI signal to drive a display. I double checked the tech specs on iPad Pros and it definitely only says USB-C, not Thunderbolt 3. I can't wait to see if I can drive my LG 5K display or perhaps my 27″ Apple Cinema Display via Display port. I've got enough adapters and docks around here if it can drive one of those I'll make it go.
Pencil
I haven't talked about it, but my love for Apple Pencil has actually dried up. I'm no artist as you well know so my main use for Pencil was with the awesome third-party keyboard MyScript Stylus. Sadly the developer declared it end of life and has no plans to keep it going so I haven't used my Pencil ever since.
But if you are a Pencil Pusher, you'll like the changes. Looking back on the first pencil, the Number 2 Pencil (as René Ritchie of iMore hoped it would be called) is so much more logical. Magnetic (yay), wireless charging (yay) and flat on one side so it doesn't roll off the table. Since you never have to plug the Pencil into the side of iPad (which looked like an accident waiting to happen), you don't have to pull off a cap for the cats to find and hide from you. I have to confess that I wasn't paying attention when they explained why you'd want to tap on the Pencil, so I'll wait till I get mine next week to figure that part out.
It's Really Just a Big Battery
It was also interesting that one of the selling points of iPad Pro is that it's essentially a giant battery pack. The 11″ model has a 29Wh battery while the 12.9″ has a 37Wh battery. Remember when we ran through the math to figure out whether a portable battery could charge a laptop? I won't go through all that again but here are a few data points.
The 12″ MacBook has a 41.4Wh battery and assuming 72% efficiency as we did, you could get a 64% charge of the 12″ MacBook with a 12.9″ iPad Pro. I guess that's to be expected though since the iPad Pro is actually bigger than the MacBook!
You'll definitely be able to top off your phone with an iPad Pro when you need to but you'll have to be careful to not plug it in when you don't want to drain your iPad Pro!
Apple's Cost of Entry
My friend Dean said once that it's really hard to justify your first Apple purchase, but it's really easy to justify your second. And third. And Fourth. I wonder whether the new pricing of the Apple gear might keep people from opening the door the first time. The entry-level iPhone used to be $350 for the SE, but now it's $450 with the iPhone 7. The entry-level Mac mini used to be $500 but now it's $800. The 11″ MacBook Air started at $900 but now the lowest cost Mac is the old 13″ MacBook Air at $1000.
There is one place you can still get a great device that's actually a new model this year, and that's 9.7″ iPad starting at $330. Oddly it's $700 less than the iPad mini 4 that was introduced 3 full years ago!
So the lesson is that if you want to convert your friends to the truth and the light, the answer is to start them off with a 9.7″ iPad so they don't have to sell a kidney to join us. They're going to need that kidney later when they buy their second Apple device.