We're back from CES with tons of amazing interviews. I'll tell you a couple of fun stories about the show and then we'll hear four interviews. We've got the MaxDrive which is storage for you Wyze Cam videos. Then the American Printing House for the Blind shows off a reference device that has full pages of cells rather than just one line. Royole shows off their flexible tablet/smartphone display (and no, it's not vaporware, I played with it myself!) Danby shows off their Parcel Guard, which is a giant mailbox you put at your house that allows delivery people to securely give you your packages. After all that fun we've got another installment of Security Bits with Bart Busschots.
Hi, this is Allison Sheridan of the NosillaCast Apple Podcast, hosted at Podfeet.com, a technology geek podcast with an EVER so slight Apple bias. Today is Sunday, January 13, 2019, and this is show number 714.
CES
Steve and I are fresh back from CES and we have tons of great material from the show. As always we don't go for the high-wow stuff like giant 4K TVs and automated cars, we tend to go for the small, practical devices and ideas that interest the NosillaCastaways. It's going to be very hard to decide the order in which we let the content out because so many are so amazing.
We get most of our content from the small press events that start long before the actual conference starts. We rolled into Las Vegas on Sunday and had most of our interviews done by Tuesday when the show officially started. The giant exhibit halls are pretty overwhelming but if you try to focus on a few smaller categories you can survive them.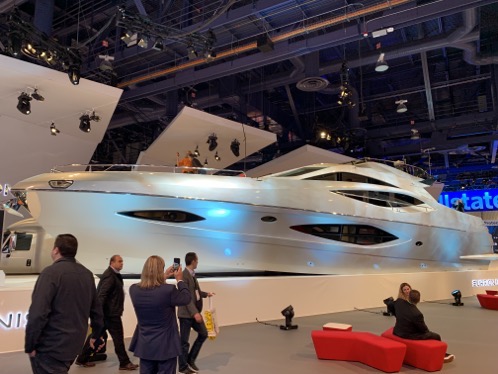 For example, the North Hall of the convention center is mostly cars and car audio and giant crazy booths. Here's a funny story about the North Hall. At one of the press events, we interviewed a guy from a company called Furrion. They had an interesting electric cooler. It had a big power bank you could pull out, had Qi charging on top and of course chilled your drinks.
But while we were chatting they had a display showing a giant, 65′ yacht plowing through waves. I mentioned that it was very distracting and hard to focus while he was talking. He said, "Oh yeah, we're bringing that to the convention center." Um, what??? He said it would be the 2nd largest booth in the convention center, only behind Honda.
We went to the North Hall to see if he was telling the truth, and he WAS! I cannot even imagine the logistics involved in getting a 65-foot yacht into a convention hall. I put a picture in the show notes so you can see it for yourself!
As always the people we get to hang out with at CES really make it for us. As we usually do, we hung out with Chuck Joiner and Dave Hamilton quite a bit. But what made it even more fun is that Chuck brought NosillaCastaway Norbert Frassa along to manage his video recordings. Norbert is awesome sauce. We'd met him before at MacStock and actually sat with him most of the time but we really got to know him much better on this trip. He has a wicked sense of humor which is pretty much all it takes for me to adore someone.
We also got to have breakfast with NosillaCastaway Sandy Foster again and dragged Norbert along with us. She's the one who made the awesome Apple/Podfeet pillow for me. She's hilarious and the four of us had great fun geeking out. I even got them to record a quick video just for Bart.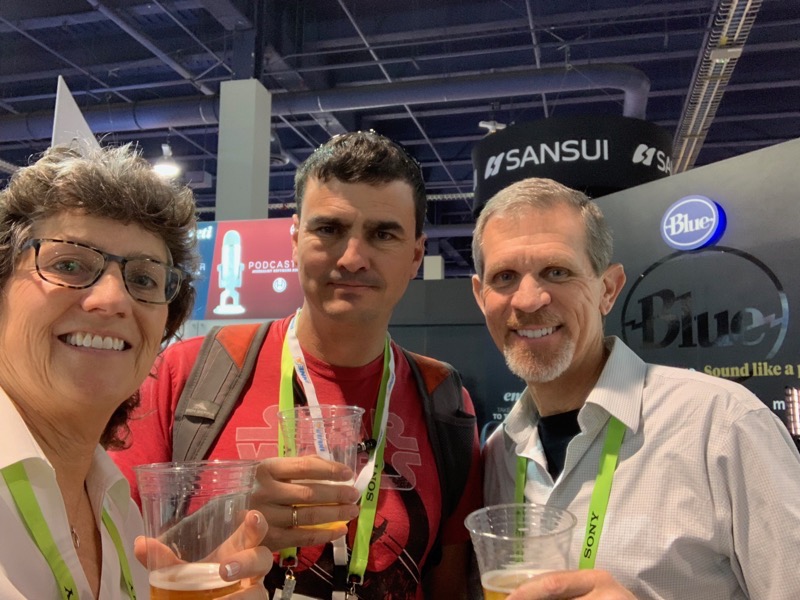 We also got to hang out with NosillaCastaway Joe LaGreca which is always fun. He really wanted a beer after driving 6 hours from the San Diego area to Las Vegas. I'm not sure how his Karma caused it but we did an interview at the Blue booth to see their new Blue Ember XLR microphone, and after we were done the woman I was interviewing asked us if we wanted a beer.
Joe is a really interesting geek who challenges my thinking, which is the best kind of friend.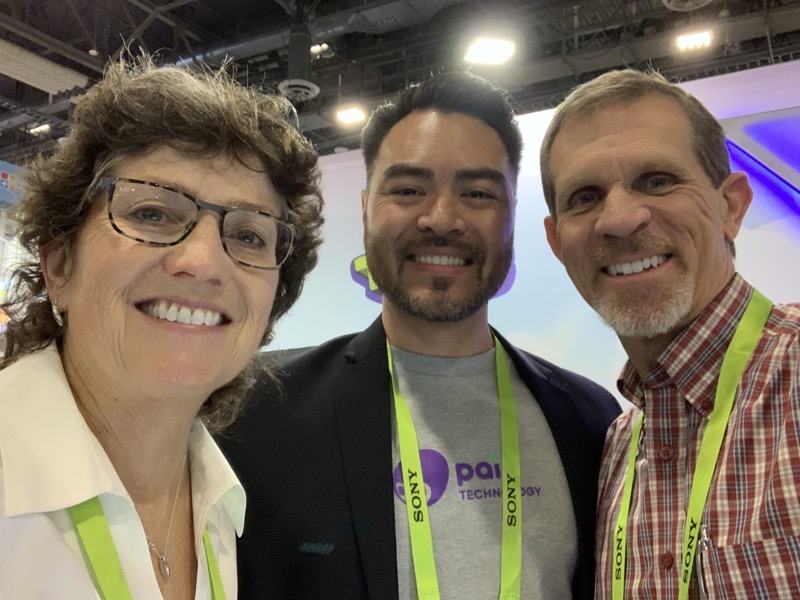 We made a point of going to the PAI Technologies booth because NosillaCastaway Shai Yammanee was working the booth this year. They have some cool toys for kids but I won't spoil it by telling you about it, you'll have to wait for the interview.
We did have one odd encounter. At one of the press events, I was approached by a gentleman named Nicolas Charbonnier from Switzerland. He introduced himself by telling us that he was a fan of the podcasts. The odd part was that he immediately started telling us about how Apple was going down the toilet and how happy he was about that. I challenged him and asked him, "are you SURE you listen to my shows?"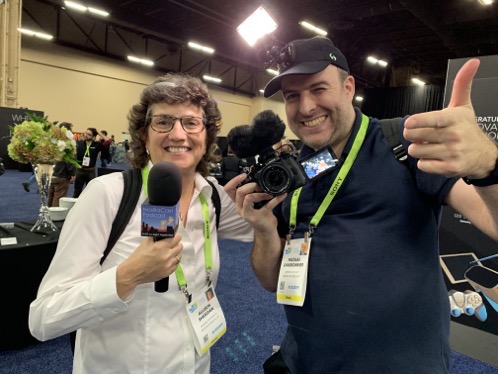 Not that we can't have contrary opinions of course, but his vehemence on the subject just made me wonder why he would enjoy my content. He did go on to tell us the reason he wanted Apple to fade away. He said he's tired of all other companies just following Apple and he hopes that as Apple loses dominance maybe they'll start innovating again. I couldn't argue with that logic, but I still wonder if he really listens to the shows. So Nicolas, if you're out there listening, shoot me a note so I know you're really out there listening.
Chit Chat Across the Pond
In Chit Chat Across the Pond we are finally back to a Programming By Stealth episode. In this installment, Bart teaches us how to create navigation bars in Bootstrap. We learn how to make them collapse and expand to different device screen sizes and how to style them to look nice. We learned how to add branding and how Bootstrap makes it do logical things. It was an extraordinarily easy lesson because Bootstrap makes it that easy.
You can find this episode in the Chit Chat Across the Pond feed, or the Programming By Stealth feed in your podcatcher of choice, and of course you can play the episode right at podfeet.com and read along with Bart's amazing shownotes.
Blog Posts
Patreon
I'd like to tell you about a wonderful human named George Smith. George took time out of his busy life to go over to podfeet.com/patreon and pledged his hard-earned dollars to help the show. He decided the right weekly dollar amount for his family. By doing this he showed me that he gets value from the content he receives here on the Podfeet Podcasts. If you get value from the shows, please consider being wonderful like George and signing up to become a patron of the show.
I held this flexible tablet in my very own hands and bend it every which way. The Android operating system somehow immediately adapted to the different ways I had folded it. For example, when the device was in portrait format and unfolded, the OS adapted to be readable in a vertical format. When I folded it in half, but held it in landscape, again the OS adapted. I flipped it over to look at the other side and the OS jumped over to the other side and again adapted.
I know this isn't ready for prime time, and I'm not sure I'm sold that a foldable tablet/phone is something we really need, but it's here and it's real and it's definitely not vaporware.
Addendum – After we recorded, Allister Jenks sent Bart and me an article telling us that many US Government website certificates are not being renewed due to the shutdown (U.S. Government Website Certificates Are Not Being Renewed in Shutdown | Fortune). Now the question is, what does this mean to you? Well, it means that you can't trust these sites as you could be spoofed by a man-in-the-middle attack. If you don't enter information, maybe you're ok but definitely, don't enter info on a site without a valid certificate. But there's another rub to this. Some Government sites have signed up to HSTS, which stands for Hypertext Strict Transport Security. When a site has enabled HSTS, it simply will not load if the certificate has not been updated. So this is a bad thing and nothing we can do about it until the shutdown ends and people are allowed to get back to work.
That's going to wind this up for this week. Don't forget to send in your Dumb Questions, comments and suggestions by emailing me at [email protected], follow me on twitter @podfeet.  Remember, everything good starts with podfeet.com/. podfeet.com/patreon, podfeet.com/facebook, podfeet.com/slack,  podfeet.com/chat, podfeet.com/amazon!  And if you want to join in the fun of the live show, head on over to podfeet.com/live on Sunday nights at 5pm Pacific Time and join the friendly and enthusiastic NosillaCastaways.   Thanks for listening, and stay subscribed.