Use "podfeet" for $10 off Macstock pricing, TextExpander Evangelist Jeff Gamet joins me on Chit Chat Across the Pond. AirPods 2 "just work" and didn't give me any good stories to tell. I've got a review fo the Owl Car Cam. And finally I'll talk about my justification to buy a new Netgear EX8000 mesh range extender, and teach you about using RSSI to measure relative signal strength. Warning, there's math in this episode! Please consider supporting the show at podfeet.com/patreon.
Hi, this is Allison Sheridan of the NosillaCast Apple Podcast, hosted at Podfeet.com, a technology geek podcast with an EVER so slight Apple bias. Today is Sunday, March 31, 2019, and this is show number 725.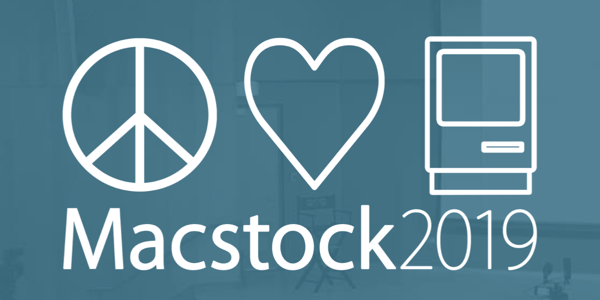 I'm starting to get super excited about Macstock coming up on July 27th and 28th in Chicago. If you've been thinking about attending but haven't signed up yet, you can use discount code "podfeet" to get $10 off the already discounted Early Bird ticket price. That's $169 for the full weekend of activities. The Early Bird pricing will end at the end of the April so it's a great time to sign up.
I'm going to be speaking again this year, but I'm looking forward even more to hearing what everyone else is going to teach me at Macstock. I'm also really looking forward to meeting new friends and hugging old friends again this year. Check it out at macstockexpo.com.
Chit Chat Across the Pond
This week on Chit Chat Across the Pond, I asked Jeff Gamet to come on the show and talk about his new job as a TextExpander Evangelist for Smile. We talk about some of the cool things you can do with TextExpander that you may not know about, how TextExpander works on Windows now, how awesome Jean MacDonald was when she was in this job and even funny snippet abbreviations. I don't normally have people come on the show to talk about their products but I'm such a fan of TextExpander and I find Jeff such delightful company that I wanted to combine the two for the most fun.
You can find this episode in your podcatcher of choice under Chit Chat Across the Pond Lite or the full Chit Chat Across the Pond feed. As always you can also play it directly from Podfeet.com Episode #588.
Blog Posts
Patreon
I like to give a shout out to new Patreon supporters for the show but I missed one from way back in February! I want to thank Eduardo Sanchez for donating some of his hard-earned cash to help fund the making of the Podfeet Podcasts. If you want to be one of the cool kids like Eduardo, just go to podfeet.com/patreon and sign up to pledge a recurring amount (as little as a dollar per NosillaCast episode). I truly thank all of you who help support the show in any way you can.
That's going to wind this up for this week. Don't forget to send in your Dumb Questions, comments and suggestions by emailing me at [email protected], follow me on twitter @podfeet.  Remember, everything good starts with podfeet.com/. podfeet.com/patreon, podfeet.com/facebook, podfeet.com/slack,  podfeet.com/chat, podfeet.com/amazon!  And if you want to join in the fun of the live show, head on over to podfeet.com/live on Sunday nights at 5pm Pacific Time and join the friendly and enthusiastic NosillaCastaways.   Thanks for listening, and stay subscribed.