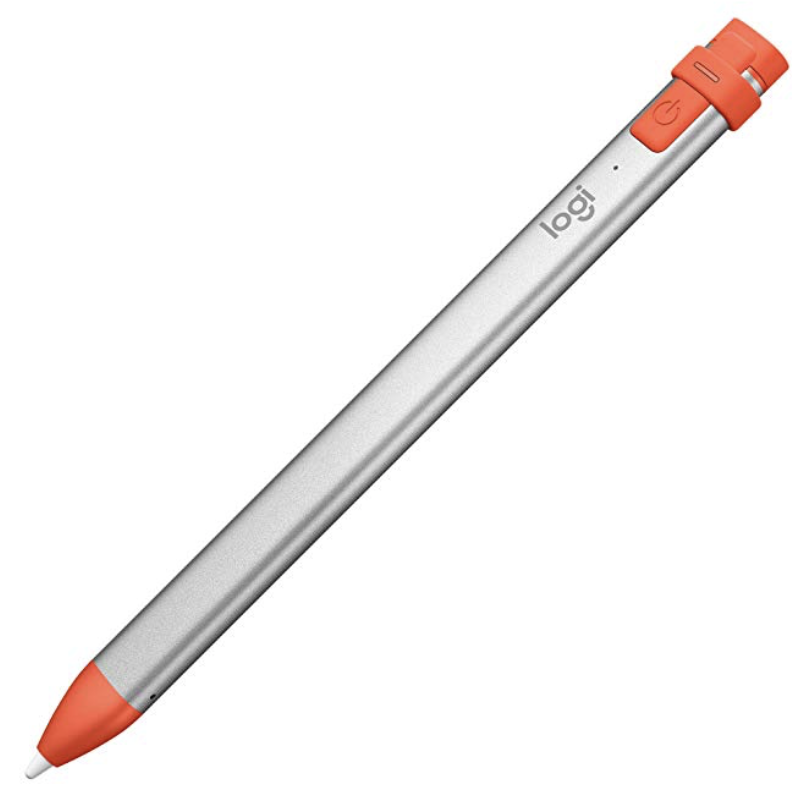 When the original iPads Pro came out, I bought the original Apple Pencil. I didn't have any great excuses to get one. I'm not an artist and I don't even doodle for enjoyment. I bought one anyway because it seemed cool and I thought maybe I'd find a use for it.
When I discovered MyScript Stylus, the third-party keyboard that did on-the-fly character recognition of handwritten text, I finally found a great use for the Apple Pencil. Sadly, the folks at MyScript recently dropped the product. I was sad. I used Pencil for a few things here and there but it wasn't my daily driver for anything.
When the new iPads Pro came out, I bought the 12.9″ version and again bought the Apple Pencil. I still had no excuse to buy one, but it was even cooler than the first generation, so I had to get it.

As you probably know, the original Apple Pencil charged via the Lightning connector on original iPads Pro. It looked dorky sticking out of the side of the device to charge, but it got the job done. The new and improved Apple Pencil 2 (as some call it, the number 2 pencil) sticks to the long side of the new iPads Pro with a magnet, and charges when it's stuck to it. A much more elegant solution.
Both generations of Pencil connect to their respective iPads Pro via Bluetooth, and the pairing process isn't too arduous. Starting a charge on either model makes Pencil discoverable and then it's an easy connect.
The original stick-it-in-the-side Pencil was $99, but the number 2 Pencil is $129. A steep price just to be one of the cool kids to have one.
When I got the new 12.9″ iPad Pro, I gave my previous model to my son Kyle and of course, I couldn't use the original Pencil on my new one, so I gave him my old Pencil. Now I only had one Pencil I didn't really need but was fun from time to time.
But then I managed to justify the purchase of the new iPad mini which took us back in time to the Lightning connector. That meant that the Pencil I gave away to Kyle was the one I needed with the mini. Luckily he hadn't found a use for it either so he was fine with giving it back.
So now I have two iPads and two Pencils, and I can't use both Pencils on both devices. Both have to be charged, both have to be paired via Bluetooth. What if there was a better option?
Enter the Logitech Crayon. Crayon was originally introduced for the education community but it's now available for anyone to buy. If you haven't seen the Logitech Crayon, you might be envisioning this big fat cylinder with a fat blunt rubbery tip for a stylus. It's nothing at all like that.
The Logitech Crayon looks more like a carpenter's pencil. My dad used these all the time for sketching his woodworking ideas. The carpenter's pencil has a rounded rectangle cross-section rather than a circle. According to Wikipedia, they're shaped this way so they don't roll away, and because they're easier to grip than a standard pencil, and that the non-round core allows thick or thin lines to be drawn by rotating the pencil. The Logitech Crayon is the same curious shape. Where a carpenter's pencil has a big piece of lead though, the Crayon has a very fine tip.
I have to say that the Crayon is really, really comfortable in the hand, so I can vouch for the easier to grip than a standard pencil argument. Another thing you're probably thinking is that this is a lame stylus like the ones we used to use with rubber tips on them. You might think there's extensive lag and it's difficult to point precisely. And that's not the case either.
According to the Logitech website,
Logitech Crayon is built using Apple Pencil technology so you know you're getting the best digital pencil experience available today, giving you access to hundreds of Apple Pencil supported apps instantly.
Again, I have to vouch for the Crayon here. The experience of drawing and handwriting with Crayon is identical to the Apple Pencil experience. I sense zero lag and the tip feels smooth and responsive on the screen with very precise pointing.
Now you might wonder why to buy Crayon if it's the same as Pencil (other than the fact that it doesn't roll off your desk). The first reason, and it's compelling, is price. While the number 1 and 2 Apple Pencils cost $99 and $129 respectively, the Logitech Crayon comes in at a modest $70. That's close to half the price of the newest Pencil.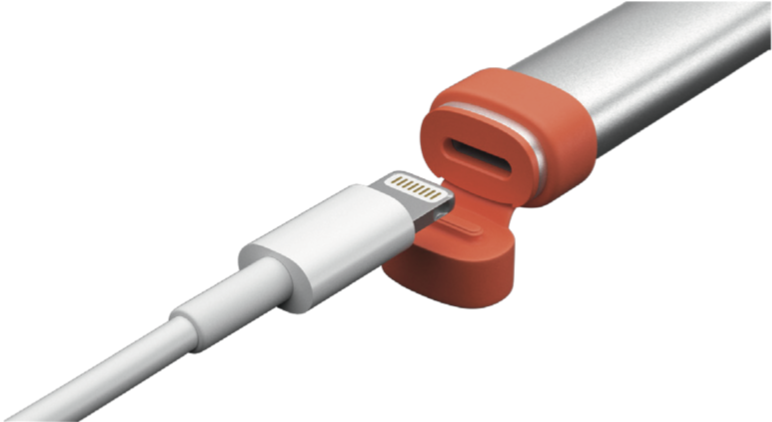 The second reason Crayon is better than an Apple Pencil is that it can work on multiple iPads without pairing and unpairing and they can be the iPads Pro with USB-C or iPads with Lightning. The Logitech Crayon uses Lightning to charge, but not by sticking into the side of the iPad. Instead it's got a female Lightning connector under a little orange rubber cap. So any Lightning cable you've got will charge the Crayon.
I mentioned that Apple Pencil requires pairing over Bluetooth, but oddly the Crayon doesn't require any pairing at all. You simply hold down the orange power button on the Crayon for about a second till a green light comes on, and then you can start drawing on any iPad made in 2018 or later. No need for a Pro-level device. So not only does the Crayon cost half of what the Apple Pencil costs, you can buy a much less expensive iPad and still get Pencil-like drawing.
Here's one curiosity. If you already have an Apple Pencil paired to your iPad, you have to go to Bluetooth and "Forget this device" in order for the Logitech Crayon to work. I wish I understood more about the underlying technology of the Logitech Crayon so I could explain how it actually does work on our iPads without Bluetooth and why the Pencil has to be unpaired first.
Logitech Crayon puts itself to sleep to save battery, so you do have to turn it back on if you haven't used it for 30 minutes. They claim 7.5 hours of writing time but I haven't clocked it yet. I've been playing with it a lot and have had to charge it a couple of times in the last week. It takes 30 minutes for a full charge of 7.5 hours, but if you're in a pinch and really need to keep working, a 2-minute charging boost will give you 30 minutes of writing time. I tested that quick charge and it definitely works.

Where Apple Pencil is simplicity itself, a smooth white cylinder with no indicators, the Logitech Crayon has an LED that indicates the power level, whether it's charging and it even turns yellow if it needs a firmware update. What kind of world do we live in where your crayon now needs charging and gets firmware updates?
The Logitech Crayon is missing two features of the Apple Pencil. The first is pressure sensitivity. If you're an artist used to the Cintiq tablets or Apple Pencil, you've gotten used to being able to press harder and lighter on your stylus to increase the width and/or darkness of your brush or pen in your artist's program. Logitech Crayon is not for you.
If you're a more casual user, you'll be glad to know that you can change the line thickness in many apps by changing the tilt of the Crayon. I tested this out in Apple Notes and it worked quite well with the marker in the app.
The second thing Crayon can't do is respond to gestures. In many drawing apps, with the second generation Apple Pencil, you can double tap the flat side and switch from a pen to an eraser. Other gestures are possible but that's the one that most developers have enabled. I wouldn't lose any sleep over missing this gesture if you get a Crayon instead. I find that double tap gesture to be tricky to reliably execute. I end up rolling the pencil when I try, or double tapping when I don't mean to. You have to keep your eye on the pen and eraser icons in your app anyway to make sure the gesture went through. For me it's just as easy to reach up and tap the eraser tool and back to the pen instead.
I'm a big fan of the app Notability, which has palm rejection. As Logitech promises, the app when used with the Logitech Crayon does allow me to comfortably rest my palm on the screen while I'm writing and drawing.
The first gen Apple Pencil came with a spare tip for the device, but the number 2 Pencil does not. Logitech sells replacement tips for Crayon, and replacement rubber caps to cover the lightning connector and even tip covers. When I saw the price of the replacement tips, I thought they were overcharging because it costs $40, but then I saw that it's for a pack of 10. All of the replacement parts are in packs of 10 because they clearly package these for schools where those rotten little kids keep losing things.
Bottom Line
The bottom line is that I think the Logitech Crayon is an amazing device. I can't believe it costs nearly half of what Pencil costs. I can't believe it works as well as Apple Pencil in precision and lack of latency. I'm delighted that it works across all different iPad models from 2018 and later. Now I only have to carry one stylus with me and I know it will work with whichever iPad I have with me.
I have to say that one Crayon is better than two Pencils.