Hi folks, this is Steve back with a product review of Apple's latest wireless earphones, the Powerbeats Pro … by Beats … by Dre (ok, that's clumsy). In this review, I'll describe the Powerbeats Pro setup and how they fit and function. I'll discuss how they sound compared with other earphones I've used and I'll close with my overall assessment and recommendation.

Unboxing and Setup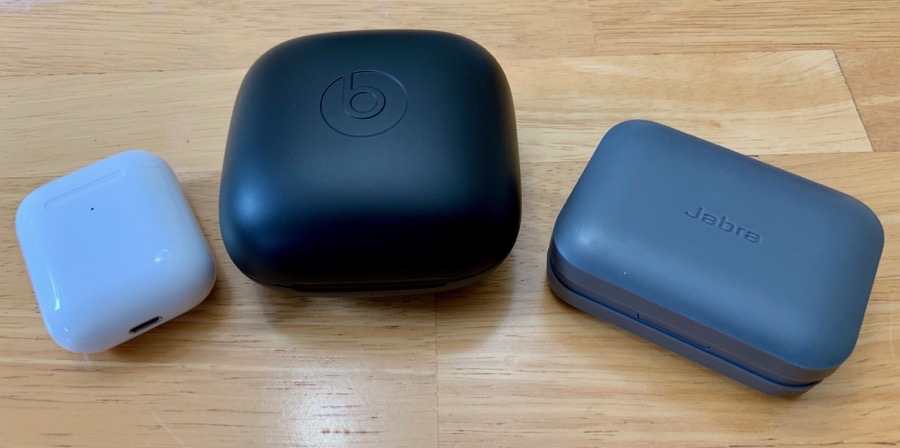 Upon receiving the package, it was good to see Powerbeats Pro packaging was very Apple-like, simple and clean leading to an intuitive unboxing and setup. Like most wireless earphones, the Powerbeats Pro come in a case that doubles as a battery to charge them while they're stored. The first thing I noticed on opening the package was how large the Powerbeats Pro charging case is, about twice the volume of the Jabra Elite Sport case and three times the AirPods case.
The Powerbeats Pro case is a rounded rectangle measuring 3" on a side and a bulky 1.5" thick. Needless to say, these do NOT fit in one's pocket very easily. Unlike the latest AirPods, the Powerbeats Pro charging case does not support wireless charging. Instead, Apple has stayed with a Lightning cable for charging. The Powerbeats Pro themselves are comprised of an earbud that fits into the ear canal, attached to a semi-flexible earhook that holds the earbud securely in your ear. Each earpiece has a subtle toggle button for volume and a Beats logo "b" button that serves multiple functions.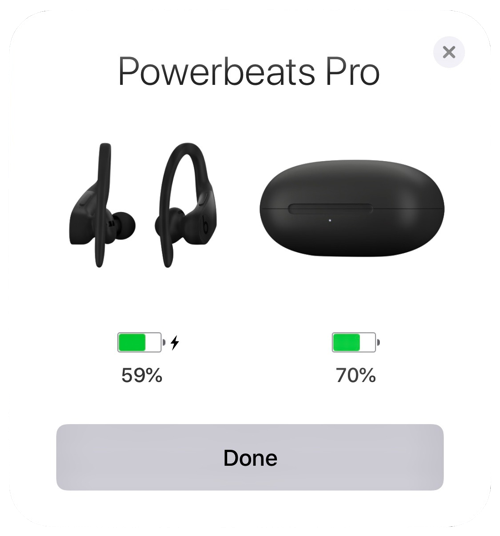 As soon as I opened the charging case, I was comforted to see the Powerbeats Pro screen pop up on my iPhone asking me to connect (i.e. pair). I hit the Connect button and in less than a second, the earphones were automatically paired with my iPhone.
The pop-up window then changed to show me the percentage charge of the earphones as a pair, as well as the case. I tested whether VoiceOver would tell the user the charge of the case and earphones and it did, but it made one error. Instead of saying "Powerbeats Pro 70%" which it shows visually on screen, it said, "AirPods 70%". Looks like they need to update the text in VoiceOver. I hit Done and that was it for setup. This experience is very similar to how AirPods pair with your iPhone and is a prime example of Apple making good on the "It just works" slogan. Aided by Apple's H1 chip, it's hard to beat the pairing experience with Apple earphones and an iOS device.
Even putting the earphones back in their case was pleasing since they magnetically click into place and are firmly held there.
Fit
I generally use earphones for listening to podcasts and occasionally to music during my workouts, which consist of running and weight training. So I need them to stay in my ears while I'm active and a bit sweaty. If you've heard my previous earphone reviews, you know that my ears are not well suited for earphones, particularly if they don't have any means of support other than the ear canal. Apple's AirPods and most others simply will not stay in my ears.
The only success I've had with earphones without earhooks are Jabra's Elite Sport earphones which do remain in my ears even while I'm active. So I was encouraged when I first heard the new Powerbeats Pro earbuds have earhooks to stabilize the earphones in your ears. When I tried on the Powerbeats Pro, I was discouraged to find they didn't fit as snuggly as I would like.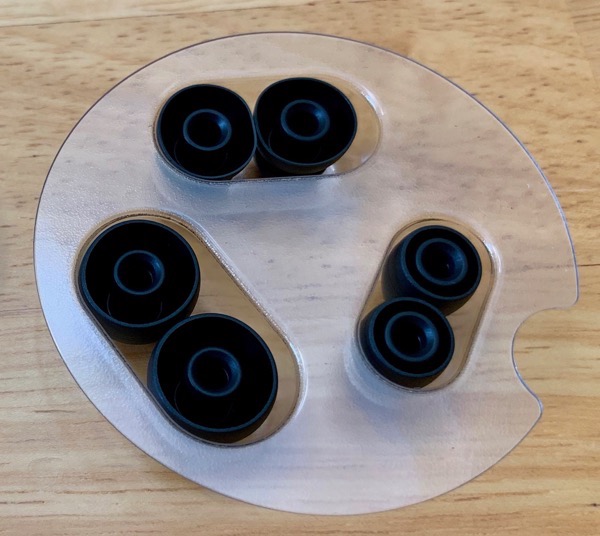 But two features helped me resolve that problem. First, they come with four sets of rubberized tips of varying size that attach to the earbuds. I swapped out the installed tips with a smaller pair and they fit much better. Second, you can bend a portion of the ear hooks to adjust them for a better fit around your ears.
After making both of these adjustments, the Powerbeats Pro fit snuggly in and around my ears without feeling uncomfortable, even while moving around vigorously. Add the fact that these earphones are water and sweat resistant with an IPX4 rating and you have a winning combination for use during workouts.
One caveat: My workouts are generally less than an hour long so I haven't tested whether the Powerbeats Pro earphones get annoying for longer wearing periods. In any case, if you just don't like the feel of an earhook around your ear, these are not the earphones for you.
Function
One of the most subtle yet cool features of the Powerbeats Pro is its controls because all of its functions can be controlled by physical buttons on the earphones or through Siri commands. Specifically, you can control volume up/down, pause/play, and skip forward/back using physical buttons and with Siri. There are times when I don't want to speak out loud to control my earphones, like when I'm in a group of people, so physical controls feel more appropriate. Other times I'm using my hands for something else and don't want to interrupt what I'm doing with extraneous hand movements, so Siri is a better option. Powerbeats Pro can be easily controlled in either situation.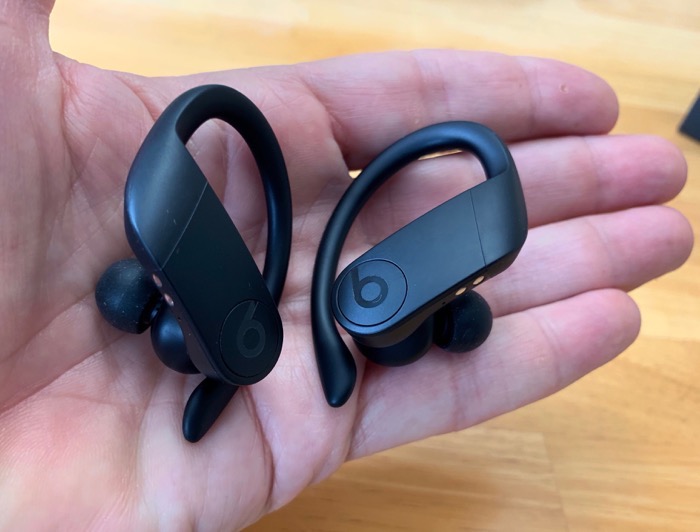 Like AirPods, you can listen to either left or right earphone at a time and you have full control with physical buttons from either earbud. You can also listen to either earphone one at a time if, for instance, you want to keep your other ear open. Like AirPods, Powerbeats Pro have sensors to automatically start playing when you put them in your ears and pause when you remove them. You can also send, answer, and decline phone calls by pressing the Beats "b" button to invoke Siri.
As I mentioned, I don't use AirPods because they don't stay in my ears. But one complaint about AirPods I've heard from Allison is that the only physical control they have is a double tap on the left or right earbud. You can assign the double tap gesture to be pause/play or skip forward/back as a separate control on the left and right AirPods, so two functions total can be physically controlled.
Remember that Siri still needs an internet connection to work (btw, when will Apple fix this?) So if you're in a location where your internet connection is weak (like down at the beach where we run every other day) you'll be limited to controlling just the two functions on your AirPods that you've assigned to the left and right double taps. Not so with Powerbeats Pro where every function can be controlled with physical buttons. When you do have a good internet connection, Powerbeats Pro Siri functionality is identical to that of AirPods.
In the two weeks I've been using the Powerbeats Pro, I've not yet had a Bluetooth dropout which is more than I can say about any other earphones I've used. I have, however, been in situations without an internet connection and so no Siri control. If you don't use an iPhone, you can pair Powerbeats Pro with other mobile devices but you lose some functionality, like "Hey Siri." But in those cases, you can press the Beats "b" button on either earphone to get voice control with a variety of other mobile devices.
Powerbeats Pro earphones have the longest listening times of any earbuds on the market that I know of. Each earphone provides a whopping 9 hrs of listening time and with the charging case, you can get 24 hours of combined playback. Need a quick charge? A 5-minute fast charge gives 1.5 hours of additional playback when the battery is low. Since I use my earphones about an hour a day, I can get away with charging only once a week with Powerbeats Pro compared with having to charge every 2 – 3 days for others.
Audio Quality
Now for one of the most important features of earphones, at least for me, and that is how they sound. I have to say right up front that the overall audio quality of Powerbeats Pro earphones is THE BEST I've heard from earbud-style headphones that I've listened to. For brevity, my comparison of Powerbeats Pro audio is limited to three other wireless earphones: the older generation Powerbeats3, Jabra Elite Sport, and Apple AirPods.
The first concern I had when I heard Beats was coming out with new earphones was would they be too bass heavy, a characteristic of most Beats headphones. On the flip side, bass is often missing with earphones since it's difficult to make a small speaker vibrating at low frequencies move enough air for you to hear it well.
Powerbeats Pro have managed to strike a balance with rich bass that's not too heavy and is evenly distributed. Listening to some selected songs, there were some bass lines that I could simply not hear with Jabra Elite Sport and the Powerbeats3, but they came through clearly with Powerbeats Pro, similar to AirPods bass.
At the audio high-end, Powerbeats Pro shine as well, producing very clear treble with crisp violins, finger snapping, cymbals, and other percussion. I've heard at least one review commenting how the Powerbeats Pro high frequencies have been pumped up too much, but I don't find that to be the case at all.
My only complaint with Powerbeats Pro sound, and it's minor, is that the low end of the mid-range is a bit de-emphasized – not enough to be bothersome but just noticeable. This could be an issue when listening to some vocals competing with instruments having loud bass and highs. Powerbeats Pro sound quality, in my opinion, is just a notch over AirPods if I hold the AirPods in my ears since they don't fit well. However, I generally don't hold AirPods in my ears so I lose much of the sound. I put both Powerbeats Pro and AirPods sound quality in a distinct category above both Jabra Elite Sport and the Powerbeats3 earphones.
One final note on audio quality: Powerbeats Pro do not have noise cancellation. For my use case that's ok, but it could be a problem for others trying to hear audio content in a noisy or windy environment. Although Powerbeats Pro provide some isolation from exterior sounds, you can still have a conversation with others while wearing them. This may be an issue or a feature for you.
Powerbeats Pro come in four colors: Black, Ivory, Navy, and Moss, although as of this writing they're only available in black — the other colors are shown as "coming soon". Powerbeats Pro are available for sale at the Beats by Dre website for $249.95, a full $50 more than AirPods with the wireless charging case and $90 more than AirPods with the wired charging case. So they're clearly priced at the high end of earphones in this class.
Bottom Line
So in summary, let me list my Pros and Cons of Powerbeats Pro earphones:
The Pros are:
They stay in the ears securely during active use,
They provide full control with physical buttons and with Siri,
They're water & sweat resistant,
They provide great battery life,
And, most importantly, they provide top-notch sound quality.
While the Cons are:
They cost a lot,
They have a large charging case that requires a wire for charging,
They have an ear hook that can be annoying for some people, although not me,
And they're only available in black for now, but other colors will be available later.
For me, the Pros outweigh the Cons and Powerbeats Pro have become my go-to earphones. I would recommend them to anyone who wants to hear rich sound while being physically active and is willing to pay for it.
So until my next review, that's it for now, Allison … and I'll be sure to Stay Subscribed.