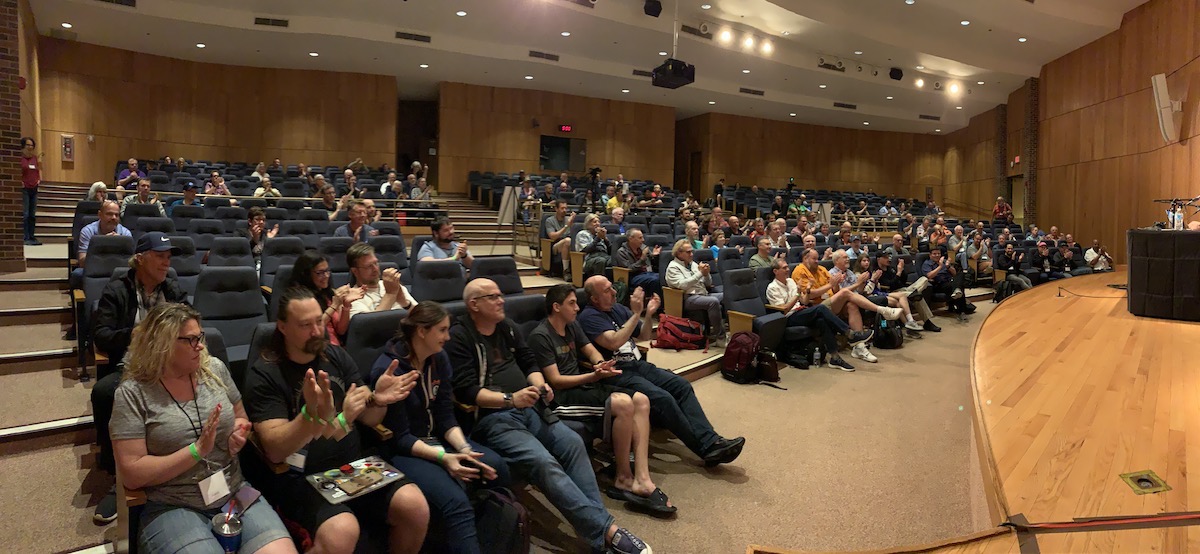 Steve and I had the great pleasure of attending Macstock again this year, out in Woodstock, Illinois, right outside of Chicago. As the 5th conference, I found it even more enjoyable and informative than previous years.
Macstock has two big components. There is the conference itself which is held at McHenry College. It runs all day Saturday and Sunday. Each speaker talks for 20 minutes in the morning and then they get 45 minutes to do a Deeper Dive into the same topic in the afternoon. Mike Potter runs the conference and he does a great job of giving lots of breaks that give you plenty of time to hang out in the lobby area and get to know people.
But the real way you get to know people is to attend the evening events, which are run by Barry Fulk. Barry and his awesome wife Bobbi Ann hold a get together on Friday and Saturday night at a restaurant/bar that's on the same property as the main hotel. We get pretty loud at this event but luckily there's a lovely patio that we take over to enjoy the balmy evening air and continue our tomfoolery. There are games, there has been karaoke, or you can be like me and just hang out.

One of the things that makes Macstock different from anything I've attended is how friendly everyone is. There simply are no cliques. You can walk up to anybody and say hi and they will have something interesting to say. We come together because of our mutual love of all things Apple so you know you can bring out your inner geek and there will be no eye rolling.
Here's a great example. David Sparks of the Mac Power Users was sitting at a big table at breakfast working on some last-minute changes to his presentation. He idly mumbled that he needed an iPhone frame for a video screenshot and five separate people offered him options. He was the one who pointed out how enjoyable it is to be among "your people".
One of my goals at Macstock is to watch for people standing alone, looking like they want to be part of the party but are too shy or nervous to just break in on a conversation. I like to introduce myself, and then drag them to a group I already know, introduce them, and after they get their own conversation going, walk away and find another person to meet. I've made lots of new friends this way.
The lack of clique thing is interesting because many of us have known each other for more than a decade and could easily just hang out in our own small groups, but we don't. Steve and I don't even stick together, we find new people to meet and enjoy.
Father John's iMac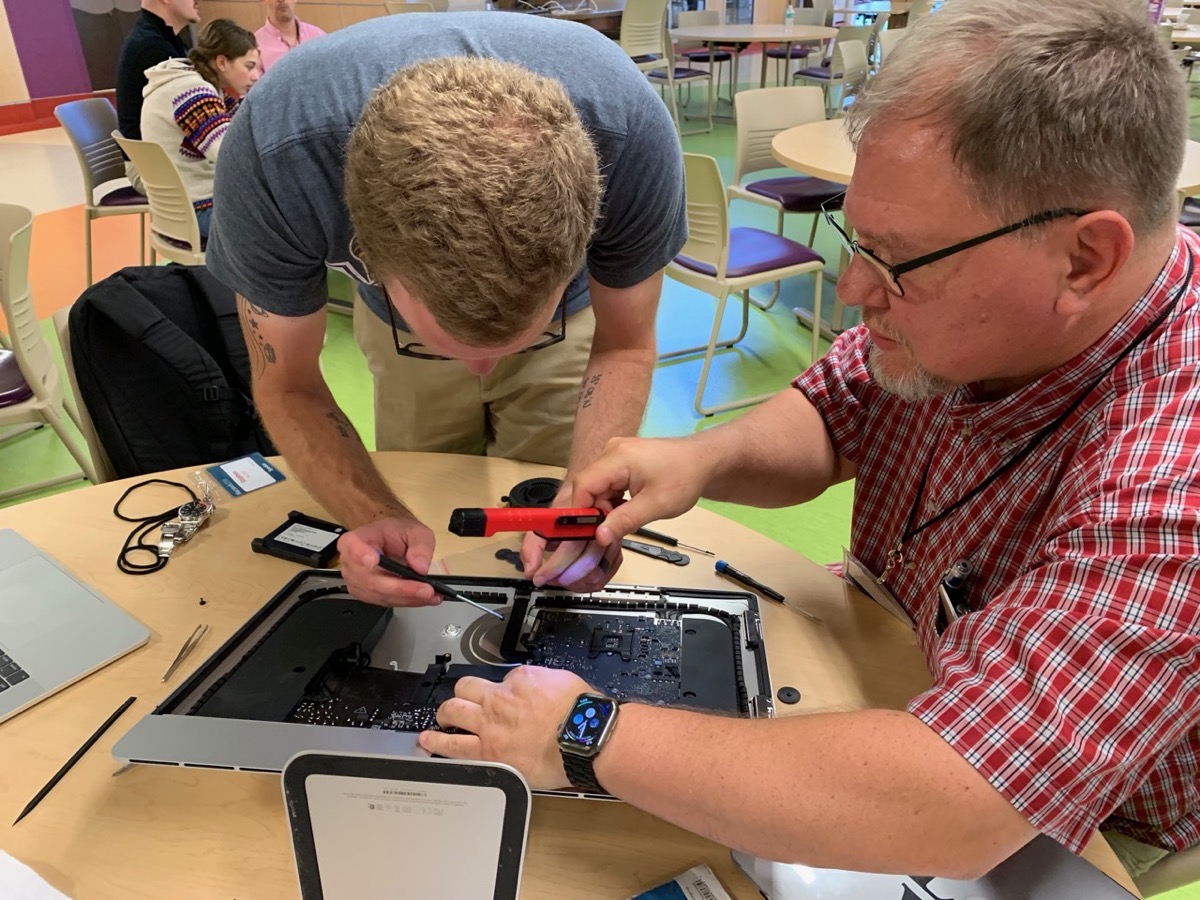 Sometimes extraordinary things happen that are unexpected. One of my favorites was the story of Father John's iMac. He's a NosillaCastaway by the way. He bought a 21″ iMac on eBay with 4 GB of RAM and a fusion drive. He bought an iFixit kit to upgrade the RAM to 32 GB and a 2 TB SSD. Sounded like a fun project. That was until he discovered that Apple started using adhesive to hold the monitor glass, which meant you couldn't "just" use two suction cups to pull off the glass. As though that weren't terrifying enough!
His solution was to pack up the iMac and the kit and bring it in his car as he drove from Wisconsin down to Illinois and see if he could get someone to help him tear it down. This is where the connections of people turned out to be handy. He kept asking people (like me) if we had any experience, until he happened to ask Pat Fouquet if she knew how, and Pat explained that Stephen Hackett, co-founder of relay.fm might be able to help.
They tracked down Stephen and he explained that he worked for a while as a repair guy for Apple and would be delighted to do it. He and John did open-heart surgery right out in the main room (to the great entertainment of the onlookers). The good news, as Stephen declared when he was on stage later, was that they did not break John's iMac — it worked! John was beside himself and Stephen had fun and the rest of us enjoyed watching.
Women
I grew up with 3 brothers, and I'm an engineer by education and employment, so I'm used to being pretty much the only woman in the room. As I advanced in my career, I imagined it the number of women in the sciences would go up over time. But when I went to the Alt Conf at WWDC, I was simply shocked at how few women were there. I did a rough count, and in a room for the Keynote with maybe 200-300 people, I didn't see 20 women.
So imagine my delight when I went to Macstock and I saw more women than I've ever seen at a tech conference. I pointed this out to the audience from the main stage and asked the women to all stand up and literally be counted. It was very early in the morning so the room wasn't full yet but 25% of the people in the room were women. How cool is that?
Not only that, 27% of the speakers at Macstock were women. None of this was done through any kind of artificial means. Macstock is simply a place where women geeks feel welcome and heard. It's awesome.
Hoosier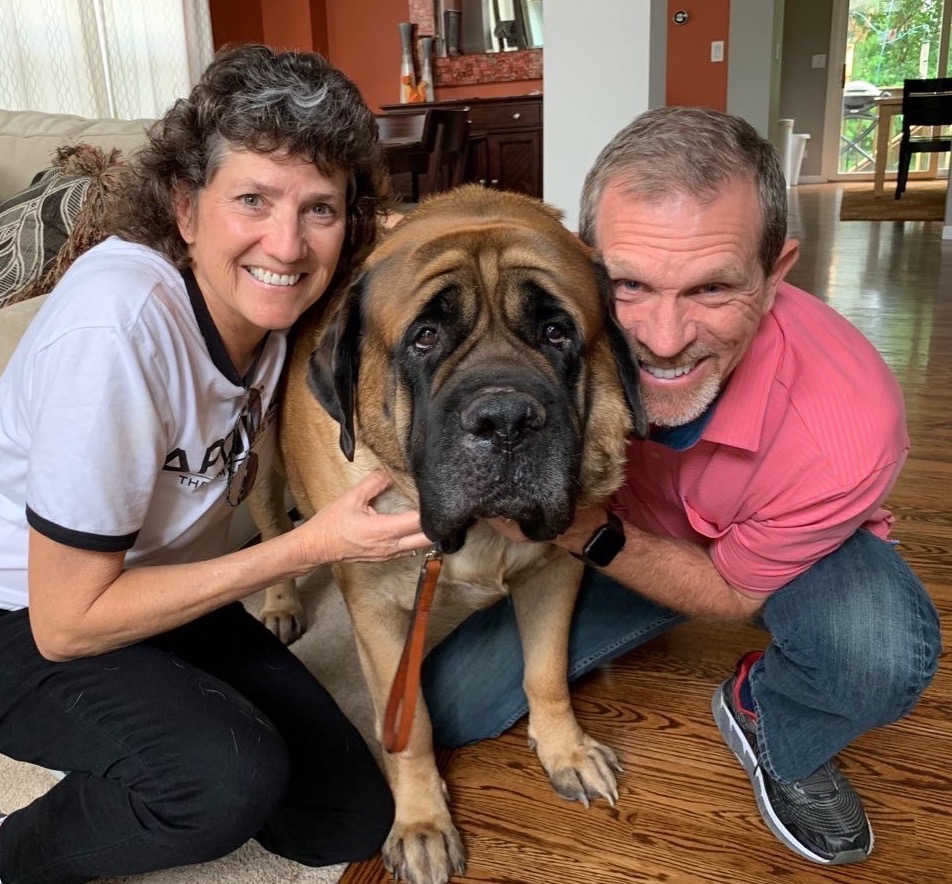 I can't talk about the awesomeness of Macstock without mentioning our good friend Corky and his dog Hoosier. Four years ago this guy Corky, who listens to the show, offered us a ride from the airport to Macstock. We thought that was a huge imposition on him but he insisted that he would be delighted. On that first ride, Corky was worried that he would look like a stalker because he knew so much about me and my family. That's only because he has listened to the show for so long and I tell you guys this stuff.
After five Macstocks, Corky, Steve and I are great friends and he no longer worries about that kind of thing, and instead teases me mercilessly, almost like a big brother.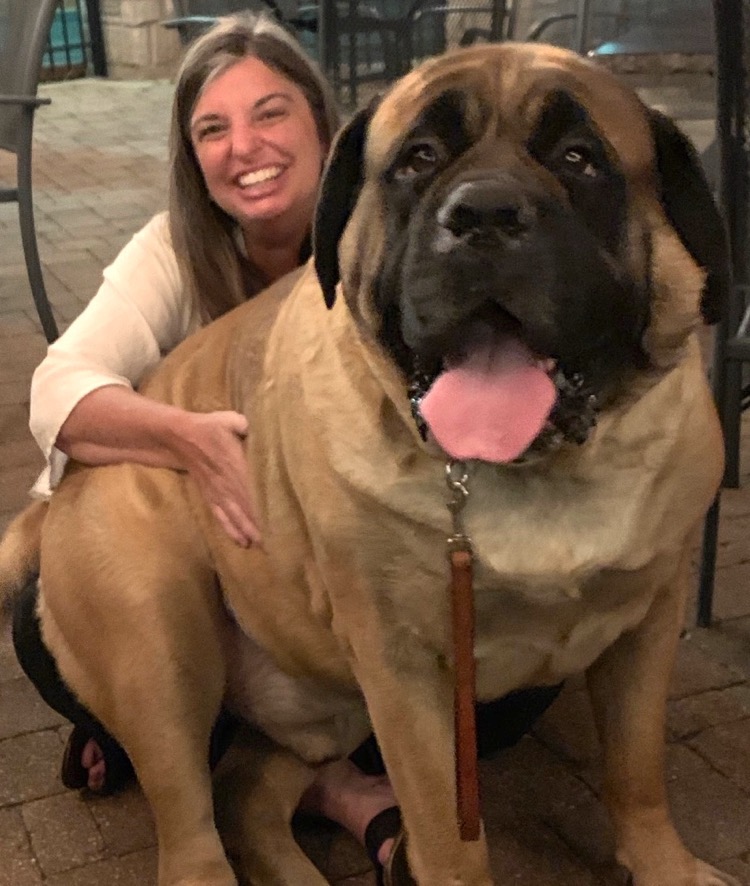 On this trip, we were driving back from the airport with some time to spare before Barry's first evening activities, and Corky says, "Do you want to meet the puppy?" We didn't know what we were in for but of course said yes.
The "puppy" is a dog named Hoosier, who is the most magnificent dog I've ever seen in my life. Hoosier is an English Mastiff, and he weighs 235 pounds. That's 107 kg. It is impossible to wrap your brain around what a 235-pound dog would even look like, so I've put a couple of photos in the shownotes.
Steve and I posed for a photo with him but the photo that really illustrates his size is the one with Corky's wife Stacey. The enormity of him looks like a poorly-done Photoshop job!
Later in the weekend, Corky and his wife Stacey decided it might be fun to bring Hoosier to the Macstock evening event. I bring this up for two reasons. First, because he was such a hit at the party with most people hugging him and posing for photos with him, but also because it gave Stacey an excuse to meet Corky's weird, nerdy friends. I hear she reported back that we're actually kind of fun.
Bottom Line
I think a great illustration of how interesting Macstock is might be a quick story of Emily. Dave Hamilton and John Braun did a live Mac Geek Gab and we got to play Stump the Geek. I happened to have a particularly vexing problem I decided to ask them. My problem is that I put all of my devices in Do Not Disturb mode when I'm recording a show and I turn the volume all the way down, and for the iPhone I make sure the mute switch is turned on, and yet, while I'm recording I constantly get audio notifications from many apps.
I posed the question and the boys tried to think of what might be causing this. Audience members started offering solutions, but the answer came from Emily, a 16-year-old high school student. She explained to me that she had this problem in school too. Turns out that there's a separate volume slider and toggle I had never noticed! It's not under notifications where you might think it would be.
On iOS, if you go to Settings, Sounds & Haptics, you see a section called Ringer and Alerts. There's a volume slider there, but more importantly there's a toggle that says "Change with Buttons". So all this time I was using the volume buttons on the phone (and iPad) to turn the volume all the way down, that darn slider for ringer and alerts was NOT changing! A quick flip of that toggle and now the volume is the volume is the volume. I have trouble imagining a scenario where someone would turn down the audio volume on their phone and think, "hey, I sure hope the ringer and alerts come in super loud now!"
On the Mac, the solution isn't quite as elegant, but she reminded me that while the Sound Preference Pane has input and output volume sliders, there's a third tab for Sound Effects. Only this slider will stop those darn notification sounds. I thanked Emily but I remain confused why Do Not Disturb doesn't do what it says on the tin.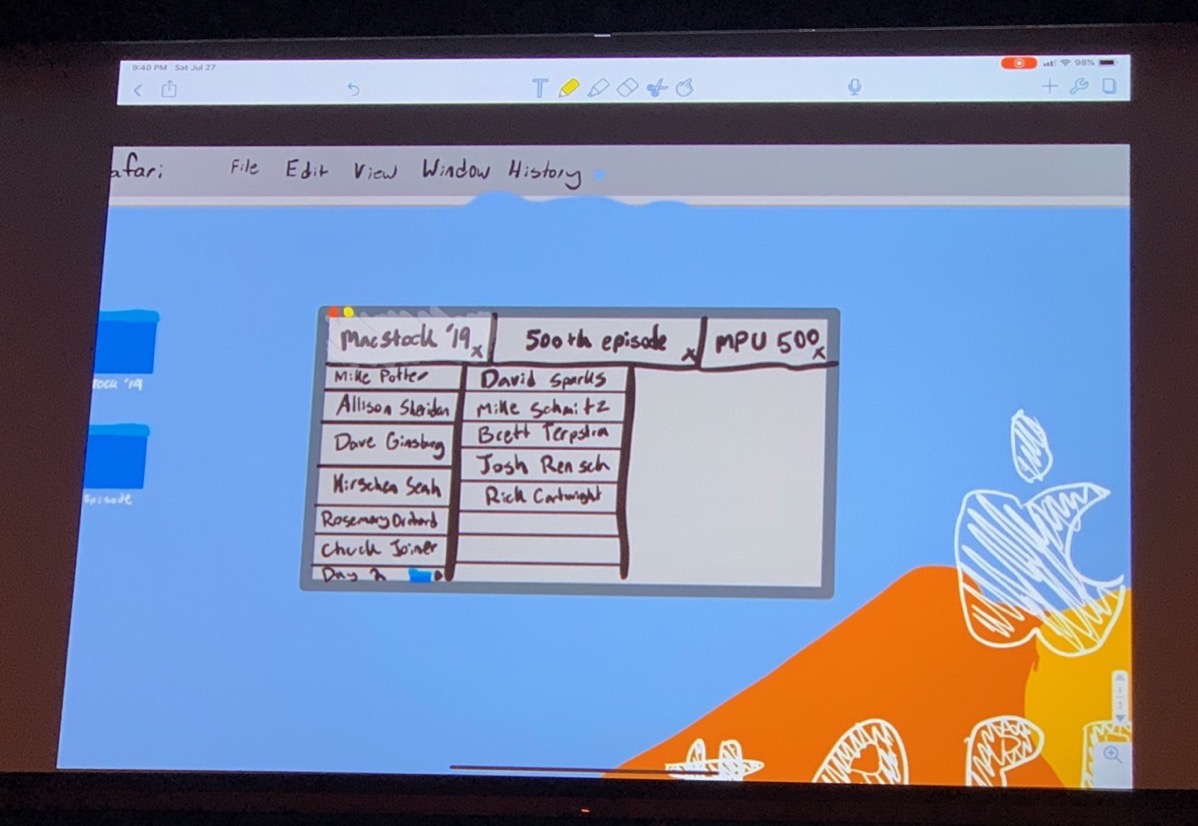 So Emily was my hero that night but one more thing happened that involved Emily that I really enjoyed. Wally Cherwinski hosted what he calls the Macstock FilmFest. The idea was to have attendees submit short movies (2.5 minutes max) that worked with the theme of the show.
Steve submitted his awesome eclipse video and people really thought it was cool. NosillaCastaway Norbert did a really sweet tribute to his father, and NosillaCastaway Frank Petrie did a very compelling video called "The View from My Chair". He recorded, from his perspective, what it looks like from leaving his apartment to go to the local pub across the street to order a beer. It was fascinating.
At the very end, Wally played a video that had just been submitted that day. Earlier, NosillaCastaway Kirschen Seah did a talk on the concept of Sketch Notes, which is where you draw little pictures to take notes instead of just writing down words. Emily's video was a recording on her iPad of her drawing Sketch Notes during the Macstock presentations. It was kind of meta, and fascinating to see her perspective on the show. Now remember, this is a first-time attendee who is in high school, and she got to have her video on the main stage. How fun is that?
If you're young (like NosillaCastaway Toby at 13 years old) or old (like me and Steve), if you're from the US or maybe Ukraine like Eugene or The Netherlands like Martijn, or if you're a super geek or a wannabe geek, you will enjoy Macstock. You'll learn, you'll laugh and you'll meet new friends for life.