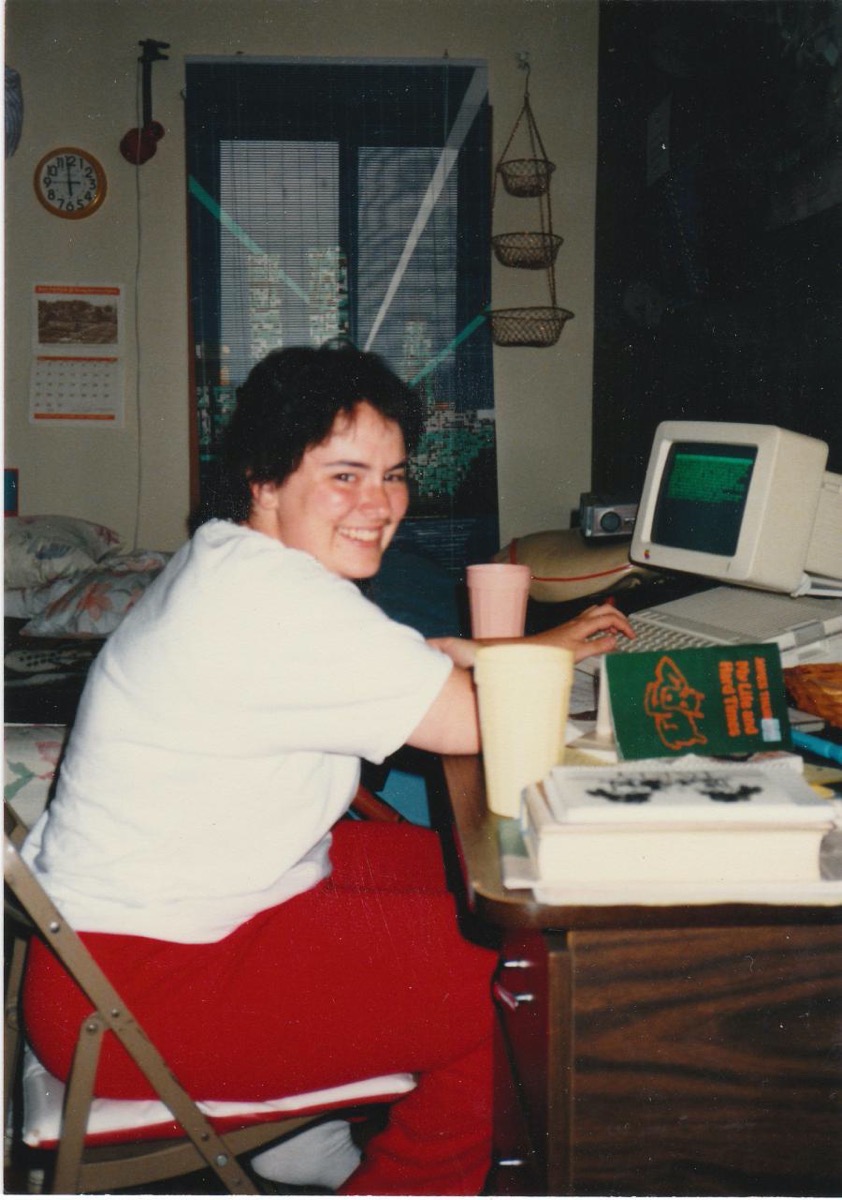 This is Jill with reflections on the new-to-me MacBook Pro.
I have been a Microsoft gal when I built my first 8088 in the early 80s and it had MSDOS v1. When I bought my Apple IIc in college, it was an extraordinary amount of money given to me by my grandmother who wanted to see college as a success for me. I thought a computer would be a huge advantage. I bought an Apple Thermal printer too.
But I have to admit the experience I had with Apple really turned me off to the company. At the store that sold Apple computers, they refused to talk to me and answered my questions to my dad! The company was made up of annoying busybodies to who tried to get me to cut up discs and otherwise micromanage my computer use through written letters! Plus there was not a lot of software available.

To recoup the cost of the devices, My friend and I started a paper typing business in college. We charged for pages, discs and reprinted pages. It was a huge technology change for the college typing industry! Before this technology, any changes to a college paper required retyping the whole paper again on a typewriter! But with the discs, that I had to explain to everyone why they would want to have it, I could just change the affected pages and just reprint just those pages. It was huge to people and it saved them money and it saved us time. I was known in my dorm as "the girl who owns a computer" I went to a very large university and lived in a very large dorm. The two other computers were by Tandy.
Over the years, I bought iPhones, iPads, and AirPods and have really loved the small consumer electronics that Apple makes now. There is a lot of software now available for Apple devices and it seems like now they produce great technology with an eye towards privacy and security.
Last month I decided I needed a laptop. It just so aligned with the newest release of the 16 inch MacBook Pro. So I bought Allison's back up, back up MacBook.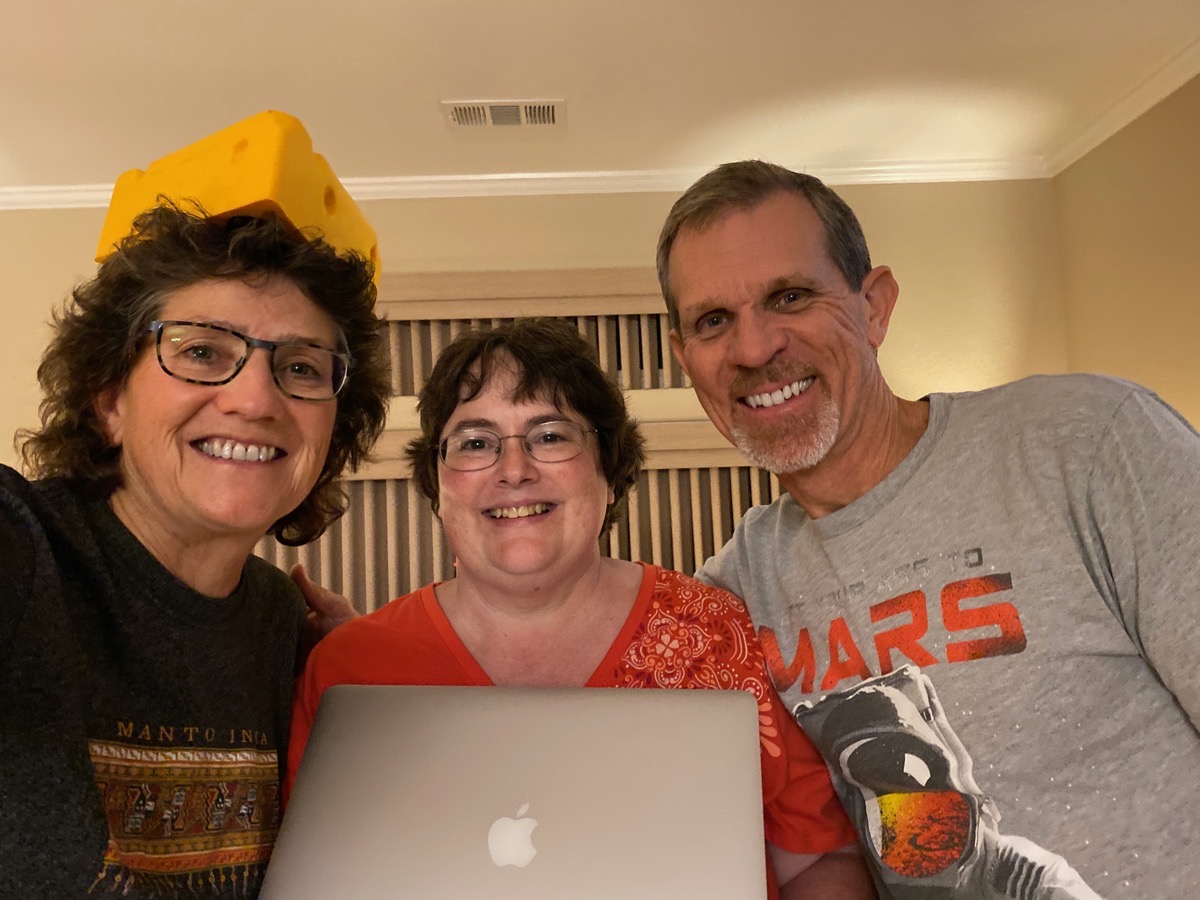 First, if you ever have the joy of an unboxing a new thing, you know it can be quite fun and exciting. But when you buy a used device, that new device joy is not there for you. Well, Allison had it well in hand. She had every bit of plastic and piece of paper. She knew how to wrap it up exactly as it was brand new. She even had the stickers. I don't think I could do that with a deck of cards I bought last week. I am pretty sure my AirPod Pros wouldn't fix in their same box ever again! It was a great experience. Thank you, Allison, for that.
I will tell you about my experience so far from the viewpoint of someone with an ever so slight Windows bias. The machine is solid and well-built and you can tell it is a high-quality device. It is a little bit slippery! I will mind my grip!
First, the basic operations are intuitive and smooth. I really knew how to get in there and start using it. I am still a bit fuzzy on core functionality of the operating system and troubleshooting. Do I really know where any of my files are? Does it even matter? Am I supposed to know where they are?
I installed many applications that I use in Windows and have crossover on the Mac OS. I really enjoy using most of them more on the MacBook. They run great and in some cases run better on the Mac than they do on my 1-year-old Windows Desktop. For example, 1Password is fine on Windows. But on the Mac, it is smooth, integrated and works much better. I really appreciate using it there more than Windows.
I was easily able to map my storage drives. I found other software that I wanted to try and am quite pleased with the availability of software. I was also surprised at the number of productivity tools. The one place it struggled was gaming where the system chugged. That is pretty much true on most laptops vs a desktop machine.
The screen is beautiful. While I was on a customer trip I used it to watch some videos and the picture was sharp. My eyes are not great and this monitor was a huge relief to me. I remember reading reviews about this laptop when it came out. I remember thinking even if the screen is beautiful, I couldn't really use a machine like this.
It doesn't have a CD or DVD. It doesn't have a wired network connection. There are barely any ports on it. I wonder if Apple is almost too far in the future for its own good. But here we are in 2019. I don't need a CD or DVD player or a network cable. I really don't need that many ports. It actually is perfect for our time.
As a technology control freak, I thought Apple would remove me from the technology feel of the laptop but it didn't. It really made it easy to love using it. I have enjoyed the community of Mac users and their statements about problems. For example, you search "Are MacBooks too slippery" To which you find 100 responses saying "No, it is just fine but here is how I made it less slippery!" That pretty funny!
When I think of Mac I think about how expensive it is I never took into consideration that a 6-year-old MacBook can hold its own against my 1-year-old Windows desktop. If it can do that, the expense is not as bad as it seems because you can use it for many more years than a Windows machine. The investment is worth it in terms of longevity.
For me this introduction into the MacBook realm. It gives me a few years on this machine and my windows desktop. I will probably need something new In a few years. I am as intrigued as you are to see what that will be!