As you've heard/seen from our interview with Navitas at CES with my "cousin" Eugene Sheridan (he's not really my cousin), Gallium Nitride semiconductor technology is allowing the miniaturization of the chargers we use every day for our phones, tablets, and computers.
But you know things at CES are basically vaporware, right? Everyone knows that all the cool stuff we see doesn't necessarily come to market. But when we were done talking to Gene, he handed me a little goodie bag. Inside it were three wall chargers that are actually available today that take advantage of the GaN semiconductor technology from Navitas.

I'm going to tell you about each of the chargers, and I want to give you the incentive to listen. These chargers are less than half the weight of the silicon-based chargers you've been hefting around for all these years. Not only are they tiny and light, but they also offer the newfangled technology of Power Delivery. I've been touting Power Delivery, aka PD, for a long time but I have to confess that I didn't know exactly what was so cool about it. So as one does, I went to the source to learn about it.

I headed over to www.usb.org/… where they explain in plain English (mostly) why you care about PD. They explain that USB Power Delivery offers the following features:
Increased power levels from existing USB standards up to 100W.

According to www.digikey.com/…, even with USB Type-C, the max power was 15W. It wasn't until USB PD 3.0 that the 100W dream was achieved. Now for you weenie laptop owners, you might not care past 65W but those of us with big-girl 15″ or 16″ MacBooks Pro and other suitably large PC laptops do care.

Power direction is no longer fixed. This enables the product with the power (Host or Peripheral) to provide the power.

Translated, this allows a phone to charge another phone or a laptop to charge a phone and back. That's a pretty cool advancement.

Optimize power management across multiple peripherals by allowing each device to take only the power it requires, and to get more power when required for a given application.

Now that we travel with 12 devices, it's helpful that they will negotiate what they need when plugged into one charger. Imagine a Mac, an iPad, and an iPhone all in one charger and being polite about how much power they draw.

Intelligent and flexible system-level management of power via optional hub communication with the PC. Allows low power cases such as headsets to negotiate for only the power they require.

I never thought of headphones as being power hogs but I guess that could happen
Now that we're excited about how light and small the new GaN chargers are, and that we know they give us Power Delivery, let's talk about the three chargers I got to play with. I figured that if I was to keep my nerd badge intact, I should measure the power delivery of each charger, so I bought a USB-C power meter. Unfortunately after two tests, the power meter failed on me. I was sad not to be able to give you some geeky measurements but the vendor is sending me a new power meter for later entertainment.
So how about those chargers already, Allison?
AUKEY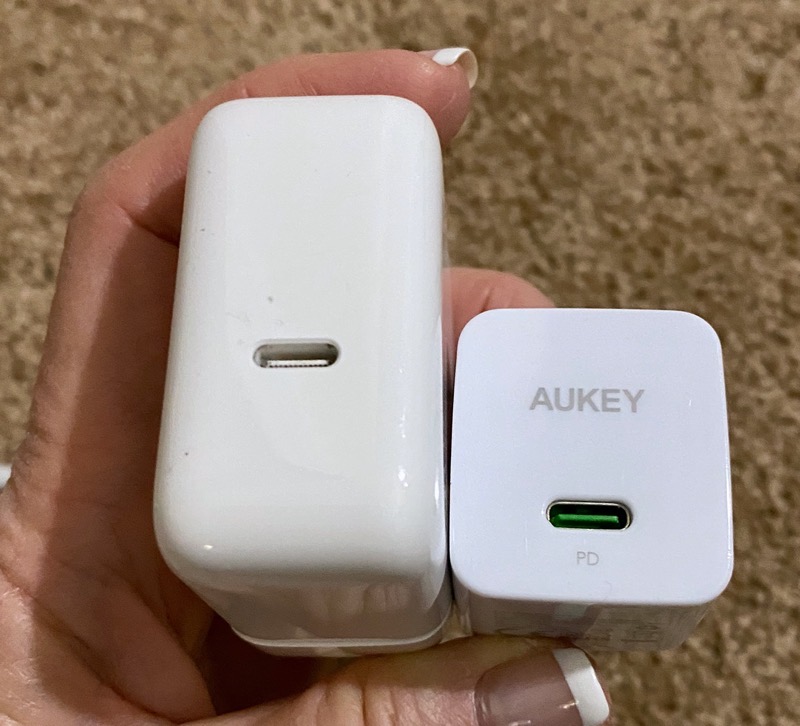 I'm going to start with the tiniest one. It's a 30W charger from a company called AUKEY. This charger is only 3.6cm on a side weighing in at a grand total of 45g. This Power Delivery charger will not only charge an iPhone 11 Pro Max, it's got the same power as the charger that comes with the 12″ MacBook. Now just in case you don't think in metric, the AUKEY USB-C PD charger weighs 23% of the equivalent 30W MacBook charger and it's 49% of the volume. Seriously. This thing will get lost in your bag!
The AUKEY 30W charger also only costs $25 on Amazon, where the Apple 30W replacement charger will run you $49, so the AUKEY is half the price! I started poking around and AUKEY has a ton of other USB-C PD chargers with Gallium Nitride on Amazon. They've got a sexy little 60W charger with two USB-C Ports on it for only $50. (As of the time of this writing, there's also a 30% off coupon on Amazon, bringing it to $35.) Remember how Power Delivery will allow the devices to negotiate how much power they use, so having three devices plugged in should work just fine.
RAVPOWER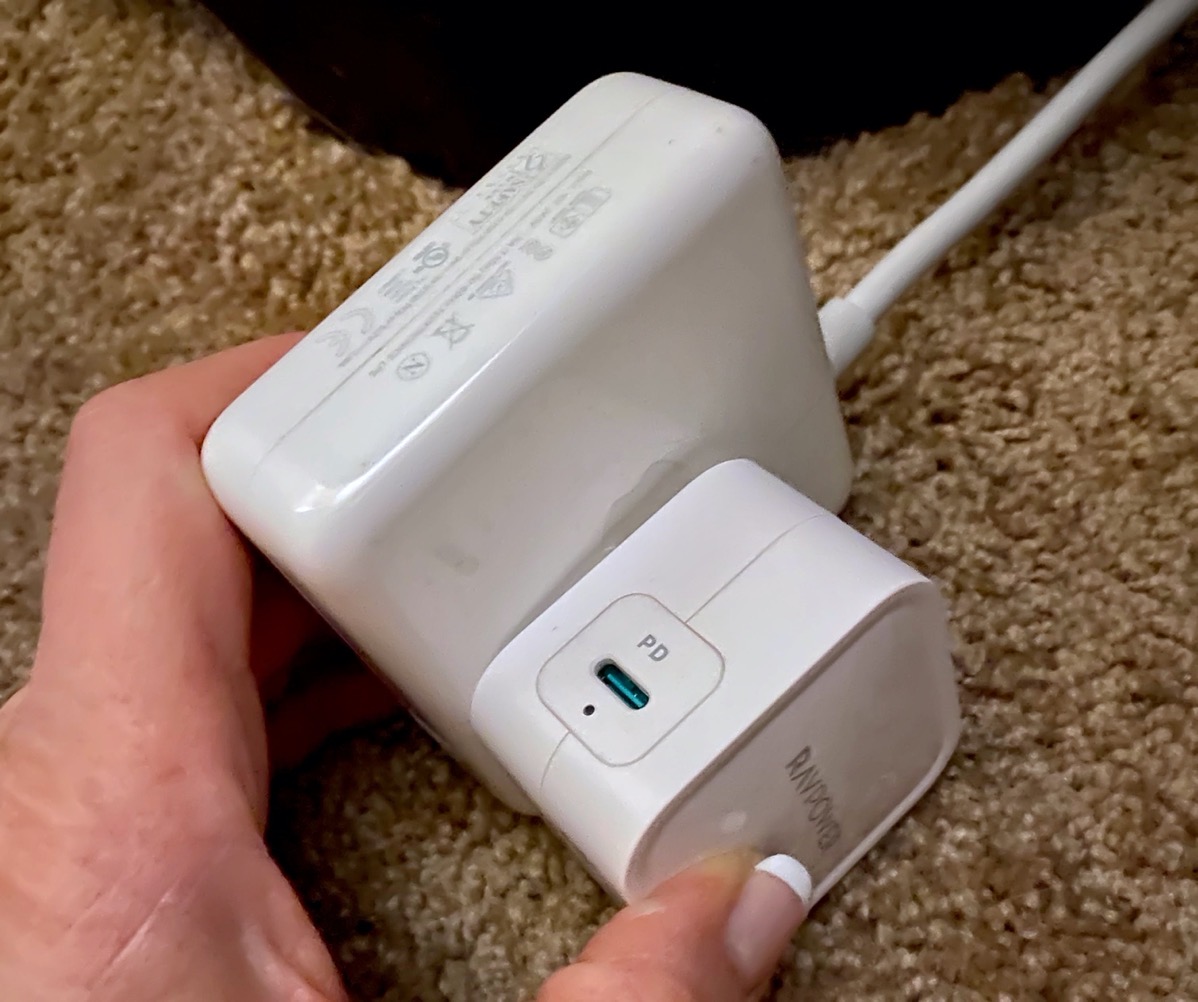 The next charger I want to talk about is the RAVPOWER Pioneer PD. It's bigger than the AUKEY but it's also a 61W power supply. It's 5cm square and 3cm thick and still only weighs a dainty 92g. At 61W it's the same power as the one that comes with the 13″ MacBook Pro. But the RAVPOWER weighs 47% of what the Apple charger weighs, it's 50% the volume, and at $49 and the Apple charger at $69, it's also only 71% of the cost. Again a no brainer to pick the RAVPOWER Pioneer PD as your travel charger for your laptop.
I know my 16″ MacBook Pro came with a 96W charger, but for a long time, I've been using a 65W charger when I travel. It's not as fast but the size and weight are much more manageable. Now I can cut that size and weight in half again! If you're a road warrior and want a small, light, inexpensive charger for your laptop, the RAVPOWER Pioneer PD is a great choice.. Your only decision is whether you want it in black or white!
Eggtronic Sirius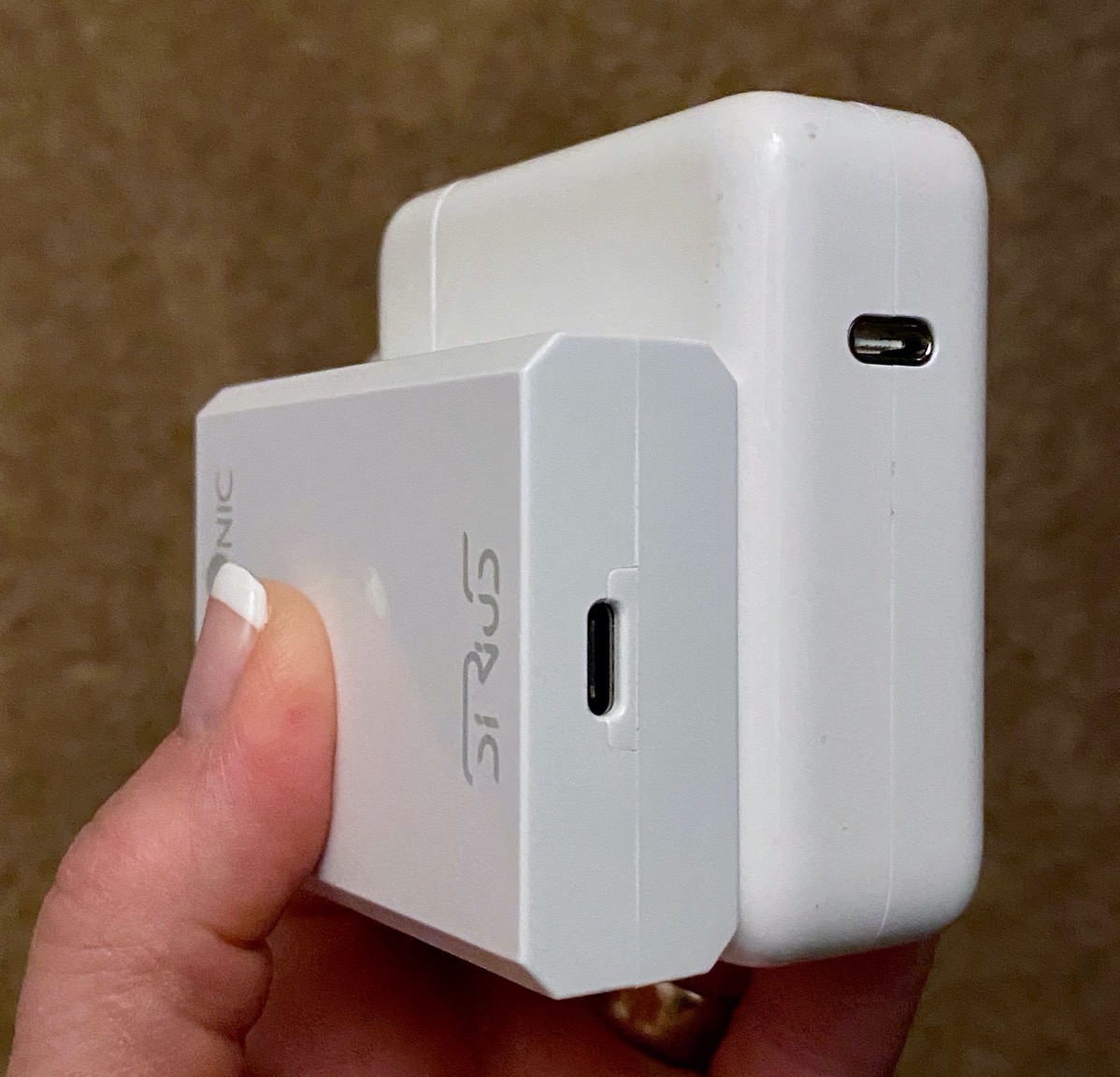 Now just after singing the praises of the RAVPOWER 61W charger, I want to tell you about the Eggtronic Sirius 65W PD charger. The weight is nearly identical to the RAVPOWER and the volume is nearly the same, but the shape and ergonomics of it are completely different. The Eggronic Sirius is flatter and thinner, so instead of a cube-like form factor, it's 5x7x2cm.
They've put some clever engineering into the plug itself so that it folds out in a unique way. It's kind of hard to describe but one side appears shorter than the other as the two sort of fan out of the charger. It's very pleasing and clever as I said. It also comes with a really nice braided USB-C cable that's nearly 6 feet long.
The Sirius also comes in black or white. There's one major drawback. The Eggtronic Sirius costs $80 on their website. So instead of being less expensive than the Apple 61W charger, it actually costs 16% more. It is beautiful, and the engineering they put into it is lovely, and it does come with that crazy long, braided cable, so it might be worth a little extra to you.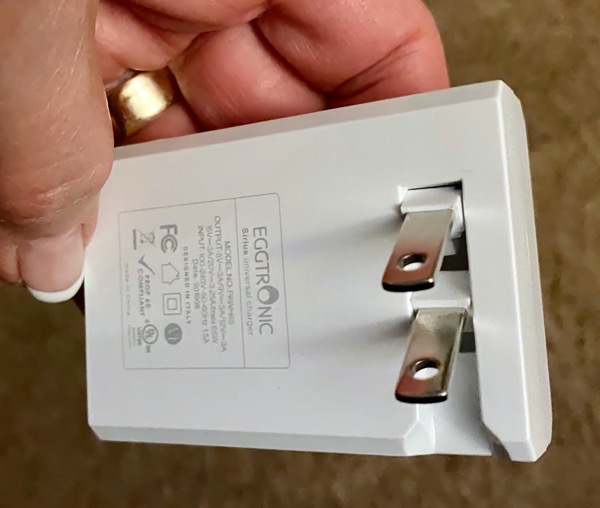 You know I love my Amazon Affiliate Links, but I do double check from time on whether it's actually a good deal. I went to the Eggtronic website and found that it was only $80 at store.eggtronic.com/…. But I took a look at the shipping and that's where things got weird. It offered me two options: $20 for Express shipping, or Spedizione Lenta (4-5 Giorni Lavorativi) for $7.00.
Um. Hmmm. I went off to translate.google.com and determined that they were saying Slow shipping (4-5 business days) for $7 in Italian. The Amazon price of $100 was free shipping for Prime members, so you'd be saving about $13 if you go direct. The interesting thing about them being Italian is that they show this giant list of countries they'll ship to which is great … but it's a US plug on the Eggtronic Sirius. I hunted around on their site and couldn't find a European plug so that's curious.
I know the Eggtronic Sirius costs "a grip" as Robb Dunewood would say, but it's also a delightful piece of hardware and probably the one I'll choose to carry with me. But do note that I didn't pay for it myself!
Why Isn't Gallium Nitride in Batteries?
I'm so excited about the effect Gallium Nitride is having on wall chargers, that I wondered why we aren't seeing a similar level of product shrinkage in battery chargers. I asked my resident electrical engineer, Steve why that was. He explained to me that the main purpose of wall chargers is to convert the AC power from the wall into the DC power required by our portable devices. With batteries, they already provide DC power so no conversion is required, and Gallium Nitride isn't needed.
Bottom Line
The bottom line is that we now have fantastic options to reduce the weight, volume and even cost of the chargers we all tote around from home to the coffee shop to work or even distant lands. My shoulder and my pocketbook are eternally grateful to Navitas for their technological advancements with Gallium Nitride.