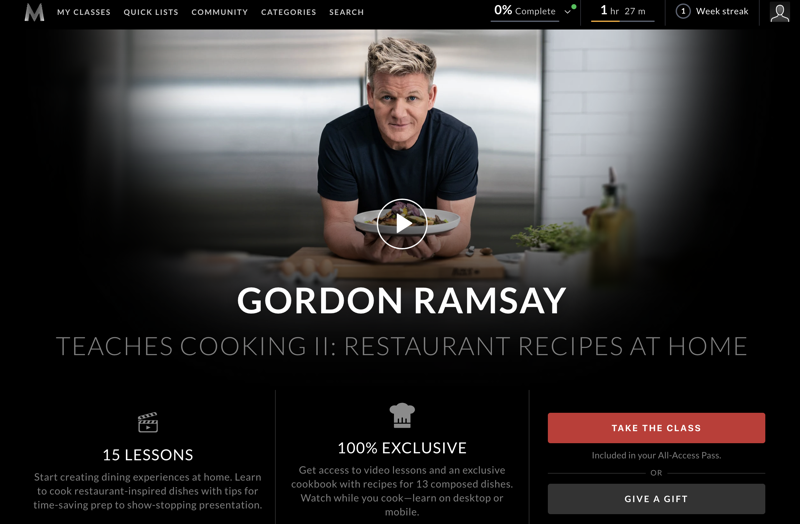 Hello fellow castaways. Terry Austin here.
I've GOT to tell you all about the best Christmas present ever that I sort of gave myself.
My sweetheart got me $100 in iTunes gift cards from Costco at about 80% of value. Her mother got me another $50 in iTunes cards. So I'm looking at a balance of $150 in my app store account, right?
Like many of you I have seen advertisements for quite a while for MasterClass now.
I installed their app on my iPhone with intentions to just buy access to ONE class from one instructor – Gordon Ramsay. You can buy just one class for $90 and (I believe) own access to that pretty much forever. So my iTunes balance would more than cover the cost. No brainer…

When I went to make that purchase however, I noticed that an all-access pass to the whole library 70+ instructors, some with multiple classes) was only $180 per year.
I did a little mental calculation at that point. Since it would be $30 out-of-pocket for me (considering the $150 balance due to the gifts mentioned above), I figured what the heck, and just jumped in the deep end and bought a year of access to their whole library.
This thing has completely blown me away.
I've got culinary instructions from Gordon Ramsay (multiple classes), Thomas Keller, owner of the French Laundry voted best chef in America (also multiple classes), Wolfgang Puck, Alice Waters (Chez Panisse), Dominique Ansel (blow you away pastry stuff), Massimo Bottura (3 Micheline star Italian), Aaron Franklin (Texas BBQ)… LOTS of stuff in here that you could safely eat, btw.
Aside from some phenomenal culinary training here's a short list of classes I'm taking:
In-depth magic training from Penn & Teller
Game Theory & Design from Will Wright (SIMS & SIM City)
Chess lessons from Garry Kasparov
Scientific thinking from Neil deGrasse Tyson
Space exploration from Chris Hadfield…
Photography lessons from Annie Leibovitz & Jimmy Chin
SERIOUSLY go look at the site, look IN DETAIL. You may decide it's not for you. But, I'm telling you…. Especially if you can get some iTunes cards at a discount. This is WAY beyond "worth it". Chances are better than 95% that I'll renew for another year.
If you compare it to something like HULU or Netflix… the cost is just $15 per month and this stuff is stratospheric level production quality content that actually matters to you.
Oh… didn't mention, that they really put some thought into their deployment. You can watch on the website, AppleTV app, iOS devices. If you choose open on the iPhone app you can even go into audio-only mode which runs audio in the background, even cautions you when some lessons are BETTER if you watch video, but will still let you go audio-only if you choose to after seeing that warning.
So, I'm telling you folks: Do yourselves a favor , go at least LOOK at what's on offer over at MasterClass.com. You won't want to watch it all. Heck I won't watch it all. But there is a glorious flood of phenomenal material there to pick from. So, go check it out. And, along the way, remember to STAY SUBSCRIBED.