Hi, this is Jill from the Northwoods.
I wanted to do a review for the podcast app that I use to listen to all the podcasts. If you haven't heard, I'm quite the addict when it comes to podcasts. I subscribed to about 144 podcasts. I keep my eye on another 177 podcasts in case there's a topic I'm interested in. At one point, I was 28 days behind.
I tried a number of apps because I love podcasts so much, I wanted to make sure that this was great. After trying app after app after app, I couldn't find any I liked. But then I ran into iCatcher. I cannot begin to tell you how much I love this podcasting app. It is the ultimate app if you just want to create a playlist and have it play your podcast, or you want to be the ultimate control freak and control every aspect of what podcast you hear next.
Basic Features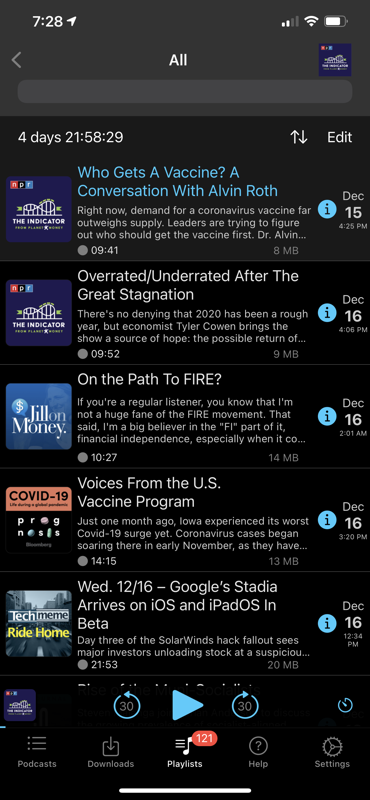 Now of course it has some basic features, like settings about downloads, so that you can say how often should it check for new podcast. Should it do it over WiFi, or should it use cellular activity? Should limit itself between this time or that time? It has a lot of settings that you would expect to have when it comes to a podcasting app.
You can subscribe to a podcast just like normal. But you can also say that you want to have this podcast on your list, but you're not subscribed. You could also add a custom feed if you happen to just know the RSS feed. It's also great when testing your own podcast to make sure that the podcast uploaded just like you hoped it would.
The Apple Watch can also act as a remote, which includes playlist, player options, and loudness. You can also use Siri commands to skip ahead or jump in time. It's really great. You could also send podcasts to your watch. You have some custom options when it comes to what the screen looks like, how bright it is, how the badges work. I cannot begin to tell you that almost every aspect of the software has some kind of setting.
You can even change the art of the podcast in case you don't like the art that they picked. Or maybe you don't want people to know what it is that you're listening to. Maybe because it's something very political, and you kind of want it just to be something very blank and generic. It will also interrupt the podcast if your GPS app has something to say.
One of my favorite newer features is that it's always had the playback speed, but it has pitch correction on it, so it doesn't sound like everyone's a chipmunk. I'm a 1.7x girl myself. I love listening to podcasts fast! It has a sleep timer, and you can also toggle continuous playback.
<<all.png>>
Back Ups and Transfers
You could also back up the database and restore it to a new device, which was great when I got my new iPhone. Everything was right there! You can also backup your phone list to iCloud or transfer media to another device. It will show your files in iTunes that will let you pull off those files onto your regular main computer.
These are all nice features. It's great to see all the different things that you can do. It can import podcasts from other apps. It can also sync between devices through iCloud. There's an experimental feature that will actually delete podcasts off your other devices if you listen to them. So that's really handy to have as well.
Playlists
All these features are great, but it's the playlist and the podcast options that make iCatcher so magical. You create a playlist and give it a name. You could also give it an icon. You could also decide if you want it to include a podcast by default, or should it create an empty list and you will add podcasts to it.
If you decide that you want to include it in the list, you can put the entire podcast in the list or just some episodes. Do you want the podcast to be downloaded? Do you want them to be streaming? Do you want to limit them by date?
I have a playlist that only shows my podcast from the last seven days. That way I can stay current and older podcasts go into a backlog list. Then you can decide if you want the podcast in your playlist to be under a certain time or over a certain time. This is where it gets really nitpicky, but I tend to like the small five-minute podcasts when I get up in the morning because my attention span is that of a gnat.
But by the time I'm doing housework or mowing my lawn, I like those podcasts that are over an hour long. I hate when I have little tiny podcasts and I'm doing housework and I keep switching topics all the time.
It can protect the podcast downloads, which means it won't delete it off your phone when you're done listening to it. Sometimes I keep podcasts that either need special attention from me or I want to remember what they said. Maybe I'm going to talk about a similar topic about that, so I can protect a podcast download. Then I have a playlist that is just made up of protected podcasts that I want to listen to when I have the proper attention span to do so.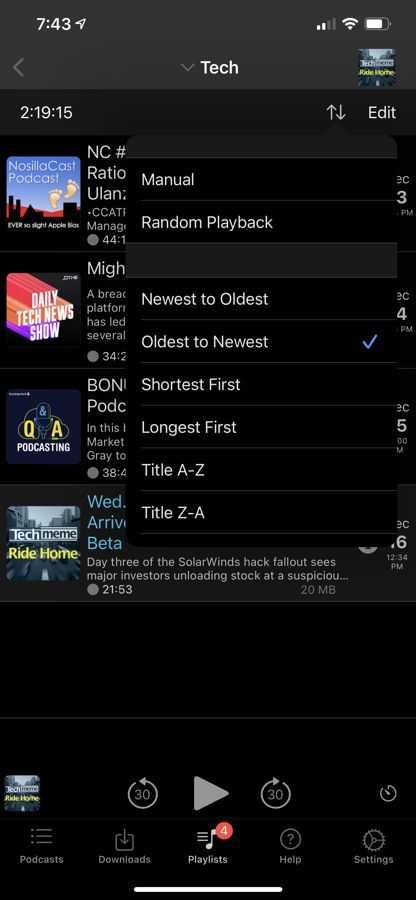 It has many different sorting options, so that you can sort the podcast. You can do it manually or play random podcasts. There's newest or oldest, shortest or longest, A to Z, Z to A, the file size for the largest or the smallest. Any you can think about any sorting option you want, and it will sort it in that option.
You can change it based on which list you're listening to. Sometimes I like to listen to the shortest podcasts in the morning but later, I want to listen to them by date. You can also manually sort your podcast by giving them a rank priority so that your most important podcasts come first. Or you can actually manually drop and drag your podcast into the right order.
I will tell you that that's a step too far for me. I might be a bit of a control freak when it comes to my podcasts because of how many I listened to me have to be, but I don't manually sort, nor do I give them priority.
Podcast Settings

The next part is probably my favorite part about iCatcher: podcast properties. The first thing you see when you go into the properties of a podcast is you see the feed, you see what genre it is, and where the file feed is located. You can also subscribe to podcasts or undo the subscription. You can also sort episodes inside a particular podcast, which means each podcast is almost like a playlist all by itself. If I want to listen to all the episodes in this particular area, I can just do that it has its own sort.
This is what's really interesting about it, that I can also say that I want it to include or ignore a podcast based on certain words in the title. I can have it include or exclude a podcast based on keywords in the title. For example, there is a podcast I listen and they have a product I don't use. Every time they have an episode where they talk about that product, I exclude those episodes from my downloads.
But here's where it gets really great for me. You can adjust the artwork, as I mentioned, but you could also adjust the speed for each podcast. Many podcast apps will do speed, but you set one speed and all the podcasts play at that particular speed. Some people talk faster than others. I can't even listen to my own podcast at any speed because I talk too fast already. But other people are very slow and very methodical, and I like to listen to their podcast at 2x. I get to decide podcast by podcast how fast I listened to it.
It also has beginning and end offsets which means that if a person has a long intro song at the beginning of their podcast, I can skip the entire song. If at the very end, people will talk about ads, you can also have it cut short. This will allow you to start it late, and/or cut it short. That makes it much more efficient, especially when you're listening to way too many podcasts like I am.
This app is important to me, and it's absolutely the thing I do the most. It is $2.99 in the iOS App Store (there's no Android version). You can visit his website at joeisanerd.com visit iCatcher in the App Store.
Bottom Line
As you can see, iCatcher lets you have ultimate control over your podcasts, or if you don't want to have absolute control and you just want to listen to podcasts, it does that too, and it's a darn nice player, even without setting all the things that it can do. I hope you enjoyed the review. We all know that we're all fans of podcasts, so I hope you really liked it.