I finally understand why people like the noise cancellation on AirPods Pro, and it's all thanks to Frank Petrie and his review of the Charjen Airfoams Pro Active ear tips he did in December.
I'm not going to repeat anything he said because it's a terrific review and needs no elaboration, but I wanted to add on my experience.
I have the original AirPods, and I loved them. When the AirPods 2 came with the charging case came out, I handed down my originals and loved the new version. I wouldn't actually recommend the charging case though. I have a Qi charging pad right next to a Lightning cable, and I always plug in over Lightning to charge. I use the cable because it's faster than finding the right spot on the Qi charger and I'm always sure that it is charging.
The AirPods Pro came out at an opportune time, because one of my AirPods kept not connecting, or claiming it had zero battery when it had been charging for literally a day. I bought the Pros and I was disappointed. The smallest ear tips didn't keep the headphones securely in my ears.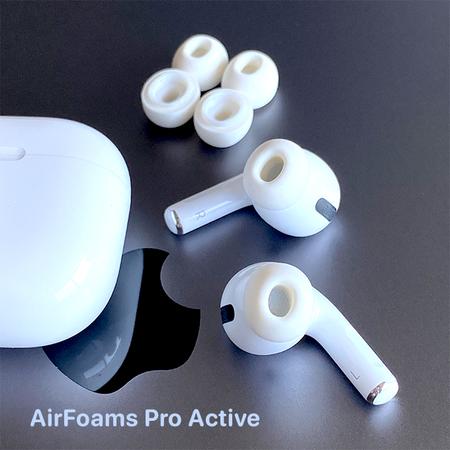 I was constantly knocking them out while on my interminable walks around my neighborhood and saying a non-girlscout-safe word every single time. I also didn't really favor the noise cancellation. It was ok, but I didn't understand why everyone was so gaga over it.
I often trick Pat Dengler into entertaining me on my long walks, and after hearing me knock out an AirPod and swear at it on nearly every conversation we had, she suggested I try the Comply foam ear tips for AirPods Pro. I bought a set and I would say that they worked slightly better. They still fell out of my ears but maybe only half as often.
I went to the Charjen site after hearing Frank's review of the Charjen Pro Actives, and they had a video of a guy exercising by running up these really steep stairs from the beach to the street. I realized the video was actually shot in my neighborhood. THIS guy wasn't having his AirPods fall out of his ears, maybe they would work for me!
Before my Charjen Airfoams Pro Active showed up, I was listening to an episode of the Accidental Tech Podcast where John Siracusa suggested something that seems obvious, and yet had never occurred to me. He pointed out that when you select your ear tips, you don't have to put the same size in each ear. In fact, he said it's unlikely your ear canals are the same size. 🤯
After messing about with the smallest tips, I ended up putting a small in my left ear but chose a medium tip for my right ear. Charjen says that since these are made of a memory-foam material, you need to put them in using a specific technique. First, you squeeze the tip to make it small. Then you shove the AirPod in your ear with the stem pointing straight forward and then rotate it down into place. They say to keep holding it in place while the foam expands to fill your ear canal. I can even hear it expanding so it's pretty easy to tell when it's done. Repeat for the second ear and then go run up those stairs.
While my main goal of not having my AirPods fall out of my ears spontaneously was immediately achieved with the Charjens, I had a very pleasant surprise. The noise cancellation of AirPods Pro is AMAZING! I can't believe I paid $250 for these a year and a half ago and I never before heard what they can do. When I walk, it's like every car is an electric vehicle now. That's actually less dangerous because I know I have to be constantly on the alert for cars, not just the ones I can hear.
I can enthusiastically add my 5 star approval rating to Frank's excellent review of the Charjen Airfoams Pro Active eartips for AirPods Pro.