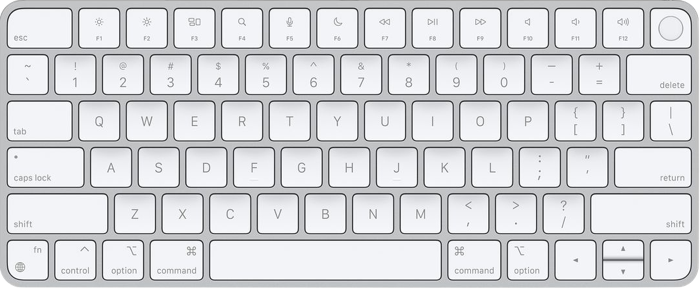 My tagline says that I have an EVER so slight Apple bias. I figure lean in, rather than have people think they're being mean by calling me an Apple fangirl. This week, I am categorically not an Apple fangirl. And it's not because my Mac pauses for 2 seconds if I try to use the caps lock key or if autocorrect is enabled. It's not because my brand new AirPods stopped working properly (draining to 0% when in the charging case). It's not because the replacements from Apple have traveled through 11 cities and taken more than a week to get to me. It's not because my Mac won't find any Apple apps via Spotlight, only third-party apps. None of those things has made me furious with apple this week like the story I'm about to tell you.
On Tuesday, August 3rd, I purchased the new Magic Keyboard with Touch ID for M1 Macs. I was excited to get in on it very quickly so I'd have an early delivery because I knew this would be a top seller.
What I didn't realize as I authorized Apple Pay using my Apple credit card, was that the system had changed my default shipping address to my daughter Lindsay's house because of a previous purchase. Face ID kicked in instantly and it was too late to stop it.
I immediately called Apple to explain the problem. Joel told me this was easy to fix, but that it couldn't be fixed until a shipper was identified. He assured me that he was sending my information to the people who would make the change and that this happens all the time so not to worry. I did worry because waiting for humans to remember to do something in the future is always fraught with danger.
The next day, Wednesday the 4th, I got a notification from Apple confirming my order and that it was still going to Lindsay's house. I called Apple again, and Dante told me not to worry. He said he could see that "they" were working on it, but it still didn't have a shipper. I expressed my concern but he was firm that this would all work out.
The next day, Thursday the 5th, I got a notification from Apple delightedly telling me that my purchase was out for delivery … to my daughter's house. I called Apple for the third time and spoke to Amy. She saw all the notes that told the story, and assured me that she could intercept the package by calling the shipper herself and get it redirected to my home. I expressed my disbelief that this would work, as never in my experience has a package been stopped once it is on the truck.
I asked Amy what we would do when (not if) the keyboard got delivered to Lindsay. She said it wouldn't be a problem, that I could call back and schedule FedEx to go get it back. I told her no work should be asked of Lindsay and Amy assured me that it wouldn't be any work for her beyond printing out a shipping label.
Amy also said she would arrange for another keyboard to be shipped to me. I mentioned how disappointed I was that I wouldn't get it quickly because they're out of stock now and she assured me that people with this kind of problem get first priority.
I told Amy that I felt I should be compensated in some way for the complete mess that Apple had made of this situation and she offered me a $50 credit. I agreed that was a good gesture.
Of course the keyboard got delivered to Lindsay's house that day. I called back to Apple on Friday the 6th of August and spoke to Ves. She looked at all of the information from the previous three people and had no good answer why none of them seemed to do what they said they were going to do.
She then told me that she'd send a FedEx label as Amy had suggested, but that my daughter would have to either drive the box to FedEx or call them on the phone to schedule a pickup. I was furious that she'd have to do any extra work after Amy promised otherwise.
Around this time Ves started trying to figure out how to initiate the replacement keyboard since Amy never did it. She was talking about how the two actions, return and replacement might get tangled. At that point, I hit the end of my rope. I told her to cancel my original order, and let Lindsay return the original and I was done.
Lindsay took the keyboard to FedEx on August 6th. I was able to obtain proof of delivery to Apple from FedEx on the 10th of August. As of the 11th of August, I still didn't have the refund. I called Apple, spoke to Marine in sales and asked immediately to speak to a supervisor. She told me that since the sale was complete, she couldn't help me but she'd transfer me to an "after-sales" customer service rep. That elicited a squeal of delight from me as you can only imagine.
Danny had the pleasure of taking my call. He did immediately start the process to have me talk to a supervisor, but he insisted that I tell him what was going on first, including what was my order number, my name and all that nonsense. He told me in 34 minutes a supervisor would call me back…
If you thought I was annoyed already, the end of the story gets even better. I did not get a call back in 34 minutes from the supervisor. No, Corey called me back five hours later. And five hours later was right in the middle of dinner. I was quite angry and Corey said the words a boomer never likes to hear. "Not a problem," he said. I know that for the youngsters that means something different than it means to me, but my reaction was, "Oh it actually IS a problem. You called 5 hours late and in the middle of my dinner!" He agreed to call me back in 20 minutes.
When he did call in precisely 20 minutes, it was one of the most unsatisfactory calls I've ever had. Corey explained to me that he could see that Apple had indeed refunded the money … to my bank. I explained (in not the calmest of tones) that the "bank" to which he was referring was my Apple Card. He said, "No, Goldman Sachs is your bank." He said that it would take another 3-5 days for the bank to pay me back. You can imagine how happy I was with that!
We went back and forth for a bit during which time I calmed down but decided to just keep him on the phone. As long as you don't swear and you're not abusive in any way, they simply are not allowed to hang up on you.
Corey said many things that simply weren't true, and I called him on each one. Like when he said that every company waits till they have the product back before issuing a refund. I said, "No, companies I deal with issue the refund as soon as the shipper has received it." He said, "But what if the shipper damages it?" and I was incredulous as I explained that that would be Apple's problem, not mine! He was becoming agitated by this time, and I asked him if he was going to hang up on me. He said that he would not hang up on me.
He offered to send me the proof that Apple had paid my bank and I said yes, I would very much like that. Note that he never sent me this information.
We kept going back and forth and suddenly he said, "No I am not going to reveal any of my personal information." I thought that was VERY weird but I think I know what he was doing. Confused, I said, "I never asked you for any personal information." Shortly after that, I asked to speak to his supervisor … and he hung up. I think his last sentence was put into the record to imply that I had asked for personal information, thereby giving him the allowance to hang up.
On Friday, August 13th, 9 days after this débâcle began, and a full 7 days after Lindsay gave the keyboard to FedEx, Apple refunded me the cost of the keyboard. But they gave me $100, not the $150 the keyboard cost, which means they didn't really give me $50 for my trouble.
Six phone calls, 9 days of annoyance, and I don't have a keyboard from Apple and I don't even have 50 bucks.
Here's the best part of the story. I got a survey request from Apple asking me to tell them about my purchase experience. Sadly they limited me to 4000 characters, so I just used real small words they could understand.